Spend Your Summer with SAM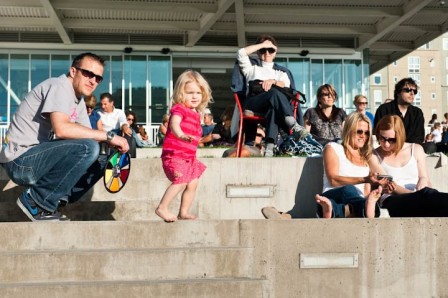 People in Seattle make the most of the all-too-short summers and so does SAM! We've got a diverse array of art exhibitions, events and experiences at all three of our sites this summer. Whether you're interested in Bollywood, baseball, yoga or landscape painting, we've got you covered.
SAM Downtown
Beauty & Bounty: American Art in an Age of Exploration brings together paintings and photographs to show how adventuresome America's artists were in the 19th century, and how critical their role was to enlightening the rest of the population as to the natural wonders of the far west. Click here to learn more about the star painting of the exhibition.
Reclaimed: Nature & Place Through Contemporary Eyes offers a look at the work of contemporary artists who, in representing their experiences, expand our idea of nature, its use and reuse, and lead us to unexpected encounters with the landscapes of our region. Both Beauty & Bounty and Reclaimed will be on view June 30-September 11, 2011. Click here to learn more about Bovine, one of the works in the show.
Mariners and Jacob Lawrence fans alike will enjoy the exhibition, Our National Game, which opens July 16. The show features iconic works of American art that defined the nation through the American institution of baseball. SAM will unveil a pair of 1949 Jacob Lawrence baseball paintings, which have never before seen side by side. Included, too, are historical prints and photographs that show the popular appeal of baseball throughout American society and the world.
Mika Tajima is the sixth artist selected for a solo exhibition in the SAM Next series, our contemporary art exhibition program. She combines painting, sculpture, design, performance, video and sound to create immersive installations. Her ambitious exhibition, After the Martini Shot, opens July 16.
Are you a film buff? Celebrate the 50th anniversary of Breakfast at Tiffany's with our film series, Earth Angel: The Films of Audrey Hepburn, which starts July 7. For a completely different vibe, join Sheryl Lee (Laura Palmer herself!) for the Twin Peaks Festival Film Night on August 5.
Olympic Sculpture Park
From July 7-September 15, join us for Thursday Nights at the Park. Enjoy yummy bites from some of Seattle's best food trucks paired with local wines provided by TASTE. Hear live music by some of the area's most talented performers. Drop in and get creative with a hands-on art activity for all ages. Between musical sets on Thursday nights, learn about the art at the Olympic Sculpture Park through 15-minute "art hits" presented by artists, docents and museum staff.
Feel like dancing? On August 25, September 8 and 15, participate in social dancing with a live band, a real dance floor and free, professional lessons with Dancing 'Til Dusk, which is co-presented with Seattle Parks and Recreation.
On Saturdays, come to the park for all day drawing, free outdoor yoga and Zumba classes.
On-Site, the second summer exhibition at SAM Olympic Sculpture Park, brings together new sculptures by Gretchen Bennett, Nicholas Nyland, and Carolina Silva. These three artists have conceived artworks—often experimental in concept and execution—that are sited throughout the park from June 4-September 30, 2011.
Visit seattleartmuseum.org/getout for more information about the Olympic Sculpture Park's Summer Season.
Seattle Asian Art Museum
This summer, the Gardner Center for Asian Art & Ideas, Teamwork Productions, Elliot Bay Books and Tasveer will present writers and films from India as part of the Eye on India Festival Seattle. Join us for a conversation with actress Tabu Hashmi and a screening of Meenaxi on July 6 at the Seattle Asian Art Museum. Tabu has worked in over 70 films and will discuss her work and life in India's film industry. With Mira Nair's film, The Namesake, she received international recognition, and she will appear in director Ang Lee's new film, Life of Pi.
On July 12 and 13, four writers from India visit for book readings, signings and a discussion with Northwest writers. Shrabani Basu reads from Victoria and Abdul, the true story of Queen Victoria's close relationship with tutor Abdul Karim. Hari Kunzru, a novelist and New York-based journalist, recounts his experiences through his travels and books. Nayantara Saghal, a member of the Nehru-Gandhi family and author of novels and non-fiction, speaks on dynastic politics. Tarun Tejpal, former editor of India Today, founder of the investigative weekly Tehelka, and novelist, reads from his recent work.
The Bollywood Panorama Film Series will take place outdoors at the Volunteer Park Amphitheater on Friday nights, July 15-August 5. Hindi films will have English subtitles, and admission is free.
Abdul Karim, asian art museum, Audrey Hepburn, baseball, Beauty & Bounty, Bollywood, Carolina Silva, contemporary art, Dancing Til Dusk, Elliot Bay Books, Eye on India Festival, film, Food trucks, Gardner Center for Asian Art and Ideas, Get Out, Gretchen Bennett, Jacob Lawrence, landscape painting, Mika Tajima, Nayntara Saghal, Nicholas Nyland, Olympic Sculpture Park, On-Site, Our National Game, Reclaimed, SAM News, SAMNext, sculpture, Sheryl Lee, Shrabani Basu, Tabu, Tabu Hashmi, Tarun Tejpal, TASTE, Tasveer, Teamwork Productions, Thursday Nights in the Park, Twin Peaks Festival, wine tasting, yoga, Zumba