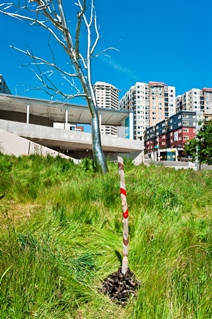 Summer may be over, but you still have one final weekend to enjoy On-Site, the summer installations at the Olympic Sculpture Park.
Since June, On-Site has brought together new sculptures by Gretchen Bennett, Nicholas Nyland and Carolina Silva. These three artists created objects, often experimental in concept and execution, that respond to the context of the park environment. Their temporary interventions have provided unexpected encounters with sculpture, encouraging fresh perspectives on sculpture and its making. Working in response to the park environment, their diverse works cast a new lens on our experience with sculpture and with the landscape at the Olympic Sculpture Park.
Although Gretchen Bennett's installations at the Sculpture Park are fleeting, the artist's  landscape-inspired drawing and video work can be seen in SAM's permanent collection.
"Walking Stick from Nadonna Beach," 2011, Gretchen Bennett, American, born 1960, driftwood, carved oak sapling wood from the OSP, latex paint, Courtesy of the artist, © Gretchen Bennett, Photo: Robert Wade. "On-Site" temporary installations on view through Sunday, 2 October, at the Olympic Sculpture Park.