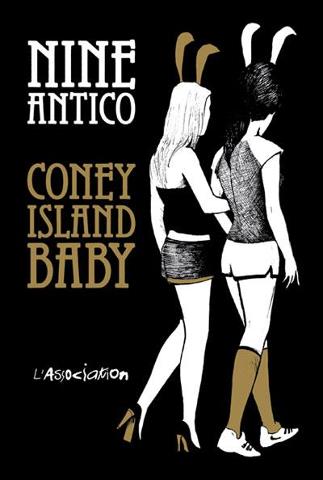 We are excited to host French graphic novelist Nine Antico who will be speaking at SAM Downtown in the Nordstrom Lecture Hall as part of the SAM Talks programming for the exhibition Elles: Women Artists from the Centre Pompidou, Paris Thursday night at 7 pm. This should be a great chance for aspiring graphic novelists and artists in the community to hear a fellow artist speak about their work and meet other like minded graphic artists and novelists. As a fan and collector of comic books myself I am eager to hear a little about Nine's creative process and how she constructs her graphic narratives.
Although her comic books are all written in French the content she writes about in her most recent work Coney Island Baby (l'Association) is unmistakably American and refers to our own cultural memory. Coney Island Baby features American Icons Betty Paige, Linda Lovelace and Hugh Hefner among other figures from pop-cultulre; the title itself refers to a song of the same name by Lou Reed. As her choice of characters suggests Coney Island Baby navigates the complexities of female seduction through the imagery of Linda Lovelace and Bettie Page through a feminist reading of their respective lives as told by Hugh Hefner to two aspiring Playboy playmates. Hefner attempts to deter the bunny ear-clad Playmates to reconsider their new jobs by showing them the dark side of the Playmate lifestyle by telling them the stories of Lovelace and Page, two women separated by time but similar in endeavors for fame whose dreams were shorted by becoming famous for being naked, rather than by merit of the acting careers they had set out to attain.
Tickets may be purchased online, at the Ticketing Desk at any of SAM's three sites or over the phone with a credit card by calling the Box Office at 206.654.3121.
Ryan Peterson, Program Assistant
Out now on L'Association