SAM Art: Beauty Bounty & Bierstadt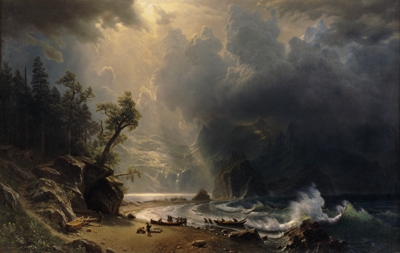 A Portrait of a Place
Although Albert Bierstadt had not traveled inland into the Washington Territory in 1863, he had amassed the materials he needed to paint a portrait of a place that he could identify as Puget Sound. He had made oil studies of the land forms and Natives he saw along the Columbia River. He had acquired Northwest Coast Native objects, including the examples exhibited here, all of which can be found in Bierstadt's painting. He also had an extensive library on the early history of America to use for reference—in this case, he appears to have drawn from an illustration in James Gilchrist Swan's early authoritative study of the region's topography and people, The Northwest Coast, published in 1857.
 The fine points of the little-known Puget Sound landscape itself were less important to Americans in 1870 than was the fantasized idea of Puget Sound—a storied inland sea that was a gateway to exotic-seeming points of the globe and lands of unknown peoples. In the still primeval wilderness that Bierstadt depicted, the mysterious realm of an ancient class of seafarers and fishermen, Americans might imagine the modern seaport that would soon arise there—and taking pride in their vision and ingenuity, accord Bierstadt a place in history as the artist who made a valuable and pioneering record of the noble past that was a new maritime civilization's prologue.
Puget Sound on the Pacific Coast, 1870, Albert Bierstadt, born Solingen, Prussia, 1830; died New York City, 1902, oil on canvas, 52 1/2 x 82 in., Gift of the Friends of American Art at the Seattle Art Museum, with additional funds from the General Acquisition Fund, 2000.70. Photo: Howard Giske. On view starting today (June 30) in Beauty and Bounty: American Art in an Age of Exploration, Special Exhibition galleries, fourth floor, SAM downtown.