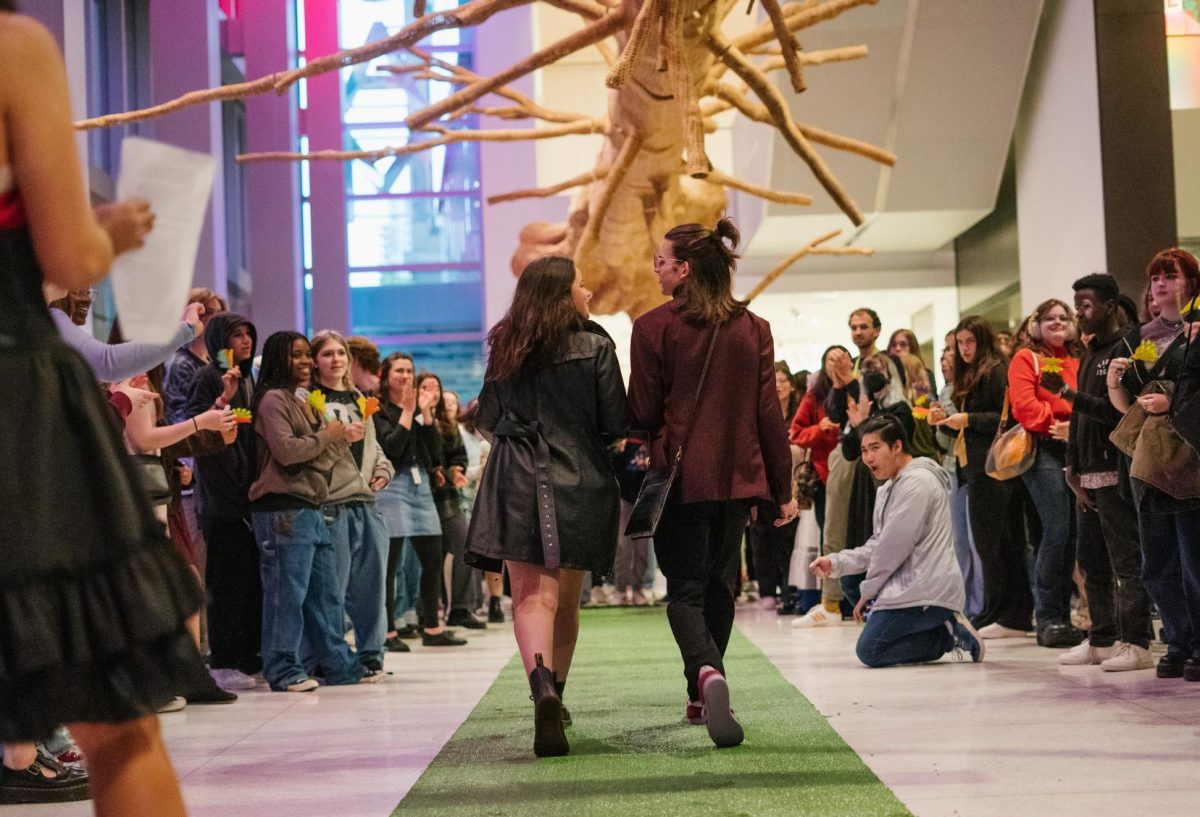 SAM's Teen Arts Group (TAG) is an intensive internship program for high school-aged youth who are interested in leadership, eager to learn about themselves and the world through art, and want to make SAM fun and engaging for teens. This year's cohort of future art leaders met once a week from October 2022 to May 2023 to create art, learn about the many unseen sides of an art museum—including exhibition conceptualization, curation, and conservation—lead public gallery tours, and plan Teen Night Out. As we close out another school year, we asked a few of this year's members to share a bit more about TAG's purpose and their favorite memories from their year at SAM.
Let's start with the basics: What is TAG and what did you do as a TAG member?
TAG is all about community to me. Essentially, we work toward our collective goal of making events, activities, and opportunities for teens at the museum. My favorite aspect has been hosting art making activities at influential spaces such as the Seattle Symphony and the Gates Foundation. I was surprised to learn that we get the opportunity to tour the museum after hours and have direct access to staff across a range of departments at SAM. This included folks from Public Programs, Education, AV, Curatorial, and Exhibition Design.

My favorite TAG meeting was when we got creative in how we announced the call-for-artists for our teen exhibition, Home is Where the Heart Is, on view through September 17. We drafted, directed, and filmed a skit that served as one of our core advertisements on social media. It was really fun to work together and come up with a product that we thought would be interesting for teens our age!

– Nivedita Raj, 17
An integral part of TAG is planning and overseeing the museum's annual teens-only celebration, Teen Night Out. What was this process like? What was your favorite part of putting this event together?
Planning Teen Night Out was an exciting journey filled with creativity and teamwork. We brainstormed themes, curated an array of activities, and transformed the museum into a vibrant space for teenagers.

My favorite part of Teen Night Out was watching the museum come alive with colors and people. Seeing the galleries turn into immersive environments was truly magical, and it showed the power of our artistic expression. The most rewarding thing was witnessing the impact of our efforts on the teenagers attending the event. Their laughter, curiosity, and awe reflected how art can inspire and touch hearts. It was a priceless reward to see their newfound appreciation and the spark of inspiration in their eyes.

Teen Night Out was more than a party. It was a chance to explore, create, and connect. I think in that evening we helped to bridge a gap between generations, making young voices heard and fostering a sense of belonging in the museum. By opening the doors of the art museum to a new generation, we painted a brighter future. Together, we showed that art has the power to transform lives and unleash boundless potential.

– Kaz Jennings, 16
This year marked your second year as a TAG member. What advice would you offer any teen thinking about joining TAG?
This was my second year as a TAG member and I have genuinely loved every moment. A word of advice I would give to future TAG members or any teen looking to work with and around art is to just take it slow. Being in a program like TAG there is a lot of information being presented to you every meeting and a lot of opportunities for you to take advantage of. Just remember to pace yourself through those opportunities. You don't have to take on every elective task that applies to your pursuit of the arts outside of TAG. Balance is essential.

Enjoy learning and watching your peers learn with you; I promise your resume and experience are already cool enough. I mean, you intern at SAM so you have to be cool! Take time to build connections with SAM staff and the other TAG members. They are cool people, you are cool people. Surround yourself with cool people!

If I could go back and give myself some advice before I joined TAG it would be that there is not one way to be an artist or someone who enjoys art. There are all kinds of personalities and people in TAG and everyone brings something unique to the table. Everyone is an important member of the team, myself included!

– Mori Peña, 18
– Cristina Cano-Calhoun, SAM Museum Educator for Youth Programs
Photos: Chloe Collyer.