"Libraries and Museums Liberated Me": An Interview with SAM Board Chair Dr. Constance Rice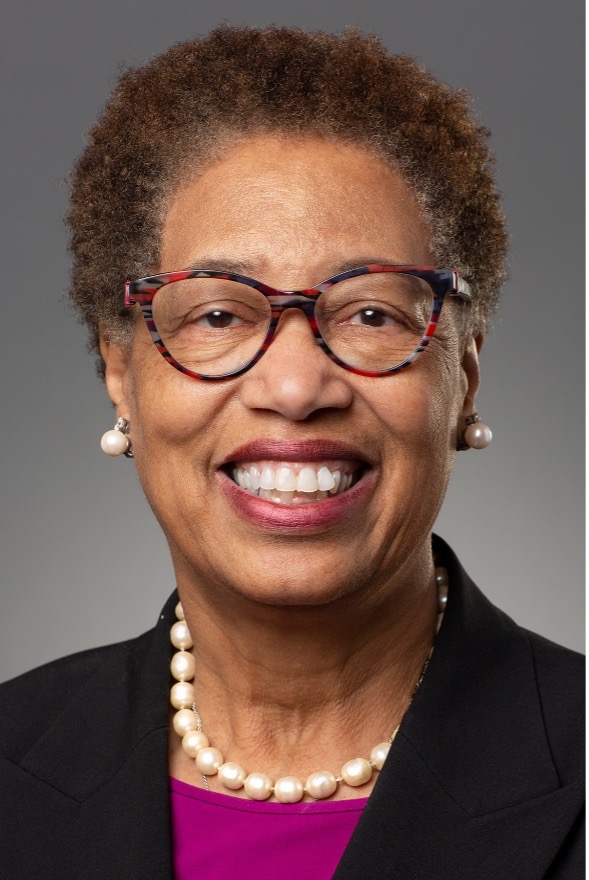 During their September 21 meeting, SAM's Board of Trustees elected Dr. Constance W. Rice as their new Chair. A celebrated leader and activist in Seattle, Dr. Rice has been a member of the museum's board since 1995 and previously served on the board's Executive, Governance, and Education & Community Engagement Committees, serving as co-chair of the latter since 2010.
To celebrate her new role at SAM, we spoke with Dr. Rice about her proudest accomplishments on the board, how the pandemic affected its functions, her favorite memories at the museum, and what it means to be the first Black chair in SAM's history.
SAM: Can you talk a bit about the role of SAM's Board of Trustees at the museum and its purpose?
Dr. Constance Rice: The board of trustees is the governing body of SAM. I think one of our biggest responsibilities is being ambassadors for the museum. We work to make sure the public knows that Seattle Art Museum is a community resource and that we uphold the museum's mission to "connect art to life." To make that happen, we try to bring in people from a variety of different backgrounds and career fields to serve on the board so that we are get input from as many different communities—corporate and non-corporate—as possible. Our official duty is to manage the Executive director and CEO of the museum. There is also a fiduciary element: making sure the museum has an operating budget and is accurately tracking expenditures. We are the activists of the institution, and it takes money, time, commitment, and a love of the overall mission of the museum to make sure it functions properly.
SAM: Compared to work you've done on SAM's board in the past, what are some important parts of your news role as SAM's Board Chair?
CR: This role is a bit more outward facing than my previous roles on the board. As the board's primary spokesperson, I'm responsible for talking with various community members and institutions to support the museum. Like many other art institutions right now, Seattle Art Museum is looking for better funding stability. To get that stability, I work with opinion leaders at the state legislature—both elected and non-elected officials—to develop a broad constituency of support not just for SAM, but for all art institutions in our area: Seattle Symphony, Seattle Opera, Seattle Theatre Group, and Northwest African American Museum, among others. The other main responsibility of my role is relationship building. The chair is responsible for ensuring the cohesiveness of the board and making sure every member knows their role. I am there to support every member and to make clear that we all are there to support one another and the institution.
SAM: You've served on the board since 1995, in many roles, most recently as vice chair. What are some accomplishments you are most proud of?
CR: My level of activism has varied throughout my many years on the board. But I think my most proud accomplishments are working with Sandra Jackson-Dumont, former SAM Deputy Director for Education and Public Programs, and co-chairing what is now the Education and Community Engagement Committee (ECEC). Sandra has been an inspiration for me throughout my life and I feel honored that I was able to work so closely with her before she moved on from SAM. As co-chair of the ECEC, I was able to focus on community building and had the opportunity to work with several more wonderful people. My first co-chair, Herman McKinney, was very much an activist. He helped found The Breakfast Club, chaired the Martin Luther King Memorial Committee, and served as the first director of the Seattle Chamber of Commerce's Urban Enterprise Center. Eventually, José Gaitán took over Herman's role and José was very interested in ensuring the museum understood Seattle's Latinx population and was actively reaching out to them. After José, I co-led the committee with Sandra Madrid. Sandra really got the museum interested in developing partnerships with non-profits like Boys and Girls Clubs of America and Atlantic Street Center. Co-chairing this committee has been a great joy for me in terms of watching it expand and engage with local communities over time.
SAM: How has the COVID-19 pandemic affected the way you approach leadership roles?
CR: Professionally, I'm extroverted, but personally, I'm introverted so the professional side of me has really had to adjust since we began holding our meetings virtually due to the pandemic. My leadership style is very focused on establishing relationships, and it's been harder to do that remotely the last two years. In interviewing for this position, I had the opportunity to meet with board members mask-to-mask since the museum is open to the public and it made me realize just how much I value person-to-person interactions. Going forward, I intend to meet every single one of the board members in person at some point throughout the next year. That's the only definite plan I have right now.
SAM: What are some of the top priorities you're looking to address within the museum?
CR: The COVID-19 pandemic made me a lot more introspective and gave me an opportunity to read a lot more. As a kid, I was pretty much a loner. No, I was totally a loner. I'm from Brooklyn, New York, and in junior high school I would go into Manhattan on the weekdays to the 53rd Street Library to do my homework. After I finished, I would go across the street to The Museum of Modern Art (MOMA) because it was free to all students at the time. The library and MOMA opened a whole new world for me—it was liberating. Libraries and museums liberated me.
Dealing with the COVID-19 pandemic as a kid—I couldn't imagine it. Being in the position that I am in right now, I want to focus on creating more opportunities for children and their communities to access the arts. Because without art, I wouldn't be where I am today. Whether it's through singing, painting, dancing, dreaming, or reading SAM offers a space for every kid to be creative and that's what I want to emphasize as I take on this new role.
SAM: You are the first Black person appointed as SAM's Board Chair. What does that mean to you? And why is it important for a museum board to be diverse?
CR: One of the things I asked myself when I was first approached about becoming chair was, what's wrong with this picture? Well, I'm not male, and I'm not rich. One of the challenges of the board is the diversity within it—age, gender, ethnicity, etcetera. And while we are the ambassadors of connecting art to life, we still have work to do in terms of bringing more life into the art world. And that means really considering what work we're putting on our walls and who we are hiring to shape and guide the museum.
SAM: The summer of 2020 was a difficult time for many people across the nation. It was the height of the COVID-19 pandemic, and the world was grappling with the murder of George Floyd. Many institutions, including museums, were called upon to reevaluate how they interact with the communities around them. How did you see this materialize within SAM?
CR: I live nearby the museum, so I was very pleased when I first saw Kimisha Turner painting the plywood on the windows that summer. As I watched her progress, I noticed that she brought her son with her and sat him down on a chair outside every day while she worked. One day I stopped by to ask about him being there, and she said, "I create better when he's with me."
I marched a lot that summer and the museum was on the route for many demonstrations. I am very aware that the marches, and what was going on nationally with George Floyd, bolted me to this new position on the board. I am deserving of this position, but I am also aware that my colleagues looked around and said, "we're not going to do business as usual." That's what I believe I represent. It's also why I really admire and respect my peers on the board. They looked around at what was going on in the world and decided it was time for change.
SAM: Can you share any favorite memories of being at SAM?
CR: I have so, so many wonderful memories of being at SAM. I knew Jacob and Gwendolyn Lawrence Knight well. Jacob was from Harlem and the only living creature that could make me smile when he called me Connie because I hate being called Connie. But I was fortunate enough to attend one of their gallery talks in the old auditorium in the basement of the Seattle Asian Art Museum. It was there that I got to know Pam McClusky, SAM Curator of African and Oceanic Art, and I immediately became a fan.
Being at SAM, I have also been able to meet so many wonderful artists, like Brenna Youngblood and Theaster Gates, two former winners of the Gwendolyn Knight & Jacob Lawrence Prize. I met Theaster when he lived in Seattle and was doing The Listening Room at SAM. He had a satellite office set up in Pioneer Square and asked members of the community to bring in their albums to add to the exhibition. When I was looking through the donated albums one day, I saw a Nina Simone album with a cover that I loved. I asked Theaster what he was planning to do with albums when the exhibition was over, and he said, "I'm going to give it to you." I nagged him and nagged him throughout the exhibition, but I never got the album. But, you know, one of the things I hope for as chair is that I have more of these special moments and memories with artists at the museum.
– Lily Hansen, SAM Marketing Content Creator
Image: Courtesy of University of Washington.
Brenna Youngblood, Dr. Constance Rice, Herman McKinney, Jacob and Gwendolyn Lawrence Knight, José Gaitán, Kimisha Turner, Metropolitan Museum of Modern Art, Northwest African American Museum, Pam McClusky, SAM Board of Trustees, sandra jackson-dumont, Sandra Madrid, seattle art museum, Seattle Opera, Seattle Symphony, Seattle Theatre Group, Theaster Gates, Theaster Gates: The Listening Room