Vigorous Sounds: Women in Music at SAM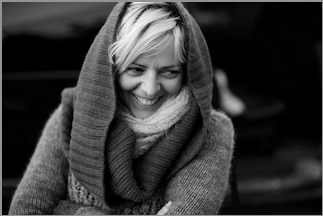 This Wednesday night, we are excited to host French soprano vocalist Donatienne Michel-Dansac at 7:00 PM. As a guest vocalist to the Seattle Symphony Donatienne Michel-Dansac is bringing her voice to SAM as part of our musical programming in conjunction with the exhibit Elles: Women Artists from the Centre Pompidou, Paris. Her performance follows Seattle Symphony Orchestra harpist Valerie Muzzolini-Gordon's gallery performance during SAM Remix earlier this month.  Taking place amongst Sophie Calle's photographic series Exquisite Pain in the fourth floor galleries, Muzzolini-Gordon performed elegant compositions by French composers in response to artists featured in the exhibition. Muzzolini-Gordon's sustained harp tones echoed over the gallery space and lingered into the next room as the intricate arrangement of notes created a poignant connection with the adjacent artwork.
Donatienne Michel-Dansac will be performing avant-garde compositions by composer George Aperghis whose works are located in the field of experimental music and are known for their playfulness and theatricality. Michel-Dansac is known for performing, and often premiering, new works by contemporary composers, although she regularly performs works from all musical eras. Her performance this Wednesday will take place Plestcheeff Auditorium to give an acoustically rich performance to contrast with Muzzolini-Gordon's gallery recital. This should be a great chance to hear Michel-Dansac perform intricate works she is familiar with in an intimate setting. Personally I am excited to hear excerpts from Aperghis' works Récitations, a piece written for solo voice that is sprightly but vigorous, whose sound might be compared to vocalizing a computer algorithm. The night's performance will also feature excerpts from Aperghis' works Pubs and Zig-Bang. Michel-Dansac will also be performing with the Seattle Symphony on November 29 and December 1 with the performance Morlot Conducts Mahler.
Seattle Symphony Performance
Donatienne Michel-Dansac
November 28, 2012
7–8 pm
Plestcheeff Auditorium
Free and open to the public.
Ryan Peterson, Program Assistant