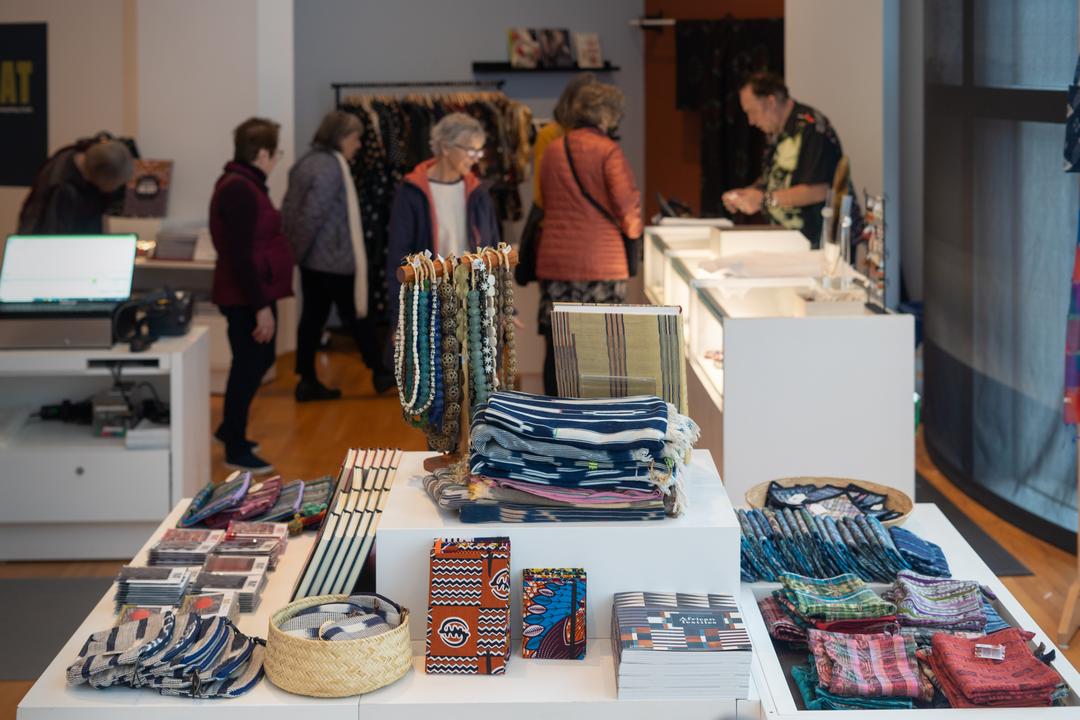 The decision to reopen the Seattle Art Museum's Exhibition Shop on the museum's fourth floor after a three-year closure wasn't an easy one to make. Knowing that Ikat: A World of Compelling Cloth was heading to SAM, however, SAM Shop Buyer Renata Tatman and SAM Associate Director for Retail Operations Lindsey Dabek agreed that it was time to bring back this specially curated shopping experience and got right to work.
"We knew that the reopening of the Exhibition Shop had to be irresistible," said Tatman. "We're not always able to find products that have a direct relationship to an exhibition, but Ikat was different. There's an abundance of artisans and textile artists from all over the world that we knew we could reach out to and carry their creations in the shop."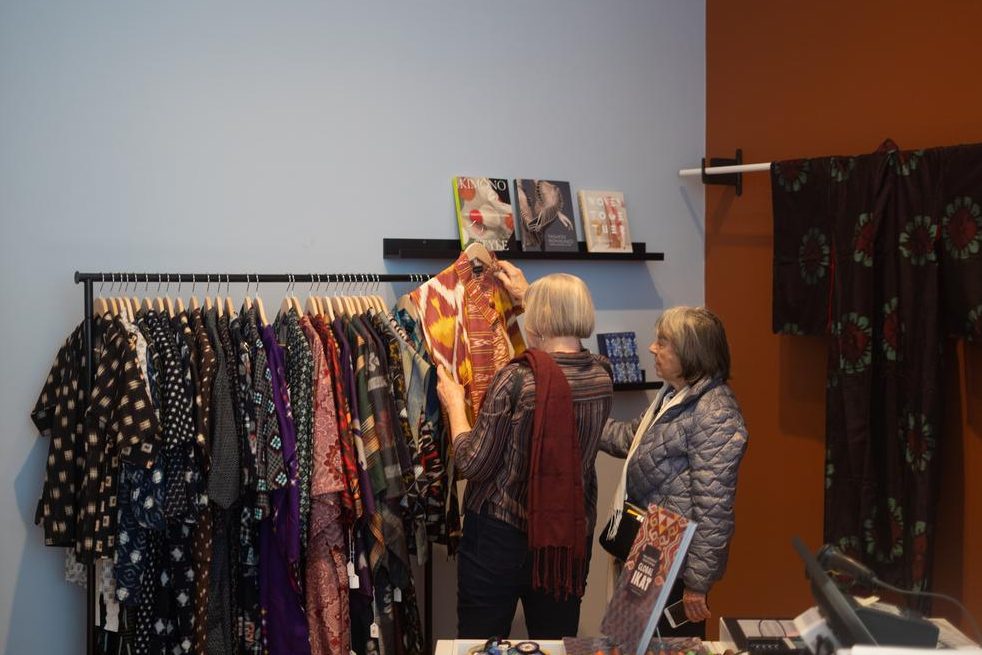 In the shop, visitors will find textile-themed books, notecards, postcards, and magnets, but the space's emphasis is unsurprisingly on handwoven textiles. With beautiful cloths from Uzbekistan, Japan, Bali, Borneo, Guatemala, Cambodia, Thailand, and India covering nearly every surface of the space, the shop offers museum visitors an opportunity to touch, connect with, and take home a work of art in a way that's forbidden in the galleries.
Staying true to the themes explored in the exhibition, the products available in the shop—everything from kitchen towels and scarves to vintage kimonos and jewelry with textile elements—are woven by hand; fabrics factory-printed with ikat patterns are nowhere in sight.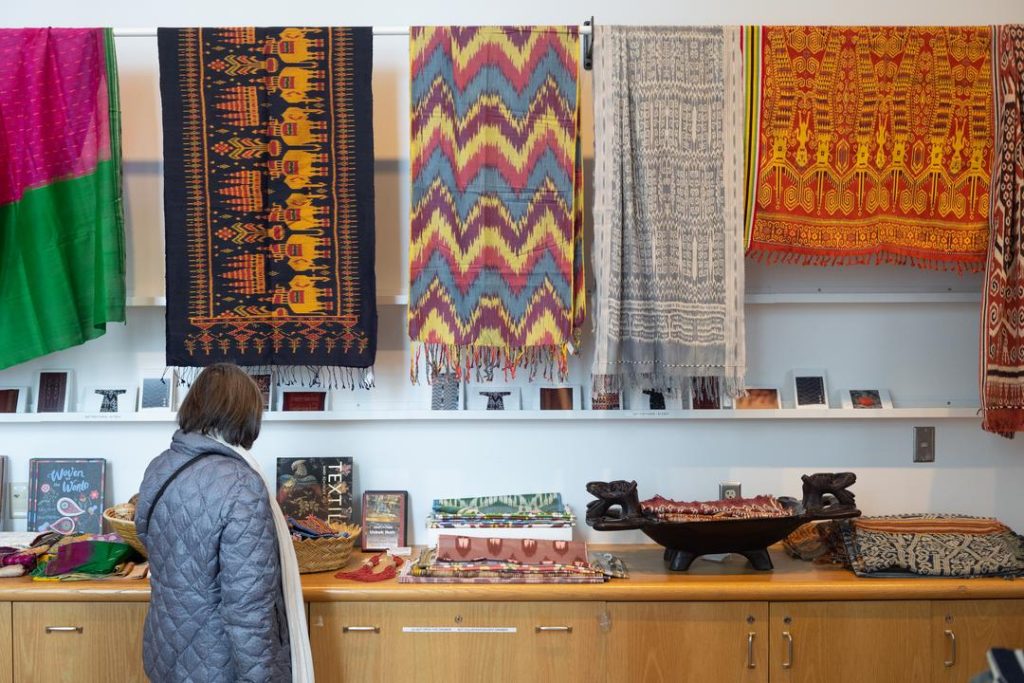 Tatman also worked closely with six local artisans and designers to create special products for the store, including one-of-a-kind jackets made with ikats imported from Uzbekistan by Judith Bird, bucket hats featuring ikats from Bali by Amy Downs, a jewelry collection by Marita Dingus that incorporates small scraps of ikat textiles stitched in layers, and bundles of plant-dyed thread and linen by Kata Golda for anyone feeling inspired to create their own textiles after seeing the exhibition.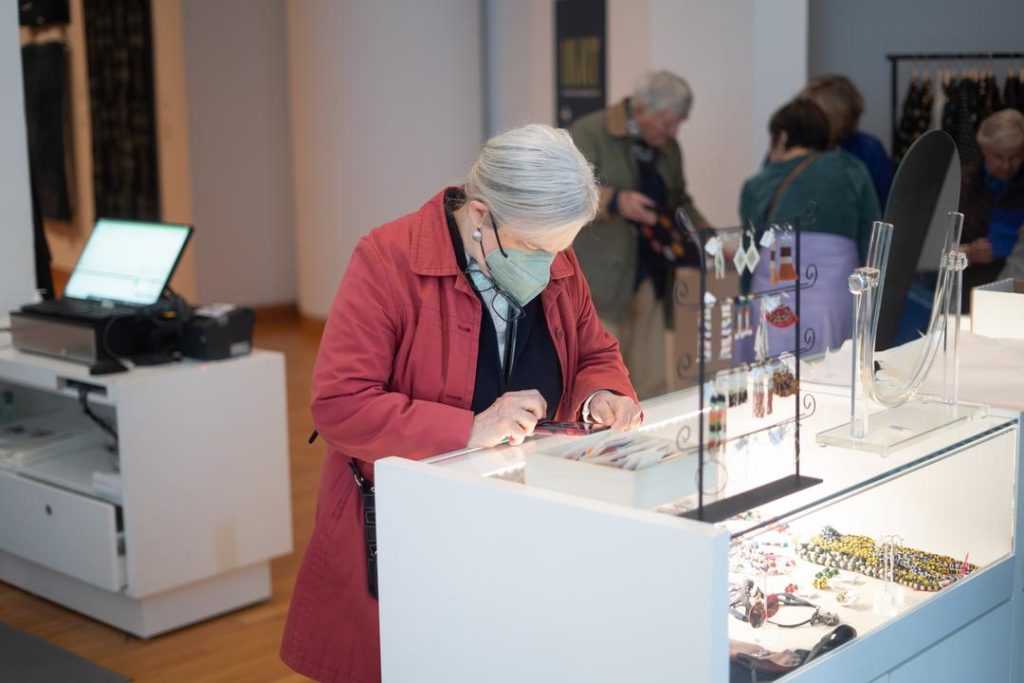 "Our customers love color, so I looked for handwoven products with striking color combinations," said Tatman while reflecting on how she decided what textiles were worth featuring in the Exhibition Shop. "I looked for items with good workmanship, value, and intricate designs. Anyone who visits the shop after exploring the galleries will find something that catches their eye."
The Exhibition Shop is located on the fourth floor of the Seattle Art Museum adjacent to the galleries. It is open Wednesday through Sunday from 10 am to 5 pm and is only accessible with museum admission. Browse SAM's entire collection of handmade gifts, books, puzzles, housewares, jewelry, textiles, and more online or on the museum's ground floor that is accessible via First Ave and open to all. Get your tickets to see Ikat: A World of Compelling Cloth and explore the Exhibition Shop through Monday, May 29!
– Lily Hansen, Marketing Content Creator
Photos: Chloe Collyer