Object of the Week: Dancewand for Sango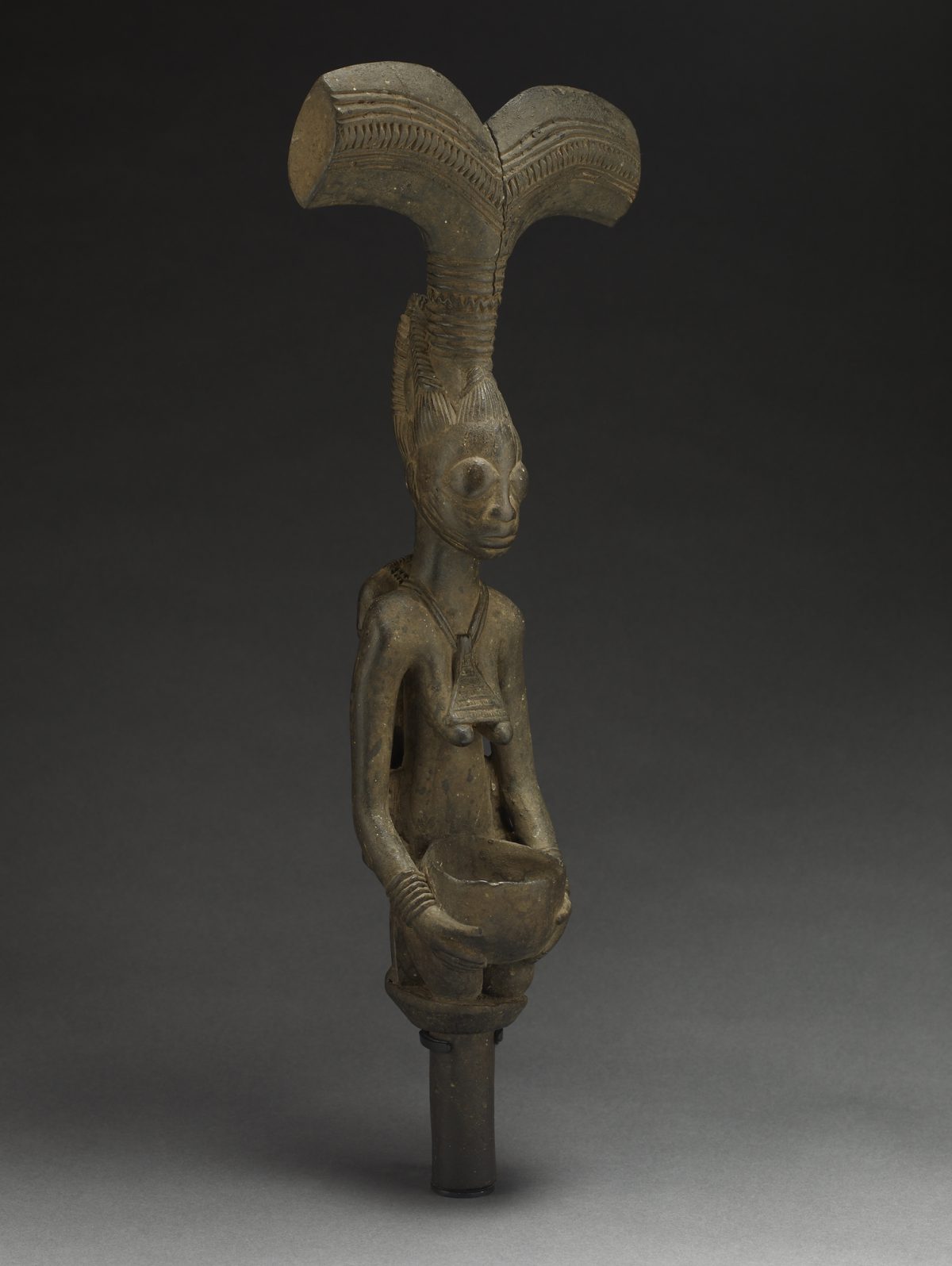 2020 has unleashed epic storms—a pandemic hurricane, tornadoes of lost jobs, and whirlwinds of racism. Meanwhile, in the center of Seattle, a new monument has appeared, offering the vision of a goddess named Oya, who offers to make way for changes in 2021.
Oya comes from a culture—the Yoruba of Nigeria—that has long seen storms as cultural texts. She is related to a kneeling woman at SAM who holds a bowl and supports two thunderbolts on her head. This woman is a devotee of Sango, a deity who resides in the skies as a champion of justice who hates liars, thieves, and wrongdoers; who claps thunder and throws lightning down to strike them.[1] Sango is tempestuous but can also be generous, and he may choose to send his explosive energy to women who care for children and others. In this sculpture at SAM, the devotee kneels to pay tribute to the earth as an omnipotent witness, remaining calm to balance Sango's bolts, and was once carried by a priest or priestess in a sacred drama filled with a unique soundtrack. Sango employs thunder—the loudest sound that nature makes—and his powerful presence is evoked in a distinctive way. If you've never heard bata drumming, below is a clip recorded in Nigeria; the video takes you to a family of drummers who fill the air with the intensity of a storm with frenetic crescendos that boggle the mind and ignite the spirit. [2]
Oya is Sango's consort. Her winds clear the path of opposition, helping him remove any obstacles to change. You can feel her presence in playful winds, or in more dangerous tornadoes and hurricanes. This year, she has risen to public glory at 24th and Jackson, in Seattle's Central District. A creative couple—Marita Dingus and Preston Hampton—gave her new form, inventing a swirling body of metal ribbons that suggest her windy demeanor, while her face of concentrated composure looks for places where she can sweep aside trauma and deceit to make way for healing.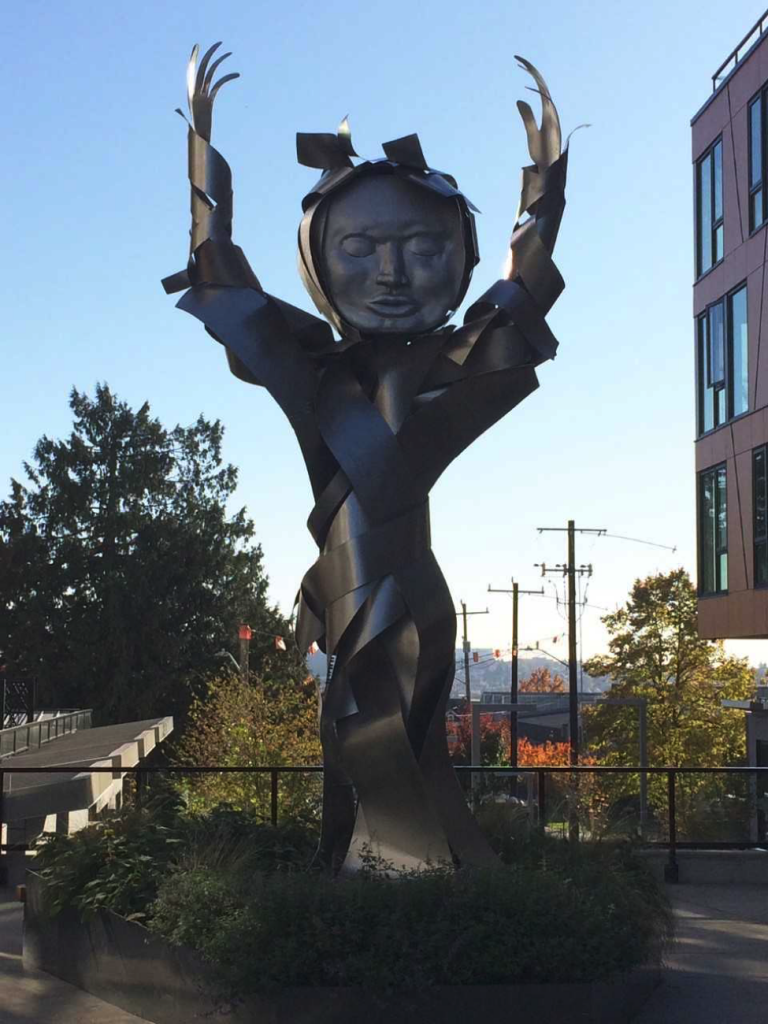 Here is the couple's explanation of how Oya came into focus:
So, how can Oya help us at the end of 2020? In Yorubaland, she is known to be fond of black-eyed peas. When Yoruba were forced to move to America, Cuba, and Brazil as slaves, they brought black-eyed peas, called ewa, with them. In a turn of language, ewa puns with wa, the essence of existence. Eating them in America was coded secret devotion. Today, it is understood that eating black-eyed peas at new years can bring good luck.[3]
You may join in Oya's quest to stir up radical shifts of being in 2021. Cook some black-eyes peas and talk about what changes you'd like to see, then visit Oya, or stand in her winds, and send her your words of hope for new paths to be found. Goodbye, 2020—let Oya's breeze of blessing and winds of transformation unfurl in the New Year.
– Pam McClusky, SAM Curator of African and Oceanic Art
---
[1] Babatunde Lawal is a Yoruba scholar whose work on Sango sculpture and explanations of the larger context for understanding Sango is highly recommended. Here is one talk by Professsor Lawal: Stellar Connections: Explorations in Cultural Astronomy – Pt. 4, Babatunde Lawal – YouTube
[2] Performance by Ayan Agalu, "May the spirit of drumming carry one aloft," March 2017, Erin Osun, recorded by Andrew Frankel.
[3] Franck Kuwonu, "Black-eyed peas: A taste of Africa in the Americas" UN | Africa Renewal, December 24, 2019.
Image: Dancewand for Sango, Nigerian, wood, 19 7/8 x 7 9/16 x 4 5/8 in., Eugene Fuller Memorial Collection, 67.91. Winds of Change: We Are Still Here, 2020, Marita Dingus and Preston Hampton, Jackson Apartments, Seattle, Washington.