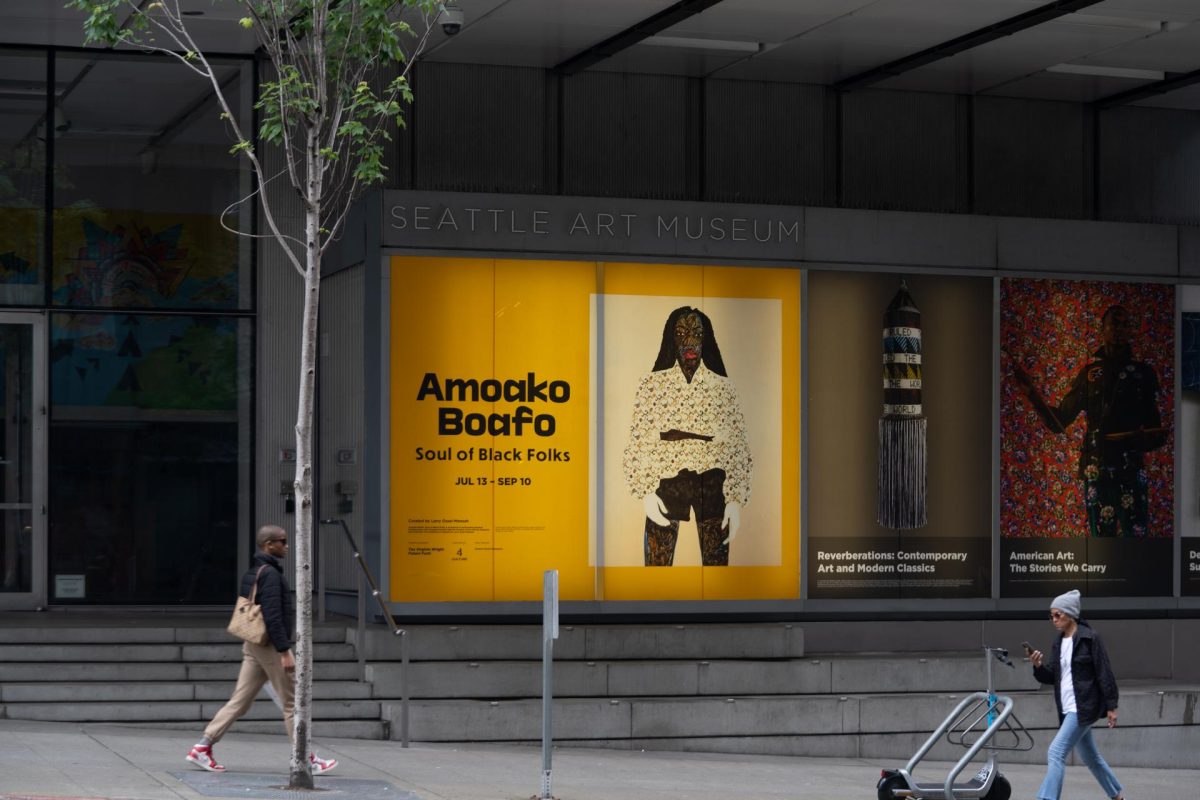 SAM News
Amoako Boafo: Soul of Black Folks opens Thursday, July 13 at the Seattle Art Museum. The Seattle Times' Margo Vansynghel includes the exhibition—the artist's first in Seattle—on her list of recommendations for July.
"The star of Ghanaian artist Amoako Boafo has risen almost too fast to behold—like the speed of light."
"Visiting the Metropolitan Museum of Art for Free in New York thanks to the Seattle Art Museum." Terumi Pong of An Emerald City Life and her family make excellent use of a patron-level SAM membership.
Via Denise Sakaki for 425 Magazine: "The Market Fishmonger & Eatery is a Summertime Catch." We couldn't agree more, and we recommend you check out our restaurant partner's eateries at the Seattle Art Museum and for the summer, the Olympic Sculpture Park.
In other Olympic Sculpture Park news, it's been named one of the ten best sculpture parks by the readers of USA Today. Thank you!
Local News
In her latest ArtSEA post, Crosscut's Brangien Davis shares a behind-the-scenes of the final preparations for XO23, the forthcoming art space in the old Coliseum Building opening July 13 (hmm, could make a night of it with the Boafo opening…).
Check out The Stranger's comprehensive Pride month coverage, with event recommendations, engaging profiles, and reported features.
The Seattle Times' Margo Vansynghel also reported the recent news that Seattle's Office of Arts & Culture has named Minneapolis arts administrator Gülgün Kayim its new director.
"Seattle is a city that is known for its world-class artists, creative entrepreneurs, and arts scene," Kayim continued, "and I look forward to working with them to make the arts more equitable and accessible to all."
Inter/National News
Howard Halle for ARTnews on "12 LGBTQ+ Artists Having Institutional Shows This Pride Month," including Jacolby Satterwhite, Keith Haring, and Lauren Halsey.
Via Artnet: There's a new episode of the acclaimed series Art in the Twenty-First Century to check out on PBS. It features contemporary artists including Anicka Yi, Tauba Auerbach, the Guerrilla Girls, and Hank Willis Thomas.
"How Hokusai's Art Crashed Over the Modern World": Jason Farago of the New York Times reviews Hokusai: Inspiration And Influence, from The Collection of the Museum of Fine Arts, Boston. Now on view in Boston, it heads to SAM this October!
"[…] one of the greatest of all printmakers appears at the nucleus of a worldwide cultural transformation, in which art became more urbane and more fleeting, and the observed world got flattened out into signs and symbols."
And Finally
The Seattle Times revisits Sleepless in Seattle locations (and seeks justice for Walter!).
– Rachel Eggers, SAM Associate Director of Public Relations
Photo: Chloe Collyer.