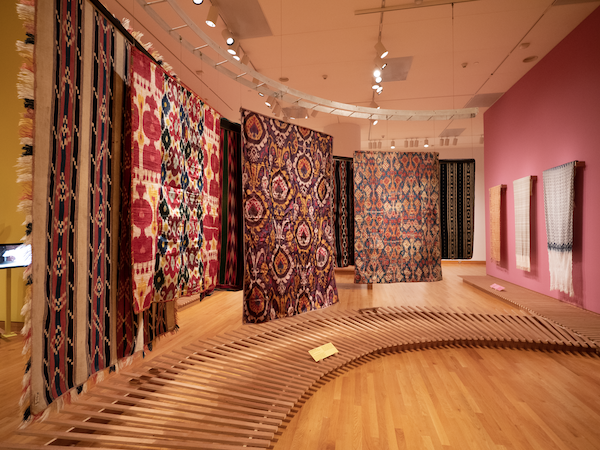 SAM News
"A world tour in textiles": Photojournalist Ken Lambert of the Seattle Times captured the splendor of Ikat: A World of Compelling Cloth, SAM's exhibition that opened last week. His photos also appeared on the front page of the paper's Friday edition.
The exhibition was also included in South Seattle Emerald's round-up of arts events happening in March.
And Taylor Bruce for the UW Daily reviewed the exhibition that explores "the art of 'slow fashion.'"
"The exhibit is not just about traveling the world, it also serves as a glimpse into how much textiles can mean, how they help people form bonds, and how they can create alternatives to buying from clothing stores."
Local News
"Clyde Petersen's Queer Devotions": Corianton Hale interviews The Stranger's "Artist of the Week."
Did you know that Seattle-based Eighth Generation created blankets for Marvel's Black Panther: Wakanda Forever? Crosscut's Brangien Davis gets all the details from Kim Kroeker, the company's director of product development. (P.S.: Brava to now two-time Oscar winner Ruth E. Carter!)
"A Seattle artist and the auction frenzy that sparked an FBI tip": Margo Vansynghel's final story for Crosscut before her move to the Seattle Times is a deep dive into the art market shenanigans surrounding Seattle artist Alden Mason (1919–2013). 
"The winter sky outside the castle had already turned dark when the art dealer got the message.
'Check out the auction house ABC …. The Alden Mason painting,' the text message read. Soon another gray bubble popped up on the iPhone screen. 'FAKE Mason !'"
Inter/National News
Via Tessa Solomon for ARTnews: "5 Shows to See That Explore the Complexities of Womanhood" in honor of Women's History Month.
Solomon also shared this exciting news: "Carrie Mae Weems Makes History as First Black Woman to Win Prestigious Hasselblad Photography Prize."
The Art Newspaper's Book Club gets recommendations of "four must-read books" on Hokusai from Sarah E. Thompson, the MFA Boston curator of Hokusai: Inspiration and Influence, which travels to SAM this fall.
"Katsushika Hokusai (1760–1849) is famed for his print Under the Wave off Kanagawa, commonly known as The Great Wave, an image reproduced innumerable times around the world in all sorts of contexts. But the Japanese artist's work was so much more interesting than his much copied and parodied wave might suggest; anyone who has seen his prints in the flesh will be blown away by the intricate detail and skilled craftsmanship."
And Finally
ICYMI: The Seattle Times' Moira Macdonald recaps the Oscars.
– Rachel Eggers, SAM Associate Director of Public Relations
Photo: L. Fried.