Object of the Week: Mending the Tears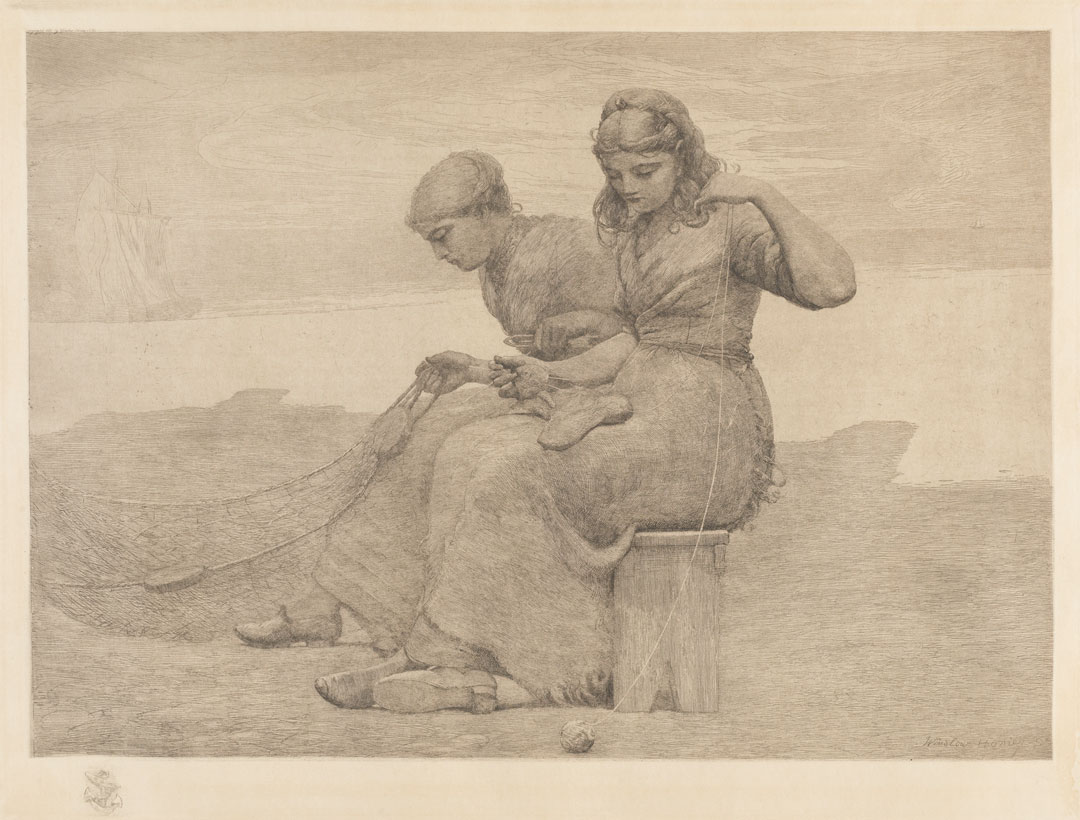 This etching, Mending the Tears, by Winslow Homer is often celebrated for its quiet dignity, beauty, and composition. Scholars look to, for example, "the strong but simple modeling of the two girls, the boldness of their silhouettes against the misty background, and the play of the erect girl's posture against that of the bent-over mender," and "the relaxed crossing of feet or the curl of hair casually freeing itself from the formality of a bun," as examples of Homer's mastery.[1]
Homer is rightly renowned for his contributions to American painting and printmaking, but less addressed in the scholarship surrounding this work are the actions of the depicted women—mending a net and darning a sock—from which the title bears its name. Once we consider the date of Mending the Tears, made during the middle of the women's suffrage movement in 1888, this romanticized image of women doing domestic work takes on different meaning.

The women's suffrage movement, which began in 1848 in Seneca Falls, New York, is inextricable from the history of women's labor in the United States. At the time, many working class women, enduring 14-hour shifts in garment factories and textile mills, would participate in the kind of work pictured in Mending the Tears, albeit on a much larger scale and in less picturesque settings. However, as early as 1844, women activists were speaking out against the working conditions of these workplaces: women working in the textile mills of Lowell, Massachusetts formed the Lowell Female Labor Reform Association (LFLRA); in 1866, shoe stitchers formed the first national women's labor union, the Daughters of St. Crispin; and, that same year, newly freed black women in Jackson, Mississippi also formed a union demanding higher wages, The Washerwomen of Jackson. The list of such accomplishments, driven by women workers across the country, goes on.
The labor movement was largely inspired by the republican values of a just society, social equality, and virtuous labor, as well as the socialist theories of David Ricardo. Mending the Tears, based on a watercolor made by Homer in 1882 while in England, beautifully captures one version of 19th-century life—and the role of women within it—but it is an idyllic one, and one at odds with much of the social and political changes taking place in the United States during the late 19th century.
– Elisabeth Smith, Collections Coordinator
[1] Philip C. Beam, Winslow Homer at Prouts Neck (Lanham, Maryland: Down East Books, 1966), 58; Doug Gruse, "'Impressions' of a master," The Post-Star, October 5, 2008.
Images: Mending the Tears, 1888, Winslow Homer, etching, 17 3/4 x 22 7/8 in., Josephine and Windsor Utley Purchase Fund, 98.21. Photograph by Lewis Hine. Women strikers in the early 19th century.