Object of the Week: Untitled #2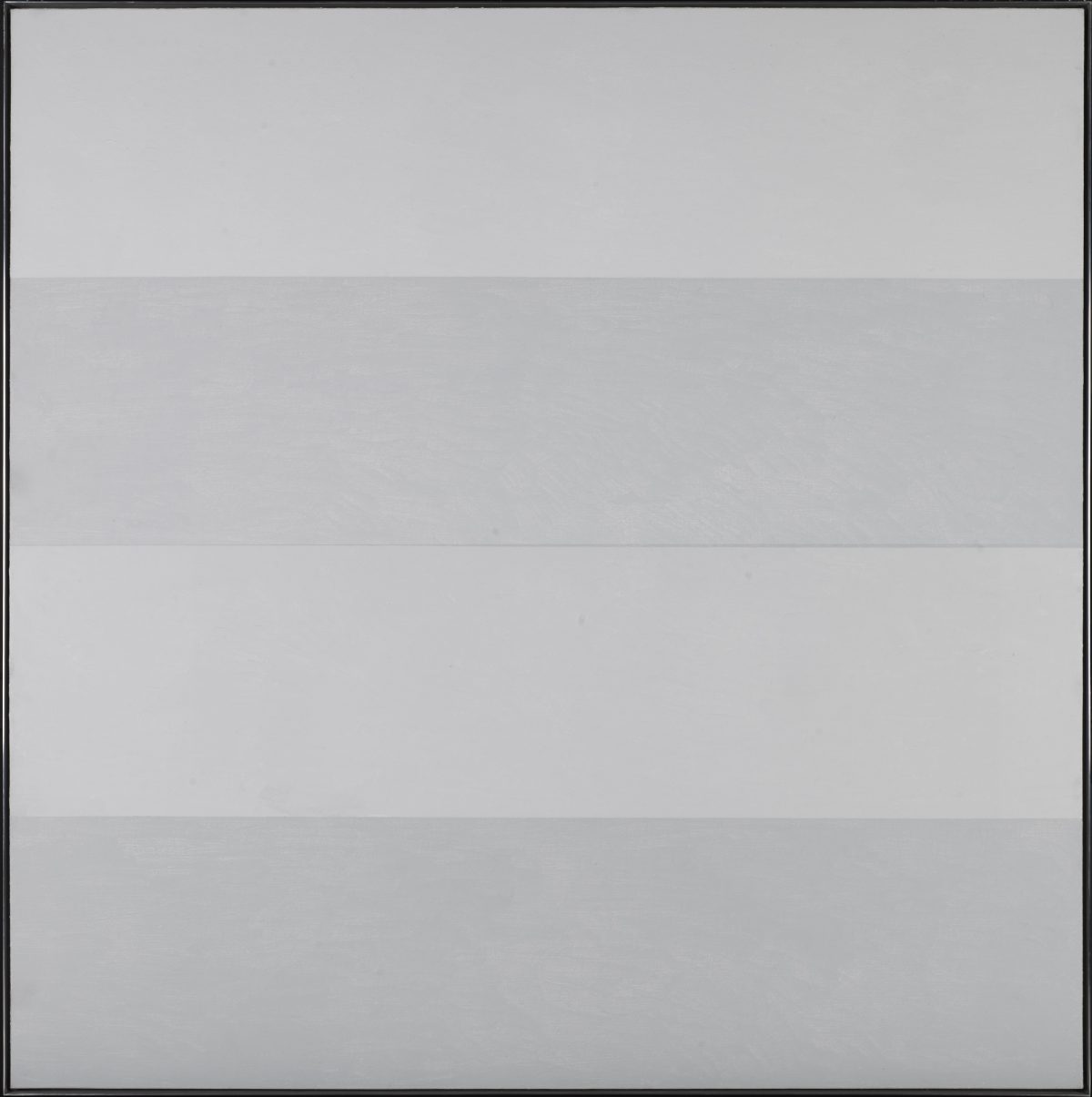 I hope I have made it clear that the work is about perfection as we are aware of it in our minds but that the paintings are very far from being perfect- completely removed in fact- even as we ourselves are.1

– Agnes Martin
In 1985, Agnes Martin painted Untitled #2. In her distinctive six-feet by six-feet scale, the painting's composition balances washes of soft color with hand-drawn horizontal graphite lines. Lean in to look closely and you can see the imperfections of a human hand drawing with pencil. Lean back and the painting surrounds you with atmospheric bands of color and space.
This poem, like the paintings, is not really about nature. It is not about what is seen. It is what is known forever in the mind.2

– Agnes Martin
Martin believed that who we are shapes what we see. She thought that paintings could provide transformative and non-prescriptive experiences for the viewer. In her writings, she described that "the life of the work depends upon the observer, according to his own awareness of perfection and inspiration."3 Rather than asking the artist, "What does this painting mean?" Martin asks the viewer to consider, "What does this painting mean to you?"
When we live our lives it's something like a race – our minds become concerned and covered over and we get depressed and have to get away for a holiday. And then sometimes there are moments of perfection and in these moments we wonder why we ever thought life was difficult.4

– Agnes Martin
When I first saw Untitled #2 hanging in SAM's galleries, I felt peace and wonder. The simplicity of the repeating forms encouraged me to stay still. Martin once wrote she liked a painting "because you can go in there and rest."[5] Untitled #2 offered me that restful space––an opportunity to quiet the mind. I wonder as I write this, what this painting means to you. Is it one you walk by in the galleries or does it also draw you in? I like to imagine Martin would not care either way. She would just hope you found something that gives you a definite response, a moment of perfection, a chance to feel something new.
– Regan Pro, SAM Kayla Skinner Deputy Director for Education and Public Engagement
---
1 Agnes Martin, Writings, Pace Gallery, 1992, p. 15.
2 Agnes Martin, Writings, Pace Gallery, 1992, p. 15.
3 Ibid, p. 32.
4 Ibid, p. 31.
5 Ibid, p. 36.
Images: Untitled #2, 1985, Agnes Martin, paintings, acrylic on canvas, 72 x 72 in., Gift of The American Art Foundation, 95.39 © Agnes Martin. Waters, 1962, Agnes Martin, India ink on paper, 8 1/8 x 7 5/8 in., Gift of Margaret Smith, 84.186 © Agnes Martin. Untitled, 1963, Agnes Martin, gouache, ink, and graphite on paper, 8 7/16 x 8 1/2 in., Gift of Margaret Smith, 84.189 © Agnes Martin