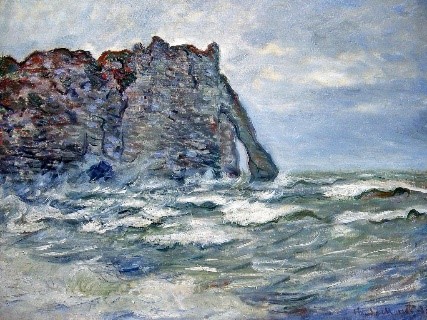 Claude Monet was not the first painter to find artistic inspiration in Étretat. Throughout the 19th century, impressionist painters including Gustave Courbet, Jean-Baptiste-Camille Corot, and Charles François Daubigny traveled to the small seaside fishing village to capture the landscape's breathtaking views.
Tune in to a letter Monet wrote to his companion, Alice Hoschedé, during his first voyage to Étretat in 1883. In it, the plein-air painter expresses his intention of painting a large-scale canvas of the village's defining cliff, the Manneport. Aware of Courbet's recent series of paintings depicting the same landscape, Monet calls the move "audacious." However, he promises Hoschedé that his interpretation of the view will be different and worthwhile.
This audio recording is available on the free smartphone tour of Monet at Étretat, now on view at the Seattle Art Museum. Listen to excerpts of five letters Monet wrote to Hoschedé while in Étretat, when you visit the exhibition at our downtown location, on view through October 17.
La Falaise And The Porte D'Aval, 1883
"I worked well today, I am very happy, the weather is superb if a little cold. I plan to do a large canvas of the cliff at Étretat, even if it is terribly audacious on my part to do that after Courbet did it so admirably, but I will try to do it differently. . ." February 1, 1883.

– Claude Monet
Image: La Falaise and the Porte d'Aval, 1883, Claude Monet, French, 1840–1926, oil on canvas, 23 5/8 × 31 7/8 in., Private Collection.