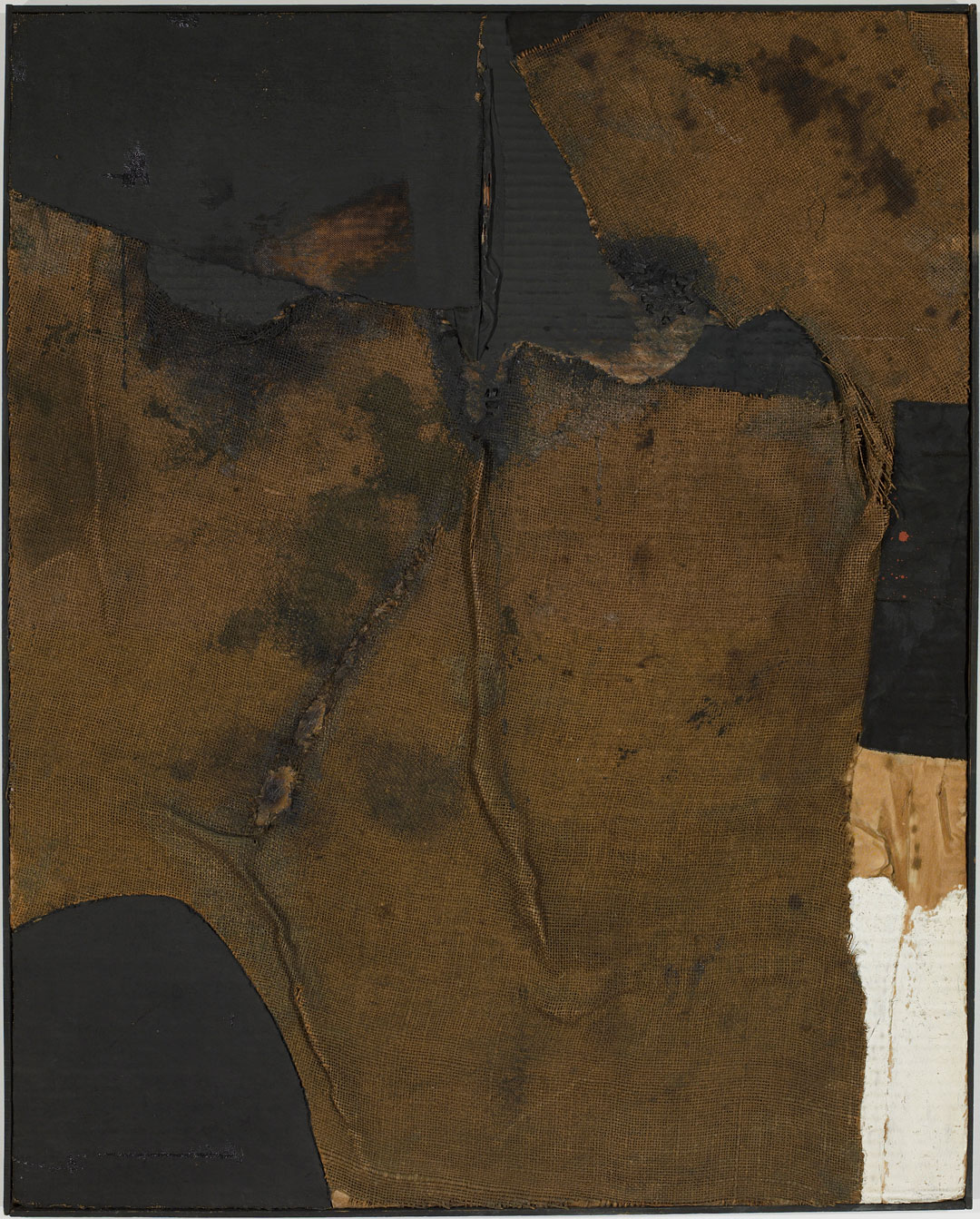 What lasts
This abstract composition is pieced together from fragments of ordinary things—corrugated cardboard, painted fabric, and wrinkled burlap. The surface is pierced, stained, and gouged, painfully reminiscent of scarred skin. It comes from a series called Sacchi (sacks), which use humble materials to create compositions that hover between painting and sculpture. Alberto Burri, who had been a doctor in the Italian army during World War II, started making art when he was a prisoner of war in Texas in 1943. As much as anything, the Sacchi seem to be about the temporary nature of materials, experiences, life—for many viewers in the 1950s, they seemed to express the suffering and darkness of the war years.
Burri created Sacco in 1955 when he was staying in New York. He had become friends with Harold and Hester Diamond, a young New York couple with an interest in art (Harold, a schoolteacher, would go on to become a prominent art dealer). Harold's brother owned the Upper West Side building where Mark Rothko had his studio, and the Diamonds, who lived upstairs, arranged for Burri to use the studio. He included the sleeve of one of Harold Diamond's discarded shirts in the lower right of this work, and presented the work to the Diamonds at the end of his stay.
Decades later in 1995, Hester Diamond gave Sacco to the Seattle Art Museum in memory of the artist, who had died that same year. Harold Diamond had passed away in 1982, and Hester, with her second husband Ralph Kaminsky, had become a friend of SAM and a supporter of the Seattle Opera, whose Ring cycle brought her to Seattle numerous times. Over the years she gave three more works to SAM, all very different from the Burri.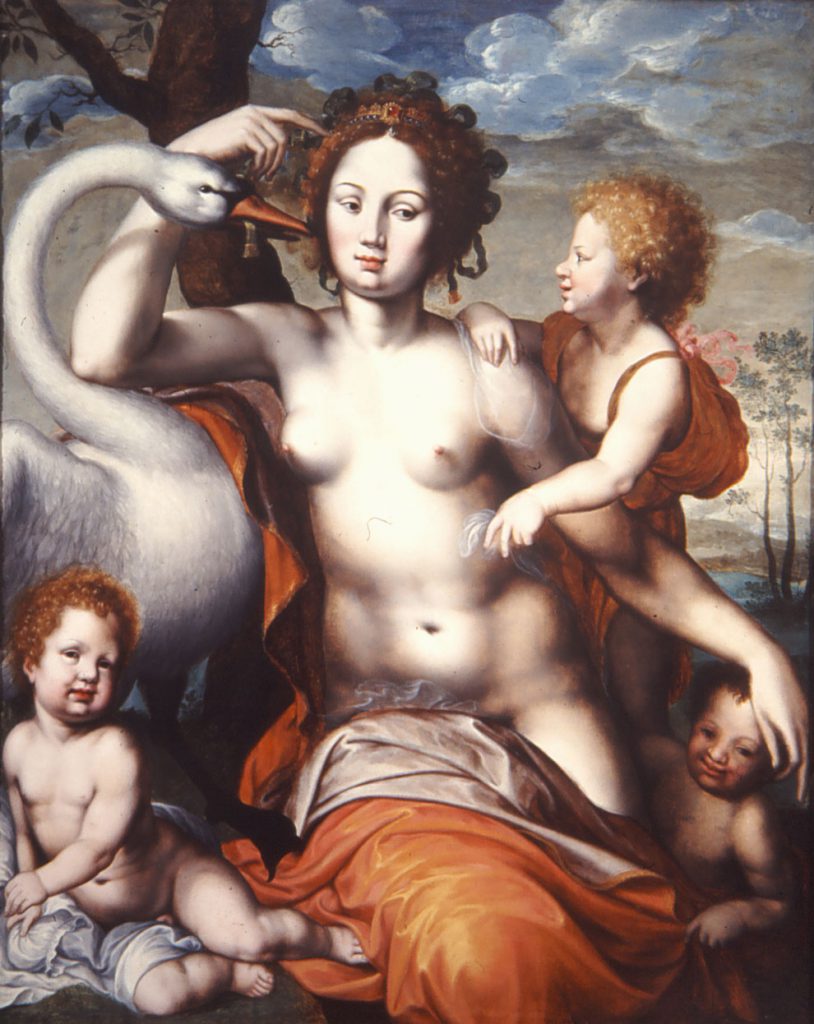 One of them is this wonderfully strange family portrait of Leda, Jupiter in the form of a swan, and their three children, hatched from eggs—a work by the mid-16th century Flemish painter Vincent Sellaer. The combination of appealing and unsettling visual qualities is typical of Mannerism, a style which attracted Hester's interest beginning in the early 1990s. Previously devoted to 20th-century art, she fell in love with the refined technique, inventiveness, and beauty of 15th- and 16th-century European painting and sculpture and shifted her collecting focus.
Hester Diamond was an enthusiastic and generous friend to international art institutions, artists, curators, scholars, and gallerists. The seriousness of her commitment to art was matched by her sense of humor and love of adventure as she explored new fields. A lifelong New Yorker, Hester had a close relationship with the Metropolitan Museum of Art and made significant gifts to her hometown museum over the decades. SAM is fortunate that she also recognized how works from her collection could make a difference here in Seattle.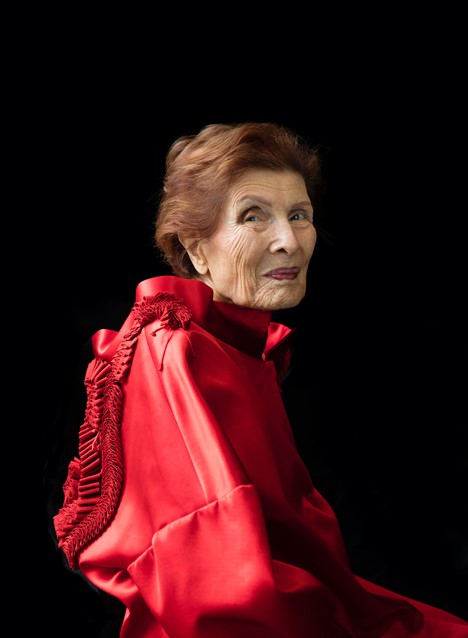 Hester's collecting interests could encompass a post-war collage roughly fashioned out of the ephemeral everyday, as well as a painting superbly crafted to last forever. Both are now valued works in our collection which future generations will be able to enjoy thanks to her generosity. Sadly, they outlast Hester herself, who died on January 23, 2020 at the age of 91. She will be greatly missed.
– Chiyo Ishikawa, Susan Brotman Deputy Director for Art and Curator of European Painting and Sculpture
Images: Sacco (Sack), 1955, Alberto Burri, burlap, cardboard, muslin, and paint, 35 1/2 x 28 1/4 in., Gift of Hester Diamond in memory of Alberto Burri, 95.134 © Artist or Artist's Estate. Leda and the Swan and Her Children, ca. 1540, Vincent Sellaer, oil on wood panel, 43 1/2 x 35 1/16 in., Gift of Hester Diamond in honor of Chiyo Ishikawa on the occasion of the 75th anniversary of the Seattle Art Museum, 2004.31. Photograph ©️ Carla van de Puttelaer, 2019.