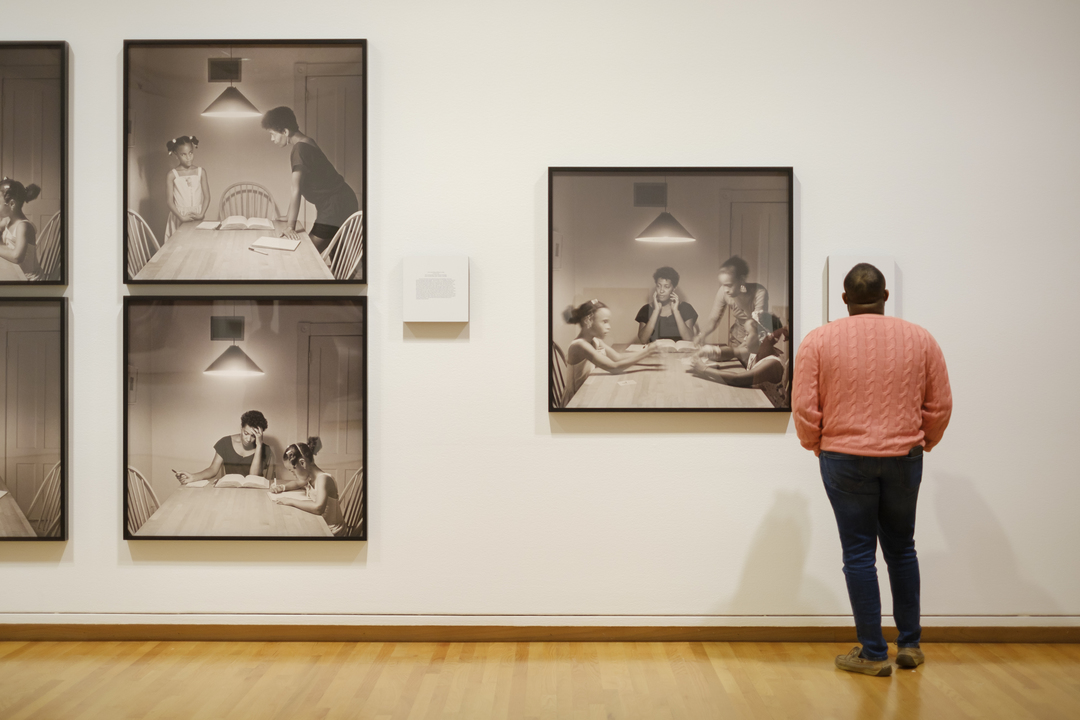 SAM News
"Seeing and Being Seen": Fiona Dang for South Seattle Emerald on Dawoud Bey & Carrie Mae Weems: In Dialogue at SAM, which closes this Sunday, January 22.
"Bey and Weems act as interpreters and eyewitnesses, asserting Black history as American history. Through their reflection of personal memories and their reimagining of critical sociocultural events, the past reverberates and resonates with the contemporary moment. Economic and institutional forces — racial global capitalism, political divisiveness, and gentrification, to name a few — shape collective ways of seeing and being. Antithetical to these oppressive, isolating processes, 'In Dialogue' asks us to pay attention, question, celebrate, and be present."
Crosscut names the "things to do in Seattle" this week, including the final week to see the work of Bey and Weems as well as Anthony White: Limited Liability, which closes January 29.
The Art Newspaper names its "must-see exhibitions in 2023," including Hokusai: Inspiration and Influence, from the Collection of the Museum of Fine Arts, Boston that debuts in Boston before heading to SAM this fall.
ParentMap's Elisa Murray on "How to Visit Family-Friendly Museums Around Seattle for Free," including how children 14 and under are free every day at SAM.
Local News
Crosscut's Brangien Davis on "honoring MLK Day with Seattle art," which mentions the grand reopening of the Northwest African American Museum, a new show at Arte Noir, and more.
The Stranger's Charles Mudede thinks about the city's iconic pink signs and lobster rolls (including those at MARKET Seattle at SAM). 
The Seattle Times' Jerald Pierce on the early works on paper by legendary sculptor George Tsutakawa, which are now on view at the Cascadia Art Museum.
"'This exhibition is a rare opportunity for the public to see a body of work that has mostly been in storage for decades,' said [curator and author David F.] Martin…'Contrary to what the public might presume, Tsutakawa's earlier works are highly informed by European Modernism and not Japanese art or technique, that came later in his career. So, George really transcended labels and was truly an independent modern American artist.'"
Inter/National News
Jerry Saltz of New York Magazine with "7 Art Shows We Can't Wait to See in 2023"; he mentions a few shows with SAM connections, including Sarah Sze's show at the Guggenheim (there's an incredible work by the artist now on view at SAM!) and the Georgia O'Keeffe show at MoMA (which will feature SAM collection work Music–Pink and Blue No. 1).
Via ARTnews' Maximilíano Durón: "NFL Chooses Chicana and Indigenous Artist Lucinda Hinojos to Create Artworks and Ticket Design for 2023 Super Bowl."
Artnet's Eileen Kinsella speaks with Frick director Ian Wardropper on the museum's fortuitous temporary move to the Breuer Building and how it "sparked a rethink of its iconic Old Master collection."
"'While we're here, it allows us more freedom, in this building that's kind of a laboratory,' said Wardropper. 'It's almost the antithesis of the Gilded Age mansion, where we can experiment more easily. We're hoping we develop audiences and ideas here that we can take back to the mansion.'"
And Finally
Join in the fun: @mygirlwithapearl.
– Rachel Eggers, SAM Associate Director of Public Relations
Photo: Alborz Kamalizad.