Muse/News: Anthony's Brain, Farmworker Families, and Restitution Poetics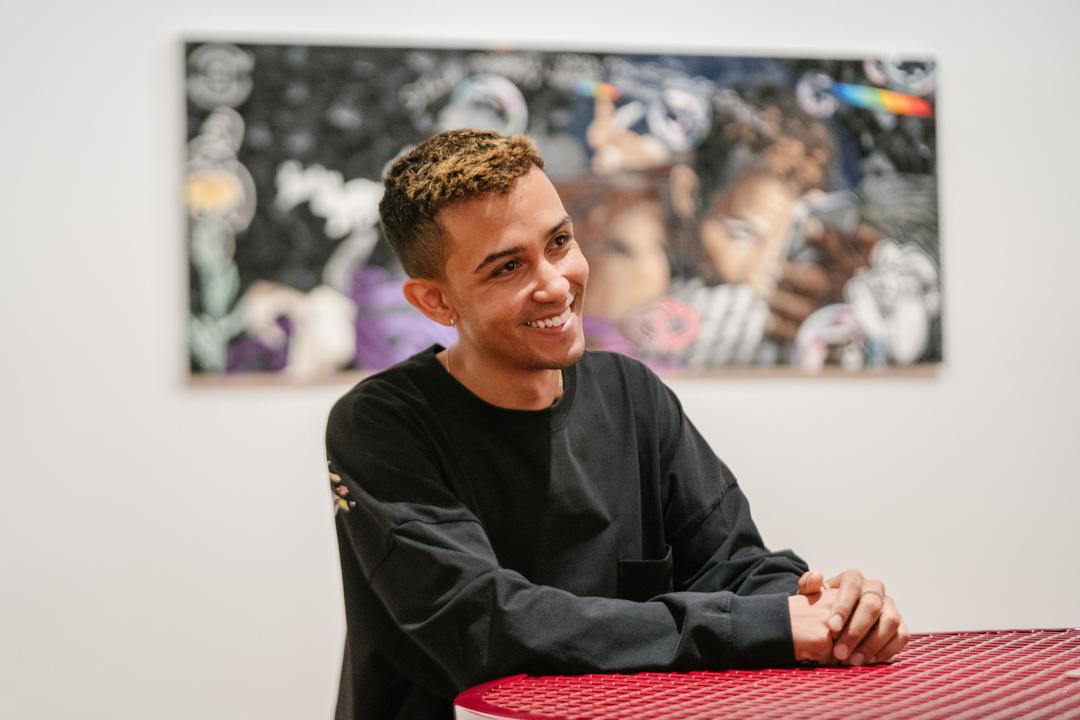 SAM News
"A dizzying tapestry of our digital world": Margo Vansynghel wrote about Anthony White: Limited Liability, the artist's solo show at SAM as part of his 2021 Betty Bowen Award win. ICYMI: Head to SAM's Instagram to experience Anthony's "brain on art" as he took over our Instagram stories last week!
The Seattle Times arts team helpfully gathered all the "ways to stretch your entertainment dollars in the Seattle area" with free or discounted tickets and events. They mention the free days at SAM's three locations—Seattle Art Museum (First Thursday!), Seattle Asian Art Museum (Last Fridays!), and the Olympic Sculpture Park (365 days a year!)—as well as other hot tips for free or discounted admission. Now, go ART!
Though the exhibition was no longer on view when Savita Krishnamoorthy's International Examiner review of Embodied Change: South Asian Art Across Time was published, it's still very much worth a read. And you can still see Chila Kumari Singh Burman's neon installation Kali (I'm a Mess) in the Seattle Asian Art Museum's park lobby. 
"We are witnessing an aspirational South Asianfuturism, dreaming of a world without war and human suffering."
Local News
Capitol Hill Seattle Blog on Soft Services, a site-specific installation of inscribed stones by Brooklyn artist Chloë Bass that has taken up residence throughout Volunteer Park.
Check out KNKX's new series, Aux Cord Privileges, which puts "musicians from the Puget Sound area in charge of the stereo." The first two editions feature vocalist Shaina Shepherd and rapper Da Qween.
The Seattle Times' Jayce Carral on a new exhibition featuring photos and memories from the region's farmworker families. All The Sacrifices You've Made / Todos los Sacrificios Que Has Hecho is on view at Tacoma's Washington State Historical Society until October 16.
"'You felt a sense of community in the fields because it was people talking your language, people hearing the kind of music you hear at home, people eating the foods you eat,' [Exhibition subject Luz] Iniguez said. 'It really felt like a community of people that were just working hard trying to make the most of a situation that was hard.'"
Inter/National News
"The highest aesthetic and technical achievement in fashion": That's a Met Costume Institute curator on Issey Miyake's designs; the groundbreaking Japanese designer has died at age 84. You can see three examples of his work right now at SAM in Folding Into Shape: Japanese Design and Crafts.
Via Sarah Rose Sharpe of Hyperallergic: "Best Museum Bathrooms in the US, Ranked."
Arthur Lubow for the New York Times on a five-screen film installation by Isaac Julien now on view at the Barnes Foundation that "looks at the place of African art in the Barnes and other Western museums."
"'I'm calling this the poetics of restitution, which is something I'm trying to explore in the work,' Julien said in a telephone interview from London. 'The debates that we're having today that seem contemporaneous were happening 50 years ago, if not before. I think that's really interesting.'"
And Finally
– Rachel Eggers, SAM Associate Director of Public Relations
Photo: Chloe Collyer.
Anthony White, Anthony White: Limited Liability, Betty Bowen Award, Chloë Bass, Da Qween, Dr. Chila Kumari Singh Burman, Embodied Change: South Asian Art Across Time, Folding Into Shape: Japanese Design and Crafts, Free First Thursday, Isaac Julien, muse/news, Olympic Sculpture Park, seattle art museum, Seattle Asian Art Museum