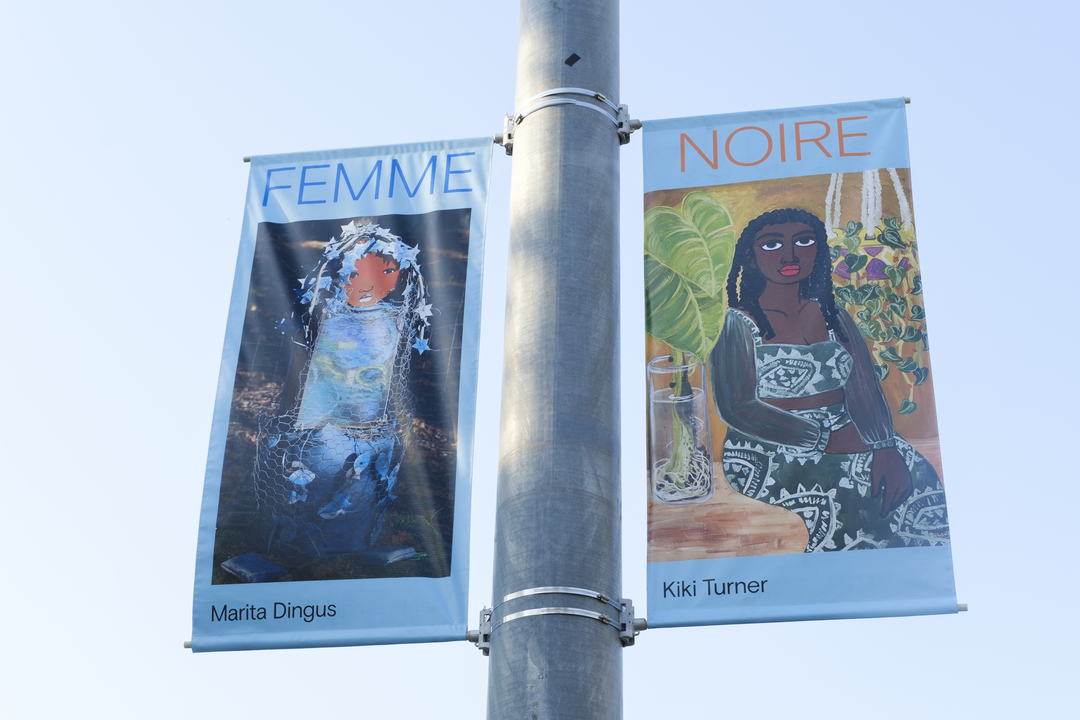 SAM News
It's the best time of the year: fall arts! Dive into coverage from both The Seattle Times and The Stranger. On our cheat sheet for visual arts coverage is the Seattle Times' recommendation for "9 Seattle-area art exhibits to catch in fall 2023," including shoutouts to two huge SAM shows for two iconic artists, Katsushika Hokusai and Alexander Calder; The Stranger includes both shows on its list, too.
You've got two weeks to hit the Central District streets to see the public art outdoor exhibition Femme Noire. It was recently blurbed in The Stranger and Crosscut, and Jas Keimig interviewed Elisheba Johnson of Wa Na Wari about the project for South Seattle Emerald.
"Throughout the day, we're constantly accosted by all sorts of visual stimuli—cars whooshing past on the street, ads on every conceivable visible space, the endless scroll of our social media feeds. These banners—thoughtfully placed near busy street corners, bus stops, and benches—offer a moment of contemplation and curiosity for the viewer on the street. 'We're showcasing, through community partners and public activation, the power of seeing Black art,' said Johnson."
"Romantic Weekend Guide for LGBTQ+ Couples": Jon Bailey for Vacationer Magazine shares the whirlwind details of a recent visit to Seattle with his husband, Triton. Thanks for visiting SAM!
Local News
"The arts are still in recovery." That's one respondent to a recent survey of King County arts organizations conducted by the Seattle Times. Reporter Margo Vansynghel shares all the insights on why this fall season will be "crucial" for the arts.
And here's new Seattle Times arts and culture reporter Gemma Wilson on another current trend among regional arts: a "once-in-a-generation" leadership change across various sectors.
One of those departing—after 15 years at helm!—Sylvia Wolf of the Henry Art Gallery, shares thoughts with Hannelore Sudermann for the University of Washington Magazine.
"She also points to the Frye Art Museum, the Henry and the Seattle Art Museum as fulfilling the notion that civil society is advanced with having art and culture as part of the landscape. Yet with the population and the wealth in the region, there is untapped potential for further elevating the arts here. 'We could be placing Seattle as one of the best arts cities in the country,' Wolf says, 'but we're not there yet.'"
Inter/National News
Ten years of Culture Type! Victoria L. Valentine shares the "Top 10 Most Read Posts" since the launch of the site that covers art, history, and culture from a Black perspective.
Will Heinrich gathers "More Than 90 Art Shows and Exhibitions to See This Fall" for the New York Times' fall arts preview.
Via Taylor Defoe of Artnet: RIP to Colombian artist Fernando Botero, who passed away at the age of 91.
"Across a seven-decade-long career, Bottero developed a style—sometimes referred to as 'Boterismo'—that was unmistakably his own. His subjects, often middle-class laborers in moments of leisure or celebration, bore pinched facial features and plump frames. His depictions of food and land were similarly sumptuous. References to European art history shaped his painted scenes; so did a pair of competing impulses under the surface: humor and social critique."
And Finally
"Seattle's Lusty Lady marquee comes down." (Not to worry; it will rise again.)
– Rachel Eggers, SAM Associate Director of Public Relations
Photo: Alborz Kamalizad.