Object of the Week: Me and Pops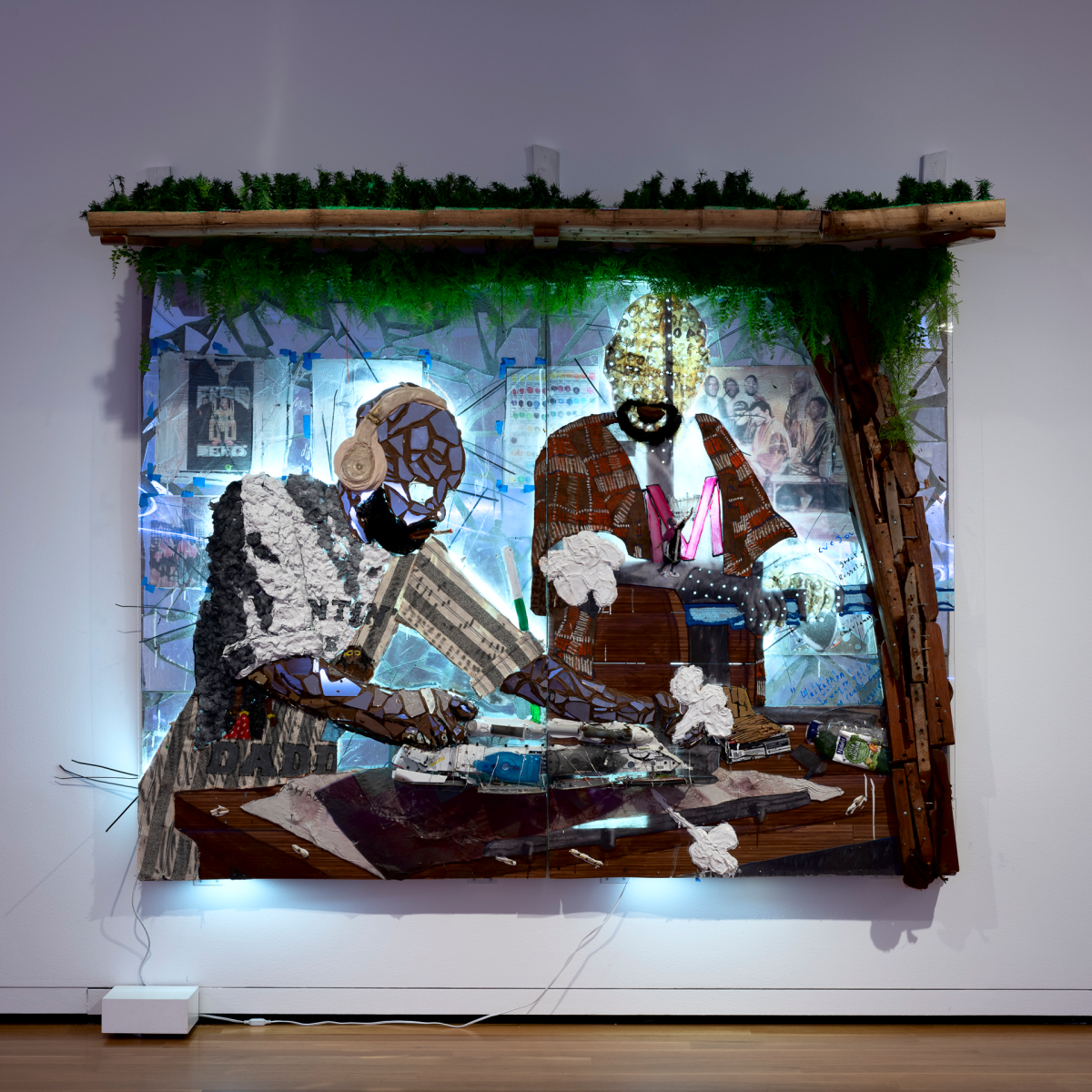 An artist whose work defies easy definition, Aaron Fowler's "memoiristic, maximalist bricolage" sculptures are comprised of carefully sourced found materials and second-hand objects that have the "feel of human in them."1 Taking compositional cues from American history painting, religious iconography, and family lore, Fowler's work includes both imagined narratives and real stories from his own experiences as well as those of his friends and family.
Me and Pops—included in the artist's 2020 solo exhibition at SAM, titled Aaron Fowler: Into Existence—depicts the artist in the foreground, ironing used clothing that will later be incorporated into a sculpture. He works alongside his father, a relationship that he hoped to continue building. The background includes references to other works (then in-progress) that were also included in his SAM exhibition—a nod to moments in the past as well as hopes for the future—while the canopy structure overhead refers to a shared dream with his father to build a home on their own land. Fowler describes his mirrored self-portrait as a means by which others can see themselves within the personal dreams he is relaying, lending them a more universal message: "I'm having these experiences to share with others…So whether it's good, bad or ugly—I feel these experiences I'm having are not just for myself."
A sense of optimism, ambition, and aspiration underscore Fowler's practice. Me and Pops, like so many of his works, depicts a poignant subject and action that the artist wished to manifest, borrowing from the words of encouragement spoken by his grandmother: "you need to speak it into existence."
– Elisabeth Smith, SAM Collections and Provenance Associate
---
1 Press Release, "Aaron Fowler: Exceedingly and Abundantly Blessed," François Ghebaly, http://ghebaly.com/wp-content/uploads/2018/11/2018Fowler_PR.pdf.
Image: Me and Pops, 2019, Aaron Fowler, Mixed media, 97 × 74 × 6 1/2 in., General Acquisition Fund, 2020.25, ©️ Artist or Artist's Estate.