SAM Creates: Comic Books with Michael Nicoll Yahgulanaas

Carpe Fin is a very large mural created by Haida artist Michael Nicoll Yahgulanaas on handmade mulberry paper from Japan. The people of the Haida Nation are native to coastal British Columbia and southern Alaska and have occupied Haida Gwaii since time immemorial. Yahgulanaas describes his artwork as "Haida manga," which combines many artistic and cultural traditions and styles, including Haida formline art, Japanese manga, Pop Art, Chinese brush painting, and graphic novels.
The artist uses black shapes to outline scenes from the story, which are similar to boxes you'd see in a comic book or graphic novel. The shapes Yahgulanaas uses, like ovoids and u-shapes, are usually used in formline or frameline design, which is the common visual language across Native communities in the Northwest Coastal region. He was inspired in particular by a 19th-century headdress created by his Haida relative, Albert Edward Edenshaw, pictured below.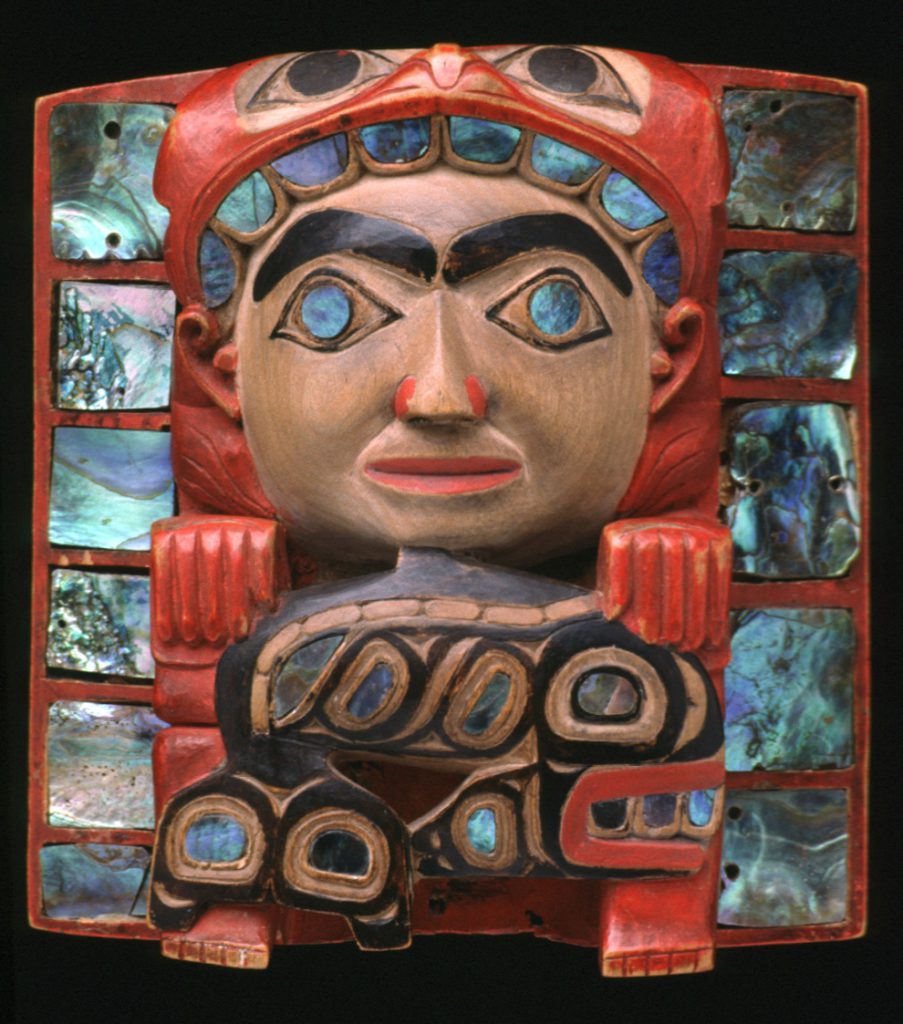 The story he tells is inspired by a traditional Haida oral story and the story told by his relatives' artwork, but set in the world that we live in today. Carpe Fin is about the relationship between humans and the ocean. A sea mammal hunter goes in pursuit of food to feed his starving community and is taken underwater to the realm of a powerful spirit. Carpe Fin makes us think about environmental issues and the connection between humans and nature. Learn more about the history of the Haida Nation.
LOOKING QUESTIONS
Take a minute to look at the artwork and take in everything that you see. Then talk about these questions with a friend or family member.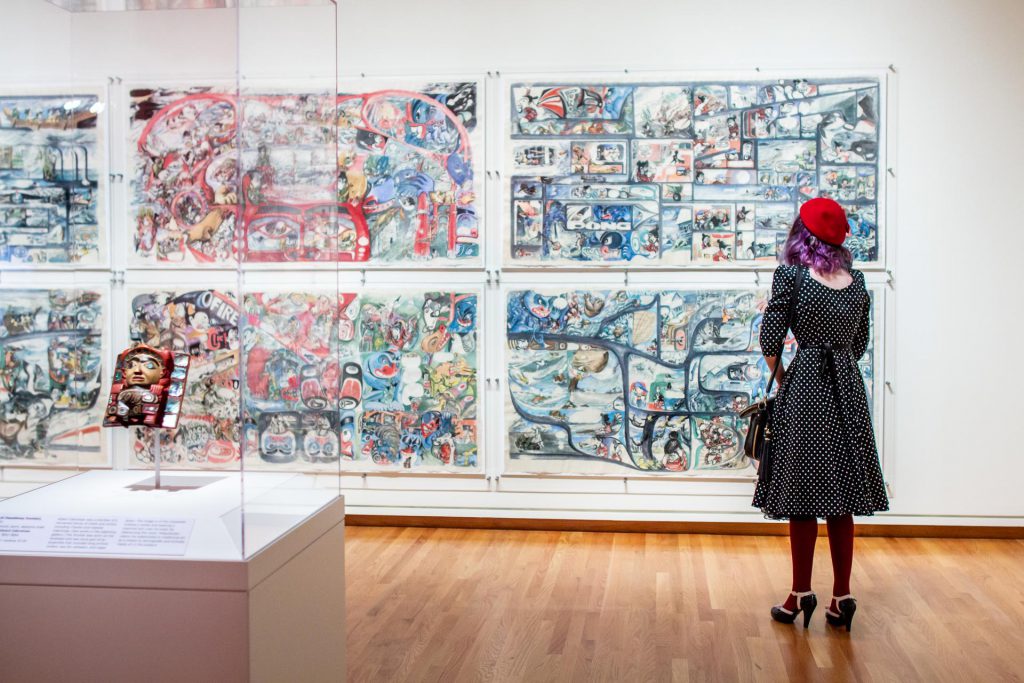 What's going on in this artwork? What do you see that makes you say that? What more can you find?
This panel is just one part of a much larger work of art and was inspired by comic book design. How is it similar to comics that you have seen before? How is it different?
Who do you think the characters are in this story? What can you tell about them based on the details you see?
Imagine you're in one part of this painting. What would you see? What would you smell there? What would you hear?
Art Activity: Create a comic to tell your own story.
What You'll Need!
Paper
Pencil
Eraser
Optional: ruler, markers, colored pencils
Decide on a story: Choose an interesting story that has been told to you by someone you know. Now, think about what that story would be like if it happened today with people you know. When you have an idea for your story and characters, write out the plot: a beginning, middle, and end. 
Divide your paper into three parts, either by folding it or drawing lines using the ruler and a marker. For more of a Haida manga style, try creating three boxes using ovoids or u-shapes instead of squares or rectangles.
Working from right to left or top to bottom (depending on how you use your paper), draw the beginning, middle, and end of your story.
If you like, you can trace your lines in marker and color in your drawings. You can also add words
to your story (consider using speech bubbles to make it look even more like a comic strip)!
Don't forget to write your name, authors and
artists always sign their work! What title will you give this comic?
KEEP LEARNING WITH A STORY
Michael Nicoll Yahgulanaas also turned Carpe Fin into a book. Buy a copy from SAM. You can read more graphic novels on Hoopla Digital and Comixology. If you're looking for more new takes on Indigenous stories, read Tales from Big Spirit series by David Alexander Robinson or Trickster by Matt Dembicki online.
Carpe Fin (detail), 2018, Michael Nicoll Yahgulanaas, Haida, b. 1954, watercolor and ink on handmade Japanese paper, 6.5 x 19.7 ft., Seattle Art Museum, Ancient and Native American Art Acquisition Fund, McRae Foundation and Karen Jones, 2018.30, © Michael Nicoll Yahgulanaas. Sakíi.id (headdress frontlet), ca. 1870, Albert Edward Edenshaw, maple wood, paint, and abalone shell, 6 1/4 x 5 7/8 x 2 1/4 in., Gift of John H. Hauberg, 91.1.82. Photo: Natali Wiseman.