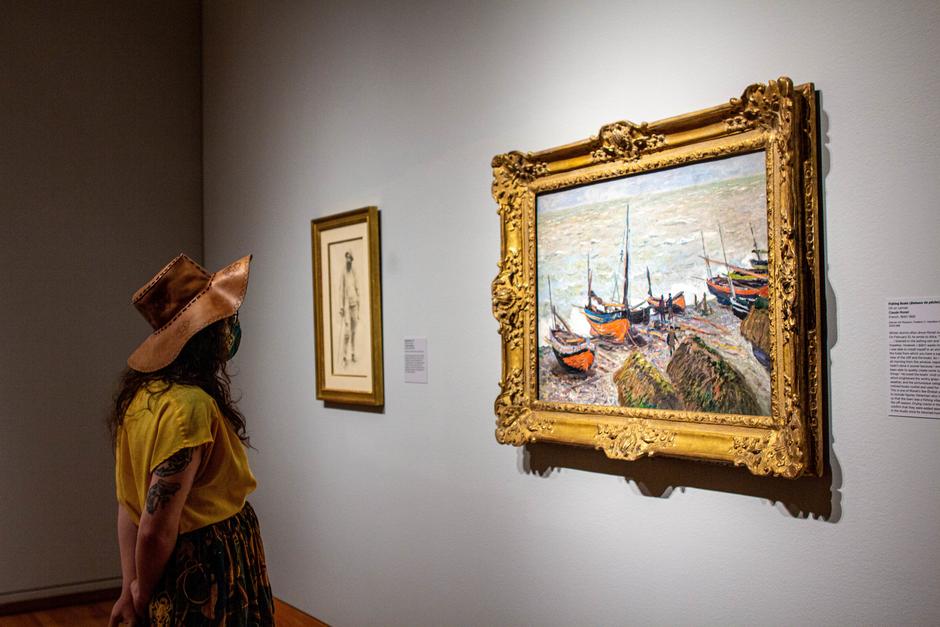 SAM News
Monet at Étretat is recommended by notre amis at Ici Seattle, and Seattle Met includes it on their list of things to do in Seattle.
The Seattle Times' Megan Burbank is back with their "A&E Pick of the Week"; she highlights current shows at Photographic Center Northwest and Sandstone Ceramics and also suggests you mark your calendars for Frisson: The Richard E. Lang and Jane Lang Davis Collection, opening October 15 at SAM.
"It's thrilling to share with the public these formidable examples of Abstract Expressionism and postwar European art," said Catharina Manchanda, SAM's curator of contemporary art, in the news release. "The emotional current of these works, reflective of their specific time and context, runs from exuberant to contemplative, fierce to soaring."
Local News
Seattle Medium is among outlets sharing the news that Sheila Edwards Lange has been selected as the new chancellor of the University of Washington Tacoma. The educator and leader also serves on several boards, including that of the Seattle Art Museum.
The Seattle Times' Alan Berner captured the tricky installation of two sculptures downtown: Fernando Botero's Adam and Catherine Mayer's What Goes Up Must Come Down (a giant paddleball!).
The Stranger's Jasmyne Keimig spoke with seven of Seattle's mayoral candidates to ask them about their platforms for the arts (or lack thereof). To learn more, join this Thursday's candidate forum on the arts!
"You'd have to be living under a rock not to understand how devastating the pandemic has been for Seattle's art and cultural community…While Seattle's Cultural Space Agency charter has emerged to stymie cultural displacement in the city, a lot of work is yet to be done to make sure that Seattle can be a hospitable place for artists to work and live. So what's Seattle's next mayor going to do about it?"
Inter/National News
"The African American Cultural Heritage Action Fund, a program of the National Trust for Historic Preservation, has announced 40 grants totaling $3 million in support of efforts to preserve African-American landmarks," reports Philanthropy News Digest.
"Pay your rent, Canada": a comic by SAM collection artist Michael Nicoll Yahgulanaas.
The Magazine ANTIQUES continues its coverage of the missing panels from Jacob Lawrence's Struggle series; here, they check in with the exhibition curators of The American Struggle, which was recently on view at SAM, to reflect on the recently recovered and still-missing panels.
"Immigrants is the title caption, but on the back Lawrence wrote, 'The Emigrants,' suggesting a desire for permanence in their new home. The middle figure clutches a potted rose—the national flower of the United States. Lawrence's vision is that the arrival of all people, young and old, contributes to the expansion of America through their struggles and courage."
And Finally
"Arts Philanthropists Need to Change the Way They Think About Disability": An Artnet op-ed from Alice Sheppard and Lane Harwell.
– Rachel Eggers, SAM Associate Director of Public Relations
Image: Installation view of Monet at Étretat at Seattle Art Museum, 2021, photo: Natali Wiseman.