SAM Connects to the Hear & Now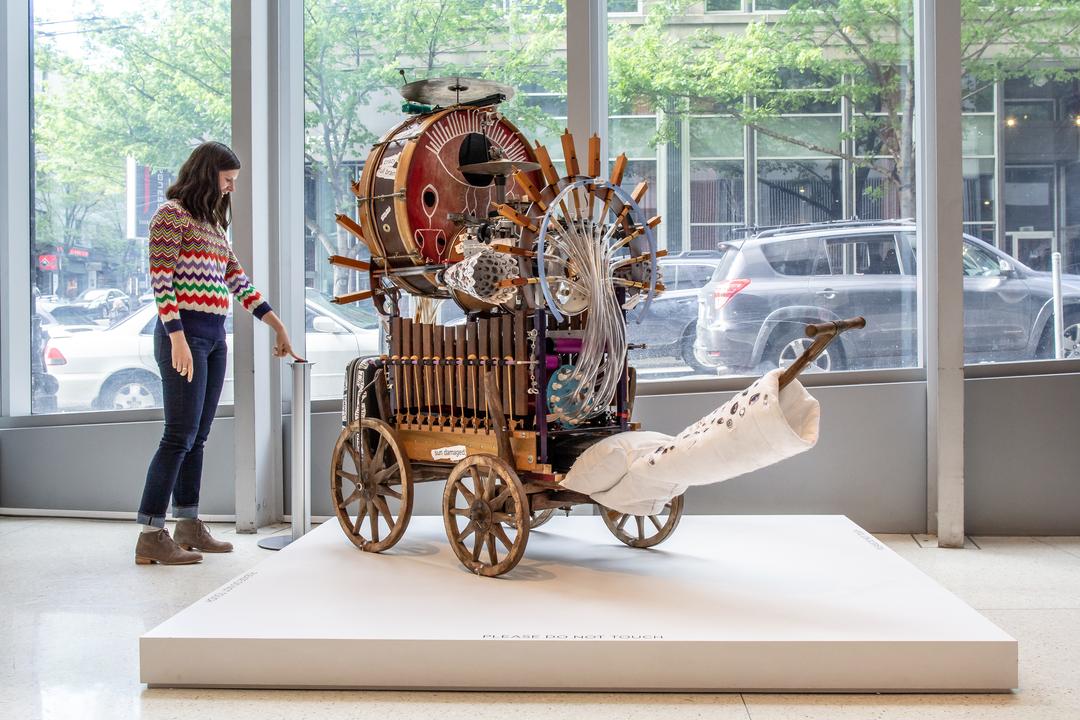 We believe art is for everyone and right now everyone can experience a new kinetic sound sculpture installed at SAM's 1st and Union entrance. Playing music, projecting poetry, and covered in the text, drawings, and collage by artists with lived experiences of homeless, Hear & Now is a collaboration between internationally celebrated artist, composer, and musician Trimpin and Path with Art students presented for you to view for free!
Built from an antique hand-pulled wagon originally built by Trimpin's father in Germany, the work is activated by pressing the play button situated next to the object. Each tap triggers a different musical composition or poem created in collaboration with teaching artists. Hear & Now is free and accessible to all and will be on view through July 15. Visit the entire museum for free on Thursday, June 6, and catch the Hear & Now Performances and Artist Talkback taking place 6–8:30 pm featuring pop-up performances by the student artists, a movement piece directed by Rachel Brumer and Monique Holt accompanied by the musical compositions played by the sculpture, and a chance to hear from Trimpin.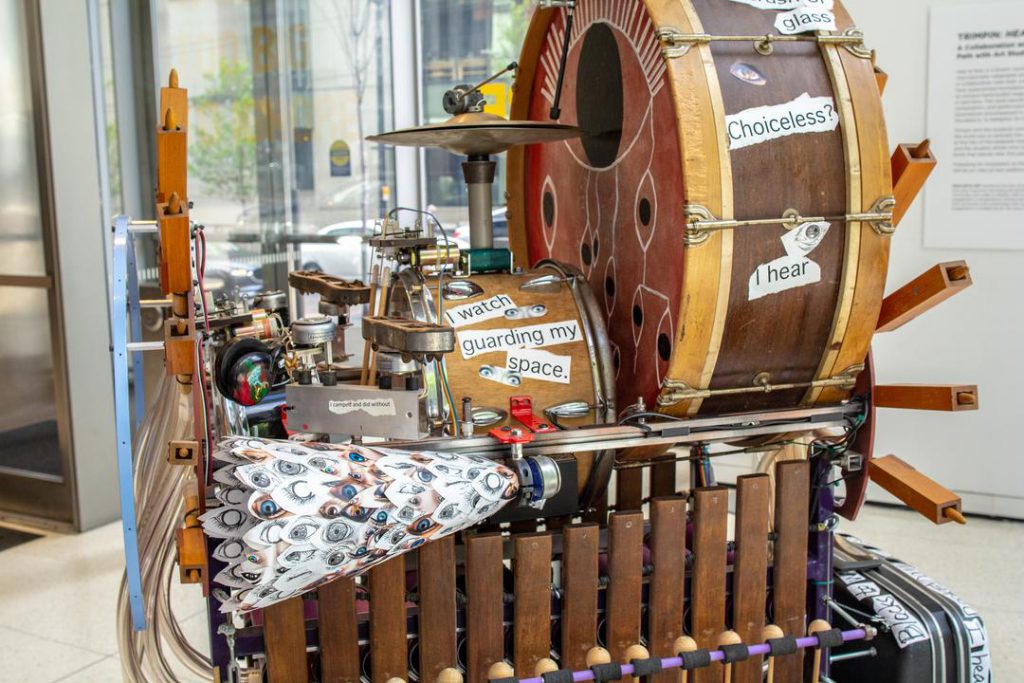 Get primed for Thursday evening with this interview with Trimpin and a Path with Art student artist.
SAM: How did you start working with Path with Art?
Trimpin: Five years ago, I was Composer in Residence with the Seattle Symphony Orchestra. The last year of the three-year residency involves a public-outreach workshop. I decided to work with a group of Path with Art student artists. I was first introduced to Path with Art at a performance at the Hugo House; I was impressed with the artistic caliber of all the performing artists.
Tyler Marcil: Jennifer Lobsenz, the Program Director at the time, asked me to participate in this project in the summer of 2017. We worked with Christina Orbe for six weeks and Yonnas Getahun for two weeks over the course of eight workshops at Trimpin's studio.
During these workshops, we created found poetry – I had never done anything quite like that before. I took a story that I had already written called, "The Woman on the Sidewalk," and pulled words from that story to create new poems for the sculpture. A year later, I was invited to record work for Path with Art at Jack Straw Cultural Center.
What is the significance of the wagon wheel as a foundation for the sculpture? How does it relate to experiences of homelessness?
Trimpin: When I was beginning to conceptualize the interdisciplinary workshop, mobility and transition was a major consideration. Aware that most homeless people are in continual transition, the wagon-wheel was a starting platform to build up the story, not just metaphorically, but literally as a sound object which is mobile. It is similar to the way the wagon was used in my family to haul a variety of items around, and I still remember watching my father when he was building the wagon from scratch.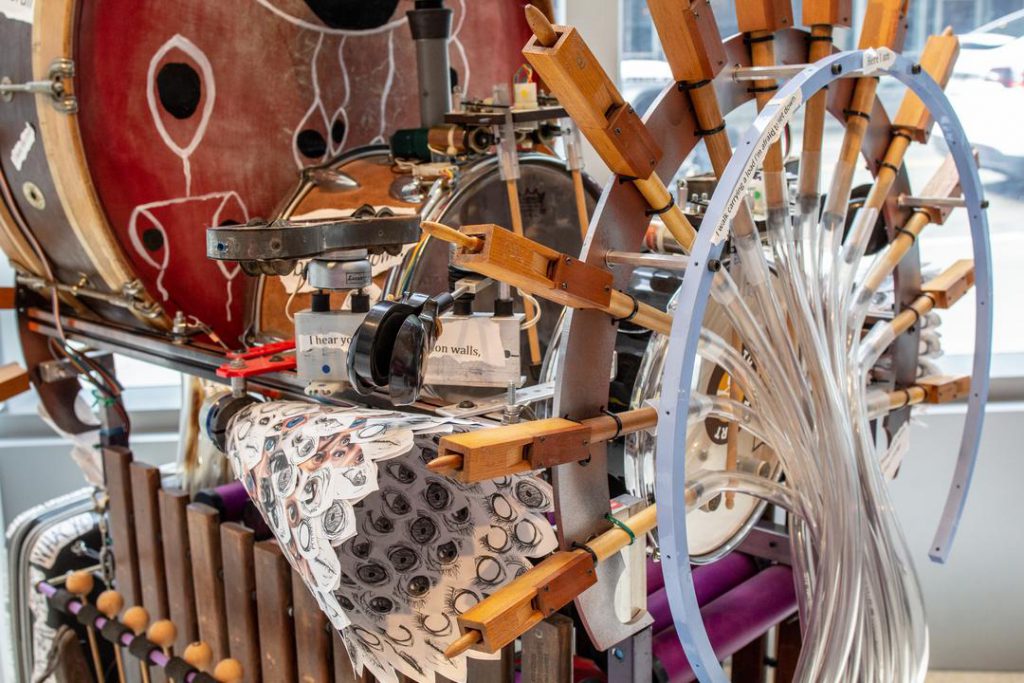 How did the artists collaborate on the creation of the final sculpture?
Tyler: The first group to meet was our group—the poets. The visual artists then took the found poems we created, turning these magnificent words into different pieces of art. Then the musicians came and made compositions inspired by the language and the artwork.
Hear & Now allowed many people to contribute their skills to this larger project. The people who were involved all have different ways of expressing themselves. Through this project, their voices are heard, and they are able to speak from their soul through their medium. Without this opportunity, they might feel silenced—without a voice, or without their voices being heard.
Can you share a moment of discovery or breakthrough in the process that left an impression on you? Why did that moment stand out to you?
Trimpin: Artists in general are not collaborating with other artists very often. A part of the workshop was to teach each student that we don't have to compete with each other; and we actually can work together and contribute each individual's expertise to make the project successful. This process was very important to me and the project would not exist without the great commitment and interaction of each individual student.
Tyler: I don't like hearing my own voice. When we were recording our stories at Jack Straw I could feel my heart racing because it's a voice that my mother created by teaching us to speak a certain way. I could hear the –eds and the –ings. Those were important in my household growing up.
When I was forced that day to listen to my voice I cried inside because I realized—my voice is beautiful. And had I known that it was beautiful, I would have listened all along. And now when I ask people, what is it about my stories or poetry that you like? They tell me, it's your voice.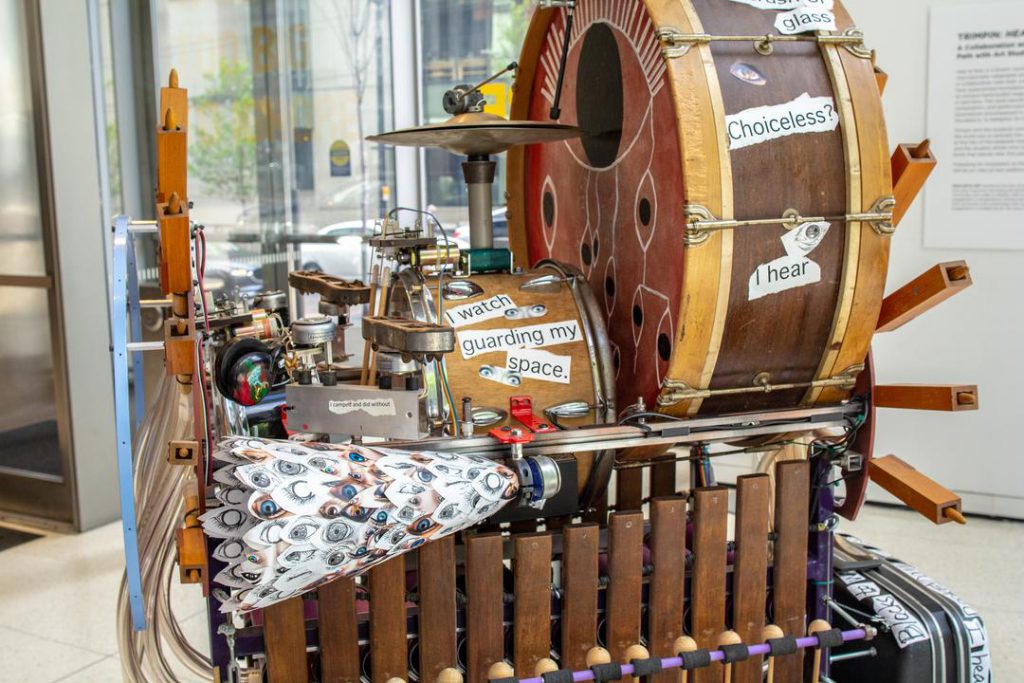 What do you hope the sculpture can inspire in a viewer?
Trimpin: My hope is that the viewer can hear and see that a group of Path with Art student artists—adults—who have lived the experience of homelessness, addiction or other trauma, have earned the ability, knowledge, and imagination to collaborate, design, write, and compose and to achieve a project at this high artistic level.
Tyler: I hope that Hear & Now will bring awareness of people who have lived experience of homelessness. That the person living that experience could be you. We shouldn't allow ourselves to be prejudiced, or disown others as though they don't exist.
And I think by having a sculpture that shares these wonderful voices, not only are you hearing their voices, but your hearing that they're a person. The voice you hear is coming from them, from their humanity.
How does the upcoming performance connect to the sculpture?
Trimpin: For the upcoming performance, the students are performing live, interacting with the instrumentation of the wagon with their own voice or instrument.
Tyler: It ties together these themes of voicelessness and visibility for those experiencing homelessness. It connects to the sculpture because it's using American Sign Language to present stories for those who cannot hear or speak, and ties in this concept communicating in different ways—with our voices, but also with our hands. This whole project is about lifting up those who have so often been silenced, and widening our circles of empathy and understanding, and the performance brings together both people with lived experience, and those without while exploring these themes.
– Chelsea Werner-Jatzke, SAM Content Strategist & Social Media Manager
Images: Installation view Hear & Now at Seattle Art Museum, 2019, photos: Natali Wiseman.
Path with Art would like to extend a special thank you to Seattle Department of Neighborhoods for making this project possible.