Object of the Week: Imogen Cunningham and Grandchildren at Fun House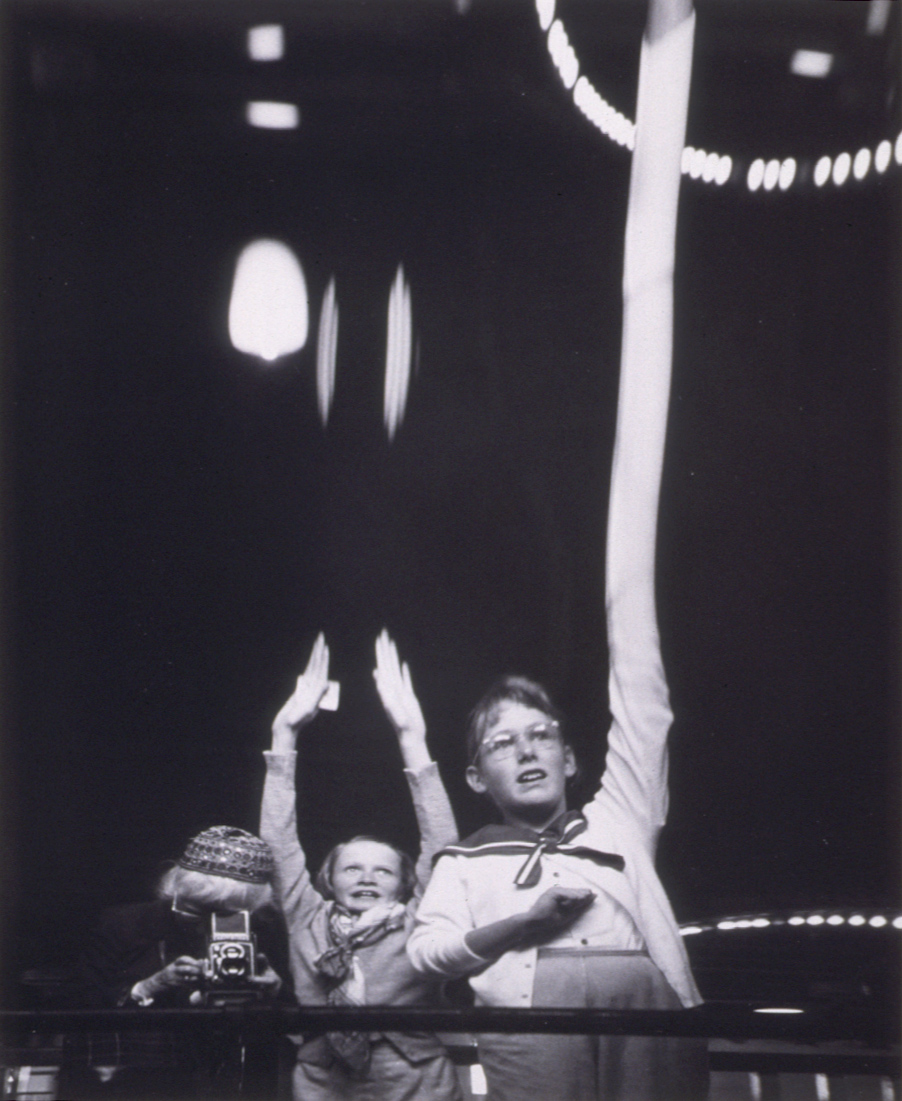 I still feel that my interest in photography has something to do with the aesthetic, and that there should be a little beauty in everything.

– Imogen Cunningham
See Imogen Cunningham: A Retrospective at Seattle Art Museum, November 18, 2021–February 6, 2022
Imogen Cunningham was a seminal female American photographer, active in the Pacific Northwest (where she was born and raised) and the San Francisco Bay Area. This image of the artist and her grandchildren, taken in the reflection of a fun house mirror, is representative of Cunningham's larger practice that spanned decades: experimental, technical, and the stuff of everyday life.
Cunningham is perhaps best known for her abstracted botanical photography, though she also produced images of the human nude, industrial landscapes, and street scenes. Here, her subject matter is much more personal and takes on an emotional valence.
It is often perpetuated that Cunningham was forced to choose between her career and motherhood, ultimately choosing the latter when she closed her portrait studio. However, this narrative is not quite accurate—Cunningham managed her responsibilities as both a mother and an artist, developing a photographic practice that blended art and life seamlessly. Neither roles were without sacrifice, of course, but Cunningham did her best to juggle her identities as a mother and artist—identities that, to this day, are either presented as mutually exclusive or not discussed nearly as much as they should be.
Moyra Davey's Mother Reader is a major achievement in this regard. Published over fifteen years ago, the volume brings together testimonials, diaries, and essays by women artists, writers, and creative thinkers whose lives were forever altered—both positively and negatively—by pregnancy, childbirth, and motherhood. It is an amazing resource that focuses on the intersection of motherhood and creative life, honestly exploring the varied experiences of being a mother. In Margaret Mead's essay "On Being a Grandmother," Mead, a cultural anthropologist and contemporary of Cunningham, writes:
However, I felt none of the much trumpeted freedom from responsibility that grandparents are supposed to feel. Actually, it seems to me that the obligation to be a resource but not an interference is just as preoccupying as the attention one gives to one's own children. I think we do not allow sufficiently for the obligation we lay on grandparents to keep themselves out of the picture—not to interfere, not to spoil, not to insist, not to intrude—and, if they are old and frail, to go and live apart in an old people's home (by whatever name it may be called) and to say that they are happy when, once in a great while, their children bring their grandchildren to visit them.
When taken into consideration with this photograph, one can't help but wonder what Cunningham's experience was like as a grandmother. Was she able to spend real time with her daughter's children? Did she feel a similar tension between acting as a resource and an interference? How did being an artist and grandmother differ from being an artist and mother? This early selfie suggests that she and her grandchildren had some adventures and joyful times, but it is just one glimpse into their relationship after all. Even still, we're fortunate Cunningham chose to share it with us—there's certainly a little beauty in it.
– Elisabeth Smith, SAM Collection & Provenance Associate
Image: Imogen Cunningham and Grandchildren at Fun House, San Francisco, 1955, Imogen Cunningham, gelatin silver print, 8 3/4 x 7 1/8 in., Gift of John H. Hauberg, 89.38 (1955), 2009 ©Imogen Cunningham Trust