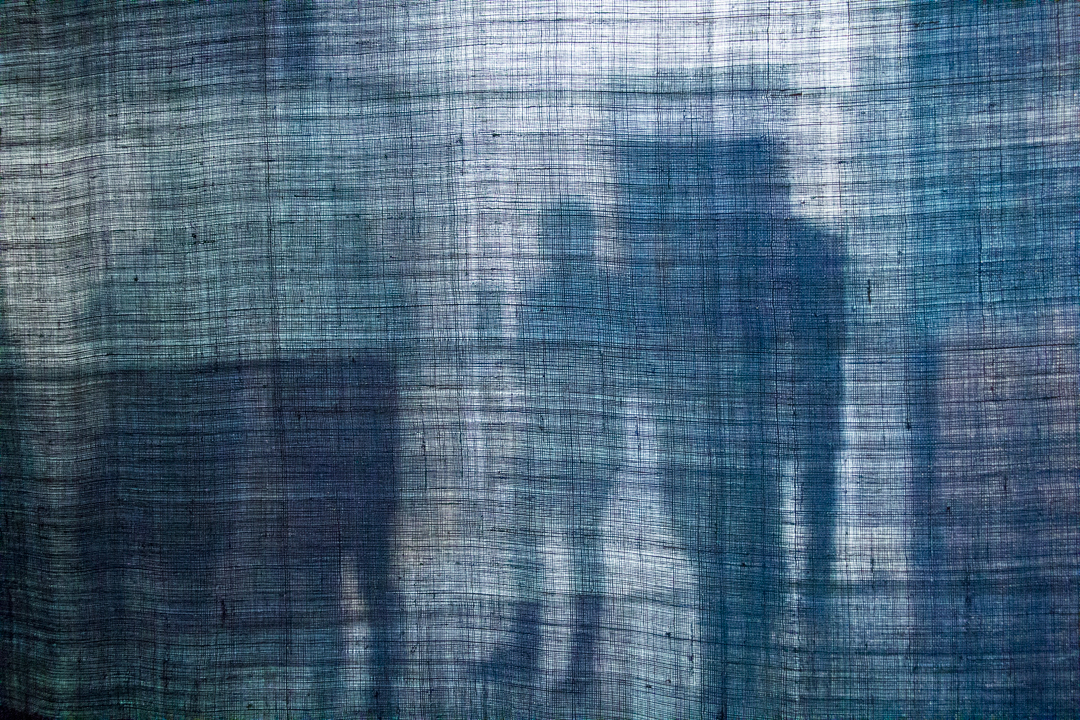 Mood Indigo: Textiles From Around the World is more than meets the eye. Pam McClusky, curator of the exhibition now on view at the Asian Art Museum, shares ten bits of insider information that reveal the multi-layered meaning of indigo across cultures, the process of mounting a large-scale exhibition, and some surprising contemporary inspiration. You've got less than a week to put this knowledge to work with a visit to see Mood Indigo in person—it closes October 9!
1. The AV master's work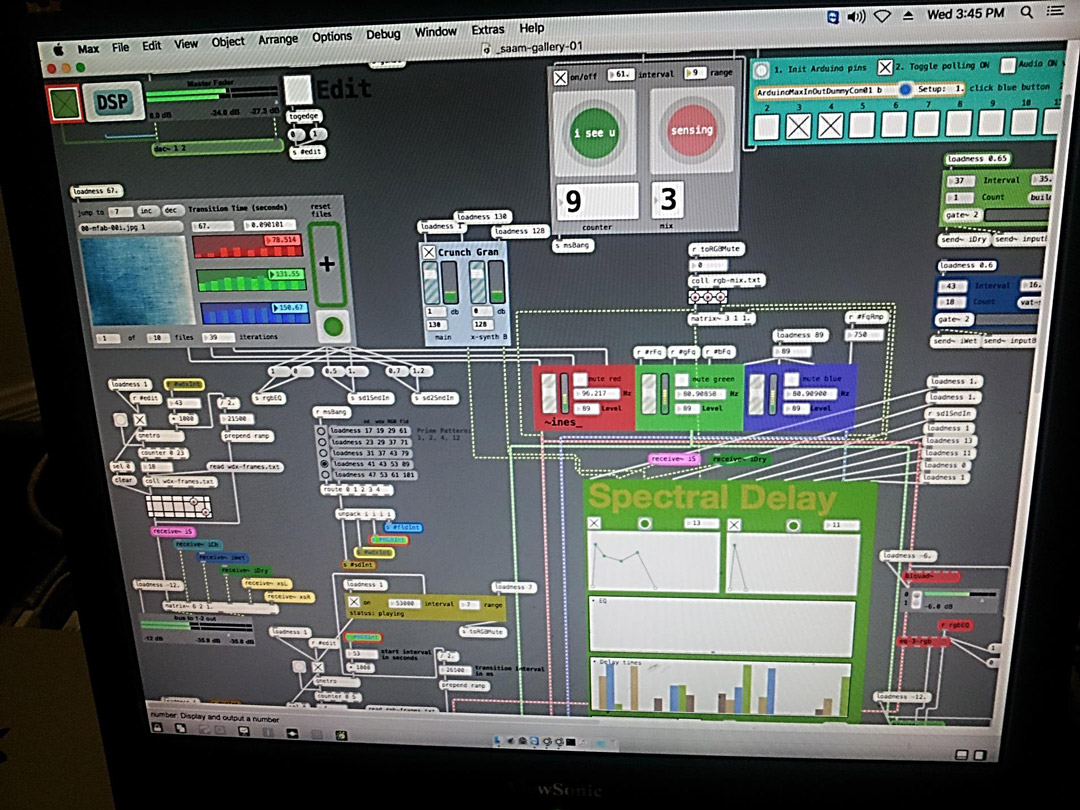 Hidden from view, this monitor was installed by Norbert Herber who created a unique sonic landscape for the entry gallery. He recorded sounds of indigo processing which algorithms organized to create what he calls a "gauzy" effect that compliments the large enclosure of cloth that shares the space.
2. The deluxe "spa" treatment the tapestries received in Belgium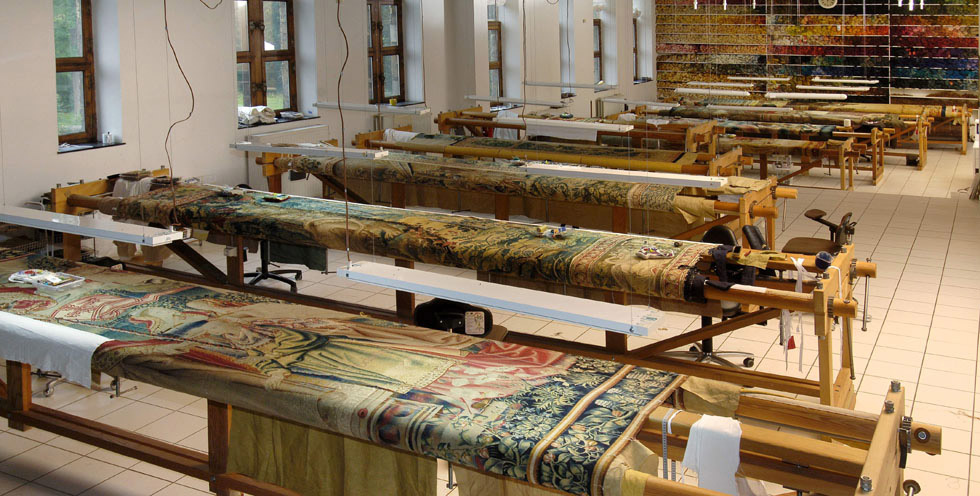 The magnificent colors of three tapestries were enhanced by their trip to the Royal Manufacturers de Wit, the world's leading restorer of European tapestries which was founded in 1889. Each tapestry was cleaned with aerosol suction, a patented process, and then all stray threads were carefully repaired.
3. The inspiration that comes from living artists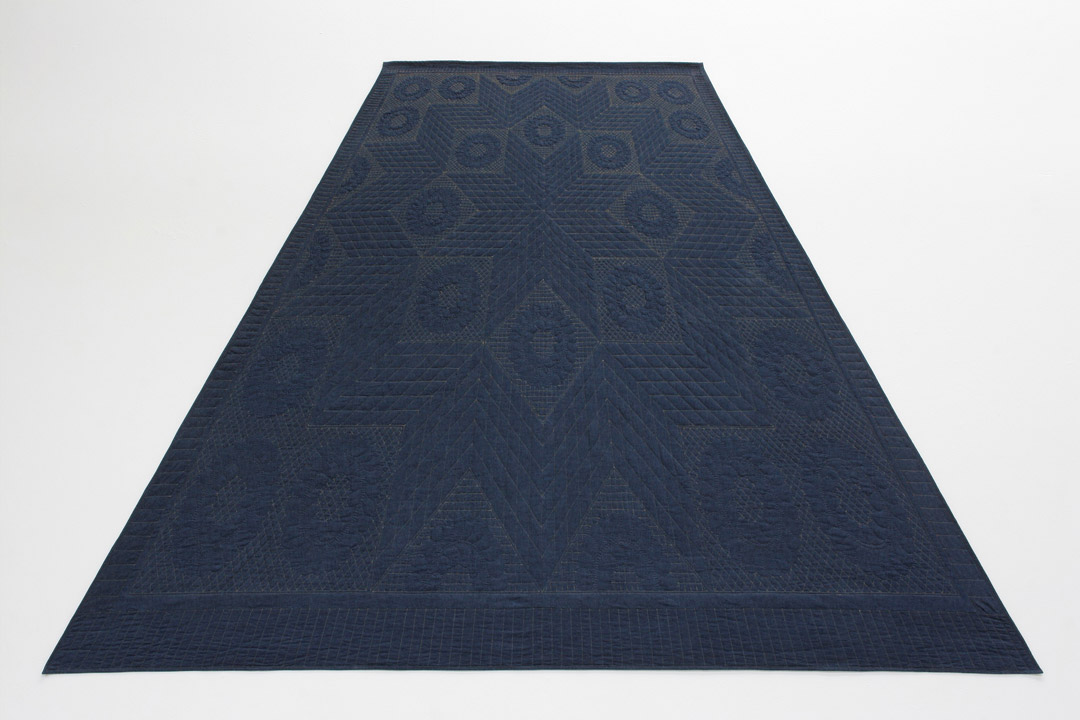 The force is with us . . . as the opening of Star Wars are a point of departure for the denim quilt by Anissa Mack. She attests that "I wanted very much to stress the Americanness of quilts . . . and to marry the concept of a backward/future narrative with the idealism of American frontier denim."
4. Impeccable installation coordination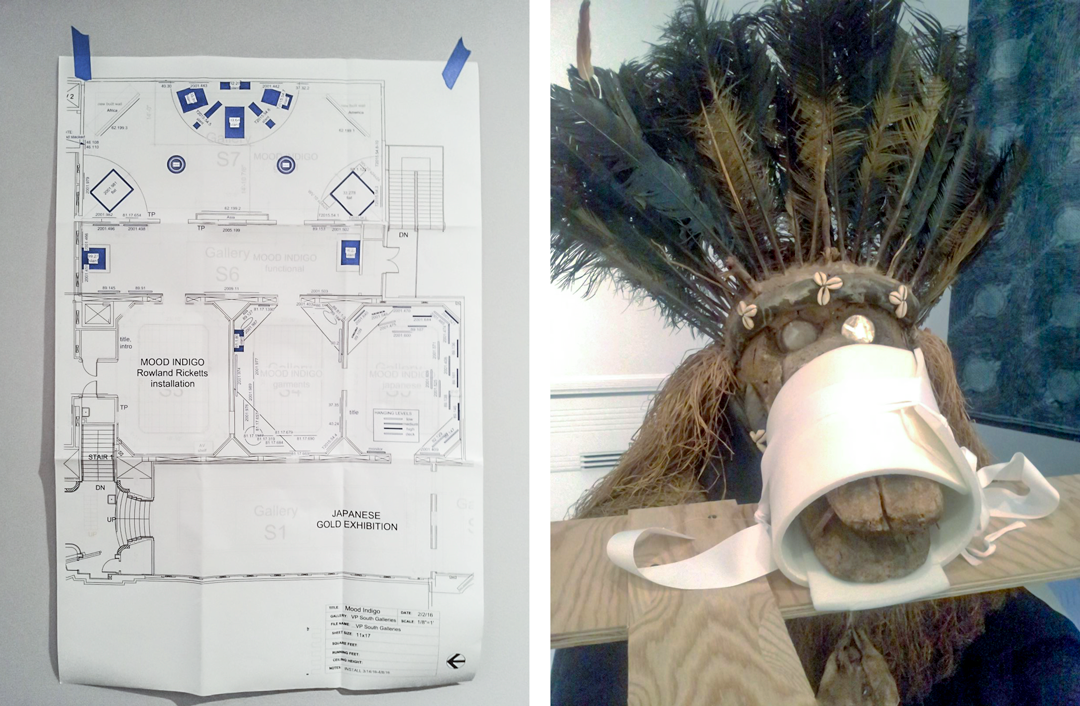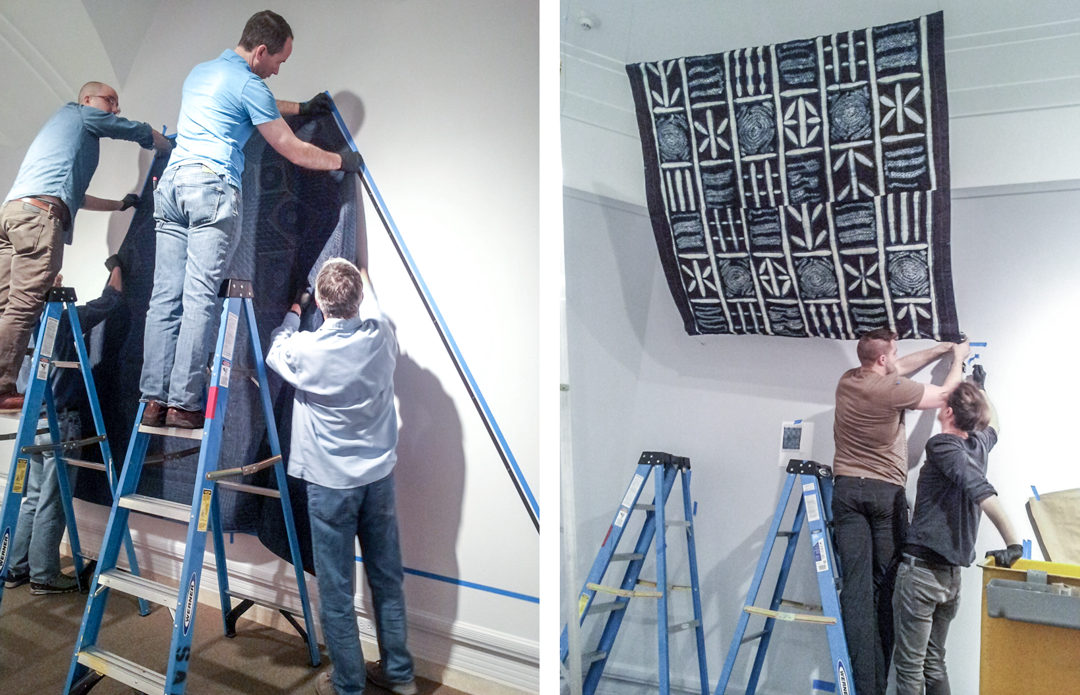 When exhibition plans are posted by the designer, it sets off an intricate chain of steps taken by installers. They manage to get art into place while never forgetting how delicate and fragile it can be.
5. The back sides of textiles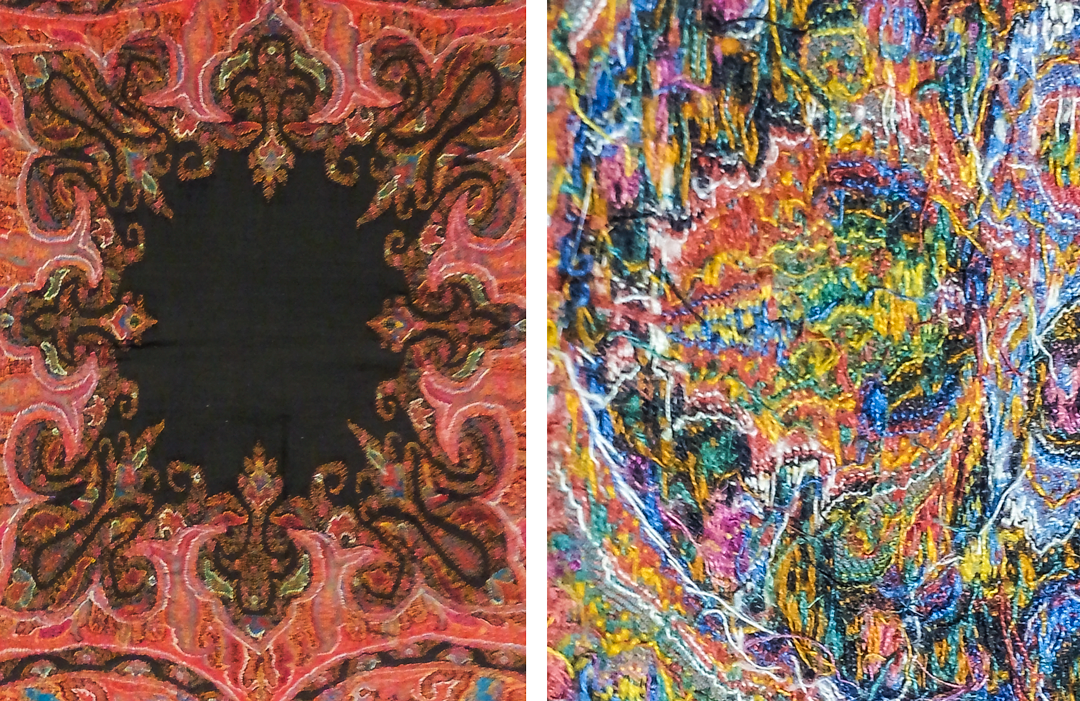 Front views of textiles can be deceiving. Precise compositions are seen, while the underside may be an explosion of threads that showcase the job of the weaver. Putting on this shawl from the Kashmir region of India would envelope the wearer in lovely, soft goat hair.
6. Details hidden in plain view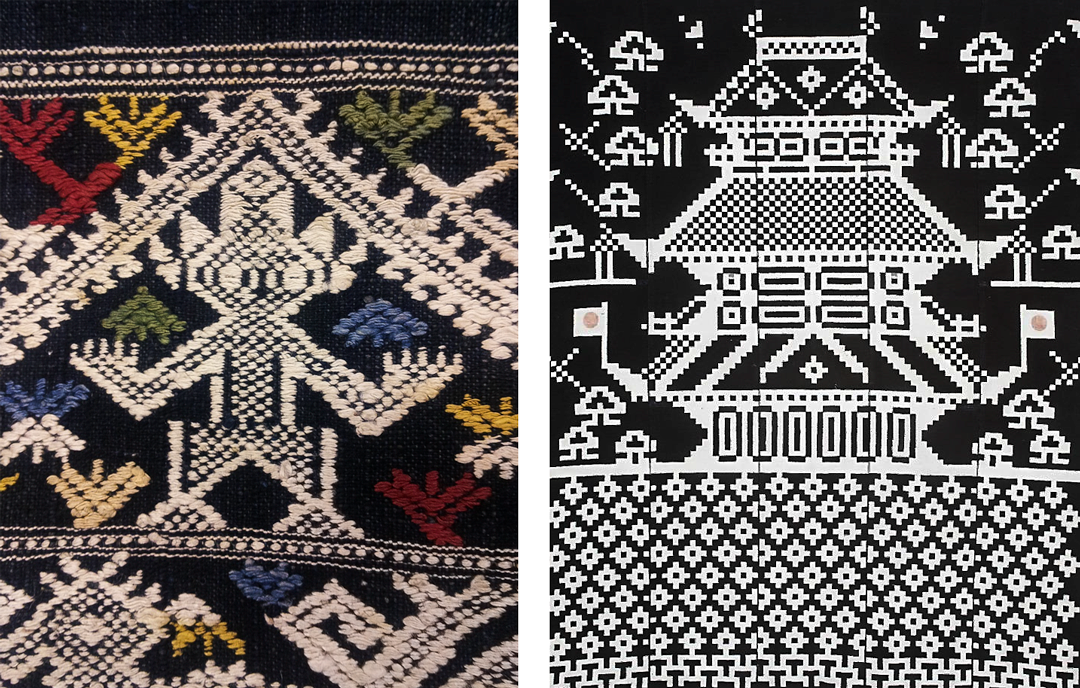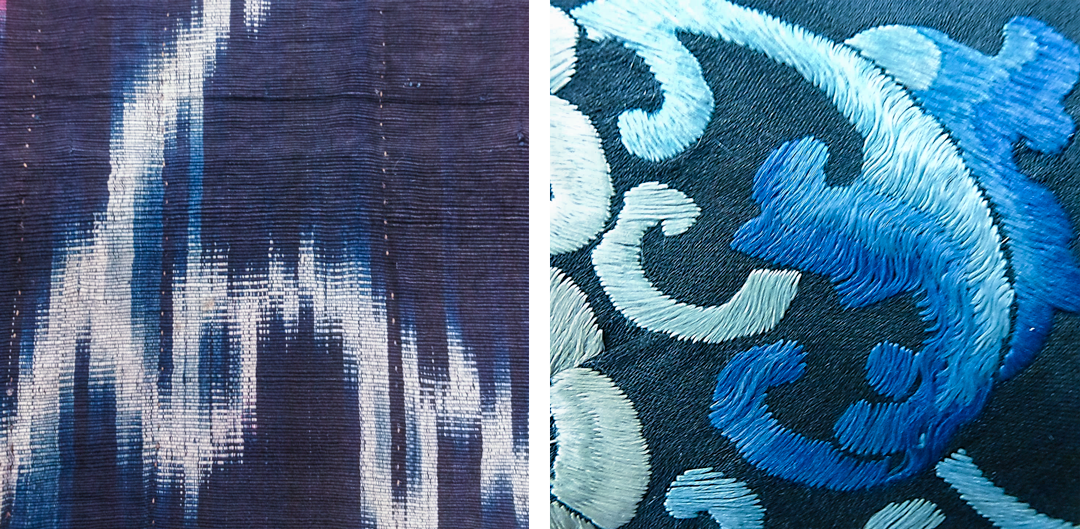 Focusing can encourage imaginary connections. In the bold geometry of a Laotian ancestor or Japanese trees, there is an affinity with space age imagery. In the swerving curls of cloth from Uzbekistan and China, you can see tendrils of vines and leaves that burst out of the deep dark blue.
7. The original owners of the textiles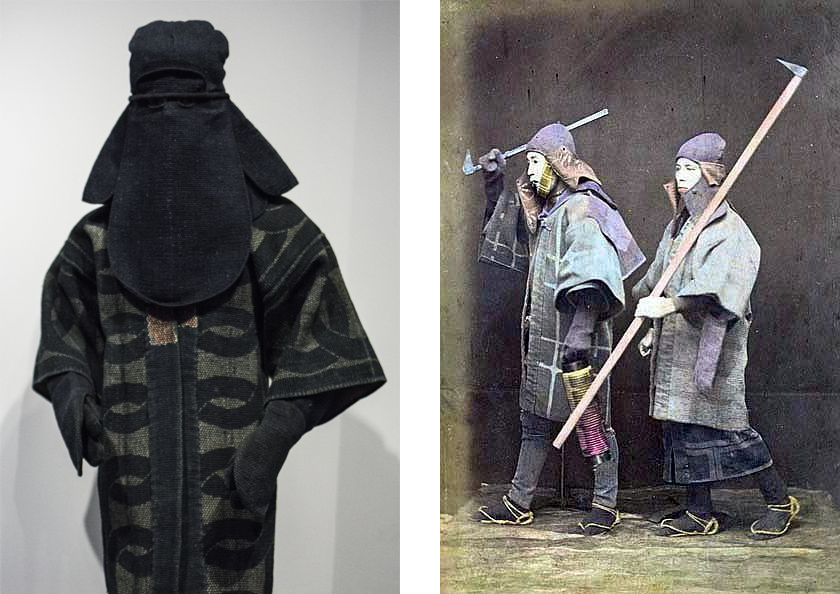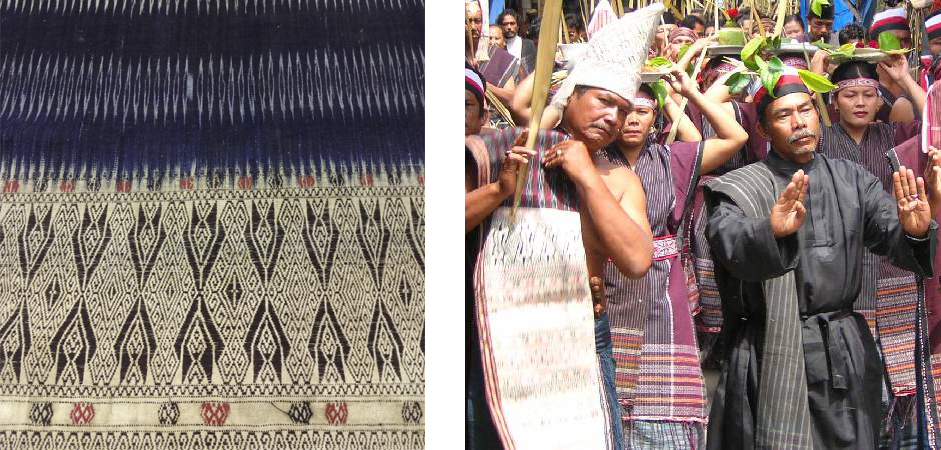 Photographs of indigo wearers can be revealing. Edo firemen of Japan wore garments soaked in water to protect themselves as they attacked flames. A shawl among the Batak of Sumatra can carry a blessing that is read by a priest who suggests ways to enhance the wearer's future.
8. Conversations with researchers about the ups and downs of indigo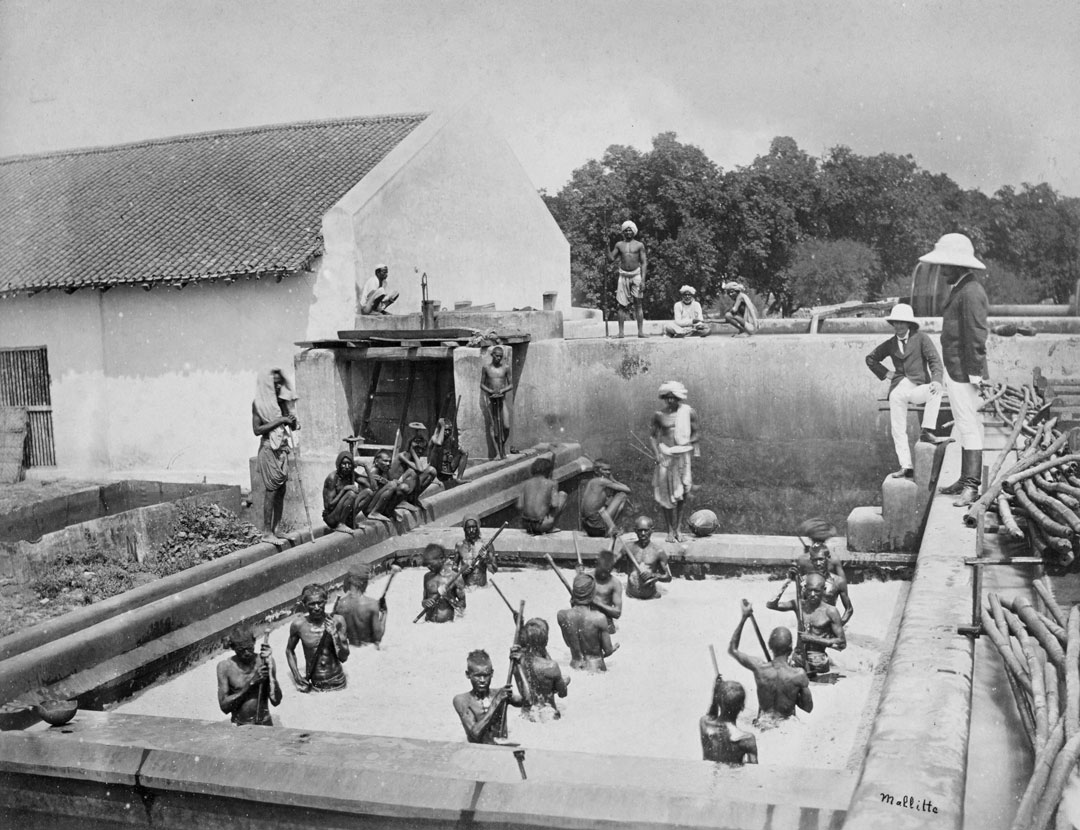 During an exhibition, one hopes that great conversations emerge. For this, numerous scholars and artists have come to offer perspectives on the labor history of indigo in India and America, and often point out the fact that the rebellion in India led by Mahatma Gandhi was a major factor in changing the course of that country in the 20th century.
9. Stories about rabbits in the moon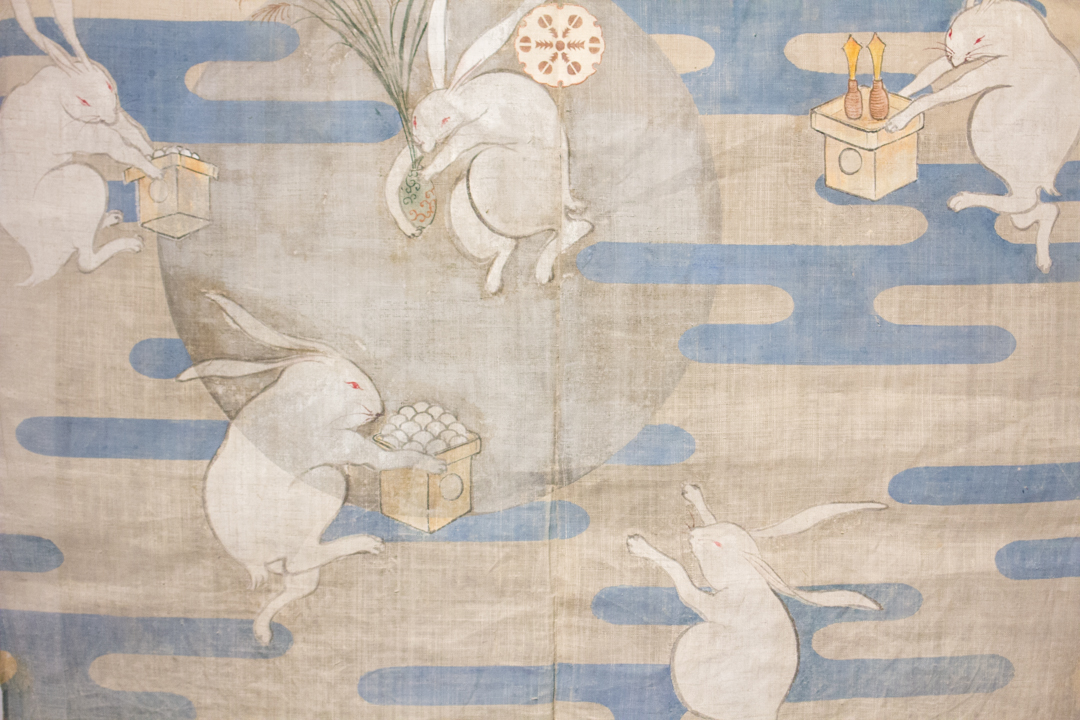 Japanese rabbits abound over several textiles on view. On this vest for an actor, a whole group are gathering what is needed to celebrate the full moon, including a mound of freshly-made rice cakes (mochi). Why rabbits do this is best explained by a view of the moon, whose silhouette is thought to resemble a rabbit pounding the rice for this very purpose.
10. A theory about indigo fascination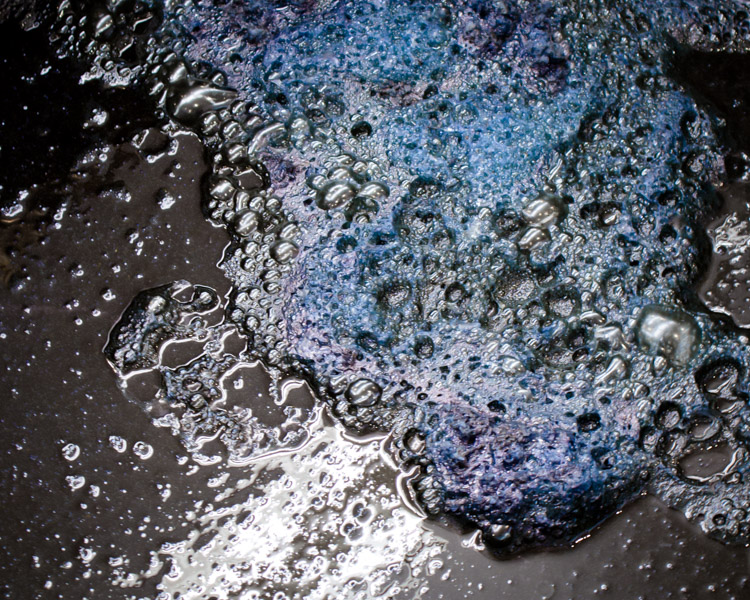 Indigo dye vats offer a magical transformation of cloth in many parts of the world. Also around the world, the color of indigo emerges each morning and night, and is often found in water and in moods. From space, the earth is said to resemble a blue marble as water covers 70% of the planet's surface. One could say that blue is the earth's signature color.
– Pam McClusky, Curator of African and Oceanic Art
Images: Photo: Stephanie Fink. Photo: Pam McClusky. Photo: Courtesy of Royal Manufacturers de Wit. Photo: Courtesy of Royal Manufacturers de Wit. Photo: Courtesy of Royal Manufacturers de Wit. Broken Star, 2008, Anissa Mack, American, born 1970, quilted denim, 84 x 144 in., Patricia Denny Art Acquisition Fund, 2009.11. Photo: Pam McClusky. Photo: Pam McClusky. Photo: Pam McClusky. Photo: Pam McClusky. Pam McClusky. Pam McClusky. Ceremonial shawl (Pa Biang) (detail), ca. 1920, Laos, cotton weft, silk brocade, metal toggles, 14 1/2 × 96 1/2 in., Dr. David and Marita Paly, T2015.54.5. Bedding cover (futonji) (detail), 1900-1912, Japanese, cotton, hand-woven plain weave, resist dyed (kasuri) with indigo dye, 76 5/8 x 59 3/4 in., Gift of the Christensen Fund, 2001.442. Furnishing fabric (detail), ca. 1860, Central Asia, Uzbekistan, silk warp, cotton weft, resist dyed warp (ikat), natural dyes including indigo, 40 1/2 × 74 1/2 in., Loan from Dr. David and Marita Paly T2015.54.7. Hanging (detail), ca. 1750-1800, Chinese, silk with embroidery (satin stitch), natural and synthetic dyes, 30 in., L.: 41 1/4 in., Eugene Fuller Memorial Collection, 37.32.1. Fireman's coat (hikeshi banten), mid -19th century, Japanese, quilted (sashiko) cotton cloth with freehand paste-resist decoration (tsutsugaki), indigo dye, 34 3/8 x 46 7/8 in., Gift of the Virginia and Bagley Wright Collection, 89.81.1, Photo: Natali Wiseman. Photo: Courtesy of Pam McClusky. Sacred Shawl (Ulos Ragidup) (detail), ca. 1900, Indonesian; Batak, cotton, warp resist (ikat), supplementary weft, natural dyes including indigo, 44 × 96 in., Dr. David and Marita Paly, T2015.54.4, Photo: Pam McClusky. Photo: Courtesy of Pam McClusky. Photo: Oscar Mallitte. Kyogen Theater Vest (kataginu) (detail), 19th century, Japanese, hemp fiber, paper with paint (applique), indigo dye, 30 3/4 x 27 3/8 in. with ties, 59 x 28 in., Gift of the Christensen Fund, 2001.403, Photo: Natali Wiseman. Photo: Rowland Ricketts.