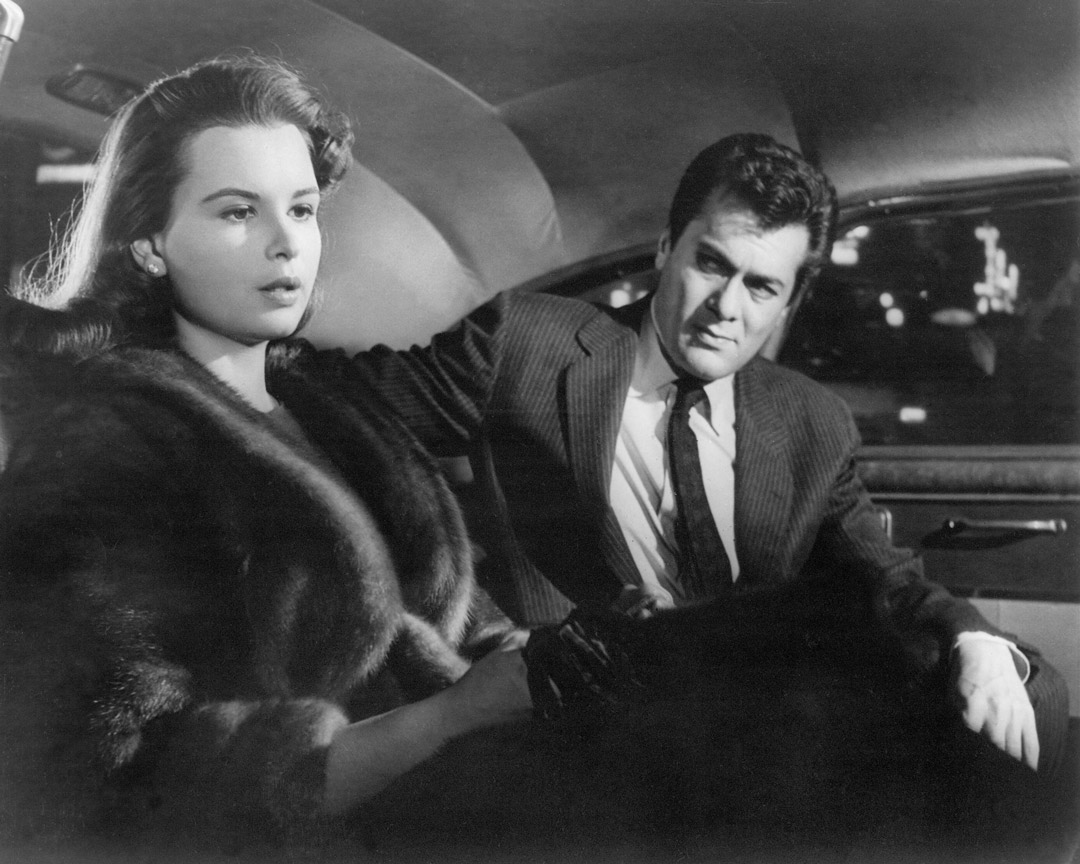 Film/Life: Shadowland: The 39th Film Noir Series
Thursdays, Sep 29-Dec 11, 7:30 pm
Seattle Art Museum
Shadowland, where the past is haunted, but the future's bright with big-money schemes. Where tough dames and wise guys live for midnight and hope to see the dawn. Where fate sings a blues tune and laughs in the dark.
Film noir is low-down, sexed-up, over the speed limit. It's the juvenile delinquent child of brooding German Expressionist cinema aesthetics, French poetic realism, and American pulp fiction, godfathered by post-World-War-II malaise and timeless moral corruption.
The world's longest running film noir celebration, called "the best series in Seattle film history" by Charles R. Cross, features a Top Pot doughnut opening night party.
September 29: Nightmare Alley (Edmund Goulding, 1947). "Film noir" is a French term, but it speaks eloquently to the American ethos of success at any price. Romantic matinee idol Tyrone Power stunned the world with his deep-delving portrayal of a carnival hustler who manipulates women and a gullible public to gain all the glittering prizes in life. Years ahead of its time, the film holds up a dark mirror to the show business of religion, and it gives a frightening whiff of a cunning animal hiding behind a respectable façade. In 35mm, 110 min.
October 6: The Chase (Arthur Ripley, 1946). Haven't been to Cuba yet? Have we got a trip for you. One of the most evocative adaptations of master noir novelist Cornell Woolrich's fictional world, The Chase centers on downtrodden war vet Robert Cummings. In Miami he finds, and returns, mobster Steve Cochran's wallet. Hired to be Cochran's chauffeur, Cummings meets the racketeer's melancholy, victimized wife (Michele Morgan) and creepy henchman (Peter Lorre). Cummings is stirred by Morgan's beauty, and her plight, and the film becomes a fever dream of escape to Havana, speeding cars and lurking menace. UCLA Film Archive 35mm print, 86 min.
October 20: T-Men (Anthony Mann, 1948). This gritty gem established the artistic reputations of director Anthony Mann and wizard noir cinematographer John Alton. Attempting to crack a Detroit counterfeiting ring, Treasury Agents Dennis O'Keefe and Alfred Ryder descend into a dangerous night world. Mann shows that there's a thin line between the law and the lawless as the agents pose as hoods to infiltrate the gang. Alton's camera bathes everything in cold shadow and hot light, and Wallace Ford has the cinema's most memorable steam bath. With favorite gravel-voiced bad guy Charles McGraw. Library of Congress 35mm print, 91 min.
October 27: The Unsuspected (Michael Curtiz, 1947). Cultured and refined, the silky voice of Claude Rains tells tales of mystery and murder on his popular radio show. Obsessed with death and deception, as well as the need to gain control of a fortune and his niece's opulent mansion, Rains plans to kill to get what he wants. And of course he will do it with finesse, as an exercise of his brilliant mind. Still, no matter how carefully he plans, blackmail, amnesia, and femme fatale Audrey Totter are beyond his control. Library of Congress 35mm print, 103 min. Screening includes a film discussion with critic Richard T. Jameson.
November 3: The Red House (Delmer Daves, 1947). This rare pastoral noir features the superb Edward G. Robinson as a crippled farmer who's cared for by his devoted sister (Judith Anderson) and adopted daughter (Allene Roberts). Roberts has always been told to stay away from a strange, abandoned red house somewhere out in the woods, but one day she and hired hand Lon McCallister set out to find it. Twisted psyches, dark secrets and Miklos Rosza's haunting music are sure to follow. Library of Congress 35mm print, 100 min.
November 10: Flaxy Martin (Richard Bare, 1949). An honest attorney (Zachary Scott) starts working for a crime syndicate. It's not for the money—it's the woman. He can't resist mob boss Douglas Kennedy's luscious girlfriend (Virginia Mayo), and she feels the same about him. But soon Scott's trapped in a web of underworld machinations and sudden death. Maybe librarian Dorothy Malone can help. With the great Elisha Cook, Jr. as a small-time hood. Library of Congress 35mm print, 86 min.
November 17: The Prowler (Joseph Losey, 1951). Van Heflin appears to be a model policeman, but he's out to get everything he can out of life, any way he can. The report of a prowler takes him to an affluent neighborhood, where he meets the lonely wife (Evelyn Keyes) of a popular, wealthy radio disc jockey (the voice of blacklisted screenwriter Dalton Trumbo). Heflin sees the sad and shapely Keyes as a ticket to the good life, and starts scheming on the wrong side of the law. UCLA Film Archive restored 35mm print, 92 min. Screening includes a film discussion with critic Richard T. Jameson.
December 1: Sweet Smell of Success (Alexander Mackendrick, 1957). Powerhouse Burt Lancaster plays a ruthless Broadway gossip columnist who has more than brotherly feelings for his sister (Susan Harrison). "Susie's all I've got," he tells nervous press agent Tony Curtis as he orders him to ruin the career of Susie's jazz musician boyfriend (Martin Milner). This proves to be no easy task, even in "a dirty town" where brutal power rules and souls are for sale. With poetic dialogue by Clifford Odets, James Wong Howe cinematography and hot Chico Hamilton Quartet jazz. Digital cinema restoration, 96 min.
December 8: Nightcrawler (Dan Gilroy, 2014). From the acid-dripping gossip columns of Sweet Smell of Success to the late-breaking video footage of Nightcrawler, the cynical, dark side of human nature makes news. An LA loner (Jake Gyllenhaal) fascinated by TV news starts shooting car wrecks and homicide scenes after the action's over, and selling his footage to struggling news editor Rene Russo. His good artistic eye and gutsy pursuits advance his career, and one night he comes upon a crime as it's happening. Does he pause to consider professional ethics, human decency and personal safety? Not for a second. Digital cinema, 104 min.
Get your series passes to Shadowland now!
—Greg Olson, Manager of SAM Films
Images: Courtesy of Photofest.