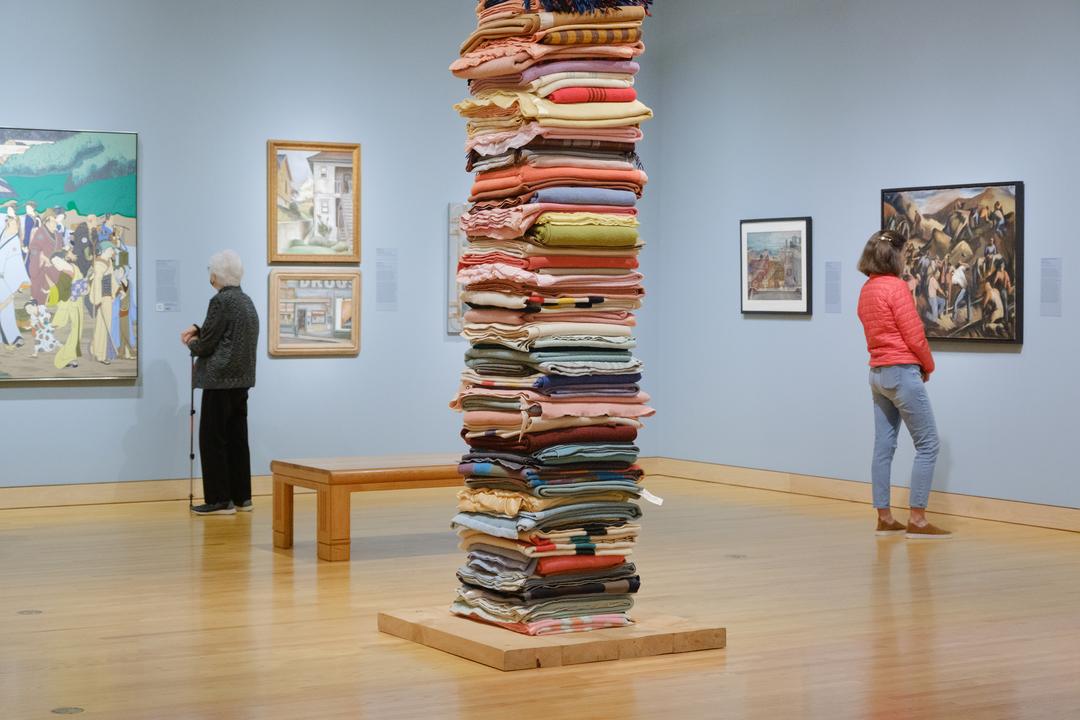 SAM News
"How Seattle Art Museum is working to make its American art galleries more inclusive": The Seattle Times' Jerald Pierce on American Art: The Stories We Carry. He spoke with SAM curators and several collaborators on the project to reimagine our American art galleries.
"As SAM looks ahead at the future of its newly redone galleries, Papanikolas said she hopes this will slow patrons down as they go through, taking in the historical works alongside the contemporary and finding new personal meaning in the art. Both Papanikolas and Brotherton said they know there are still moments in history that haven't been highlighted in this particular version of the installation, and artists who aren't yet in their collection, but they're excited about the flexibility and nimbleness of these galleries and their ability to respond to an evolving definition of 'American art.'"
"What is America? Who is American? These are the questions that SAM strives to answer by including Asian, Latinx, Black, and Indigenous works in what was previously a series of rooms dominated by white male artists." Kai Curry for Northwest Asian Weekly on the revamped American art galleries at SAM.
The Seattle Times also highlights "5 exhibitions to see during Native American Heritage Month," including Indigenous Matrix: Northwest Women Printmakers at SAM. Curated by Kari Karsten and featuring works by Francis Dick, Susan Point, and more, it's on view at SAM through December 11.
Local News
"Molly Vaughan's After Boucher Brings Rococo to the Frye": SAM's 2017 Betty Bowen Award winner Vaughan recounts the process of her latest work, on view on the façade of the Frye Art Museum.
Yoona Lee for South Seattle Emerald on the work of attorney-turned artist Zahyr Lauren.
Crosscut's Margo Vansynghel on the Northwest's resurgence of interest in analog photography.
"But, as [Panda Labs owner Jessica] Fleenor and others proclaim under Instagram and TikTok posts featuring analog photography: #FilmIsNotDead. 'Film is still very much alive,' Fleenor says. And perhaps surprisingly, the comeback is in large part driven by a generation of 'digital natives' who developed a love for film photography and classic film cameras during the pandemic."
Inter/National News
Jasmine Liu for Hyperallergic on the first official public statue of Emmett Till, just unveiled in Greenwood, Mississippi.
ARTnews' Tessa Soloman reports from a talk held at the Islamic Museum of Art in Doha that invited four museum directors to tackle questions about museums and social responsibility.
Via Artnet's Sarah Cascone: "A Painting Nearly Destroyed in the Beirut Blast of 2020 Has Been Identified as a Long-Lost Artemisia Gentileschi—and Is Now Undergoing Restoration."
"'This painting is definitely by Artemisia,' Davide Gasparotto, the Getty Museum's senior curator of paintings, who arranged for the work's restoration and loan, told the New York Times. 'It's a very powerful, convincing painting—one of her most ambitious in terms of size and the complexity of the figures.'"
And Finally
It's Halloween; it's KXVO Pumpkin Dance time.
– Rachel Eggers, SAM Associate Director of Public Relations
Photo: Alborz Kamalizad.