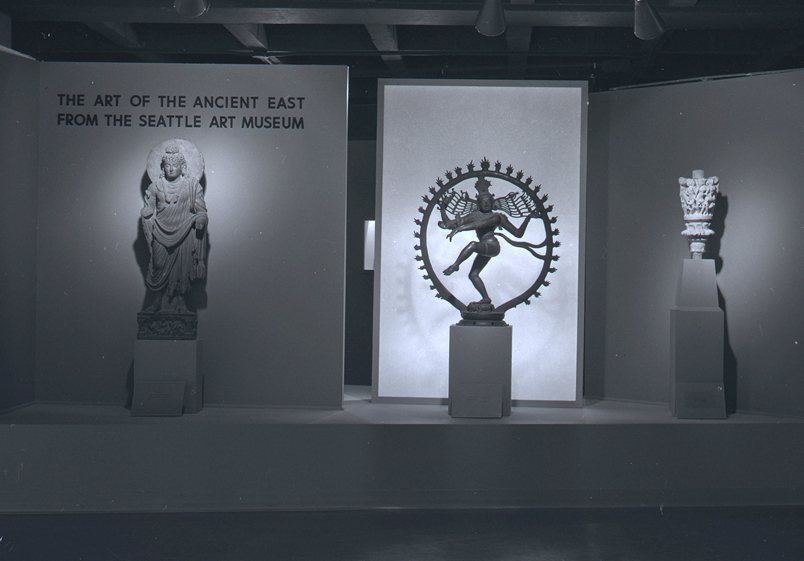 Science and technology were the stated focus of the Seattle World's Fair as a whole, while a subtler, though equally compelling, argument was made for the celebration and understanding of Asian art and culture within the Fine Arts Pavilion. The Art of the Ancient East was one of the Pavilion's six exhibitions, and it introduced visitors to some of the greatest masterpieces of Asian art. This focused exhibition shone a spotlight on Asian art and artisans, proving this artistic heritage equally as brilliant and varied as Europe's.
These masterpieces traveled across continents and seas, from one millennium to another. And yet, to arrive at the World's Fair grounds, they traversed just over one mile: This exhibition was one of two installations at the Fine Arts Pavilion drawn entirely from the Seattle Art Museum's holdings. The show included representative works from a dozen nations, including (in this photo) Pakistan and India.
What were considered masterpieces 50 years ago remain so today. Last year's exhibition Luminous: The Art of Asia included nearly every work from Art of the Ancient East. Luminous, however, reflected the changes in the world over the past 50 years. Chief among the differences was the museum's collaboration with artist Do Ho Suh, who not only guided the interpretation of the SAM Asian collection, but produced a brand-new work of his own in response. This imagining of the "life" of objects is an element that could not—and would not—have been considered 50 years ago.
The Art of the Ancient East, installation view, Fine Arts Pavilion, Seattle World's Fair, 1962. Photo: © Seattle Art Museum.