SAM Art: The Wave Paintings of Tsuji Kako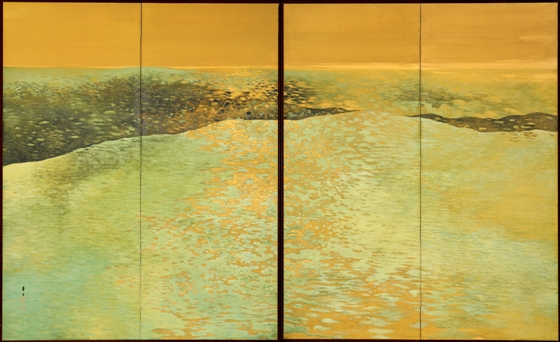 Tsuji Kako (1870-1921) was an artist ahead of his time. Working when artists in Japan were systematically divided into Japanese or Western lineages, Kako was unusual for his claim that individuality is the most important characteristic of an artist, and his refusal to conform to the boundaries of genre.
As part of Japan's effort to Westernize, an annual exhibition of the Japan Art Academy, called the Bunten, was instituted in 1907. The Bunten enforced strict delineation between Yōga (Western-style painting) and Nihonga (Japanese-style painting), requesting that artists limit themselves to one style in order to participate. Within the context of this system, juries had no context in which to evaluate Kako's work, which blended the two styles. Lacking support for his work from the Bunten, he abandoned the academy altogether in 1921, and held his first one-man show, an unprecedented event.
Green Waves and Waves and Plovers (both ca. 1910) come from Kako's decade long fascination with capturing waves in paint. Although painted in the form of traditional Japanese folding screens, using Japanese materials, both express an atmospheric depth and motion absent from the Nihonga style. Green Waves features bright mineral pigments on a gold ground, a style dating back to the sixteenth century. The pigment, however, is layered on with thick, visible brush strokes, that convey the motion of light and shadow across swelling waves; a clear reference to Impressionist painters. Waves and Plovers, employing linear ink brush work on paper screens, draws on a traditional means of depicting the ocean through undulating parallel lines. Here, however, Kako renders his waves with each peak as its own small, individual line. By breaking up the lines, he is able to minutely adjust the tone of the ink and the distances between the waves to subtly create the sense of swelling motion and atmospheric recession.
Ultimately, Kako gave up on painting waves, saying that he "did not feel the emotional momentum" anymore, a highly modern sentiment that art ought to express the artist's emotions. Largely forgotten after his death, Tsuji Kako's work has received a revival of popularity in the last decade, as popular taste finally matched his expressive style.
Top photo: Green Waves, ca. 1910, Tsuji Kako, Japanese, 1870-1931, ink and gold on silk, 67 7/8 x 109 1/2 in., Gift of Griffith and Patricia Way, in honor of the 75th Anniversary of the Seattle Art Museum, 2010.41.32. Currently on view in LUMINOUS: The Art of Asia, special exhibition galleries, fourth floor, SAM downtown.