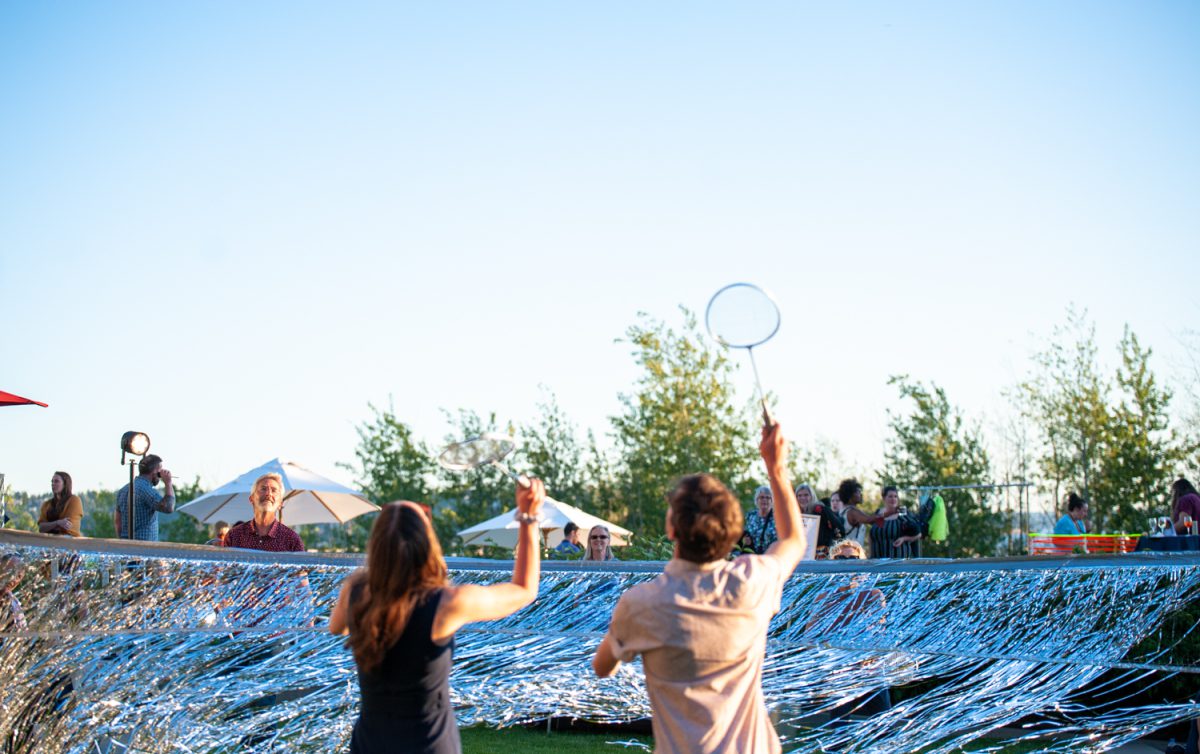 SAM News
The museum held its annual summer fundraiser this past Friday at the Olympic Sculpture Park. Artists, makers, chefs, musicians, performers, supporters, and more all came together to have a blast while raising funds for the museum's artistic and educational programs. Seattle Refined was there to capture all the magic in this sun-drenched photo slideshow.
"A Tribute to the Sustenance of Friendship": Kristie Kahns for Chicago-based Sixty Inches from Center on the exhibition now on view at the Grand Rapids Art Museum that brings the work of friends and colleagues Dawoud Bey and Carrie Mae Weems together for the first time. Stay focused: Dawoud Bey & Carrie Mae Weems: In Dialogue heads to SAM this fall!
"These tales of friendships and affiliations create a subversive dimension of art history, and they are also a testament to the adamant question from political activist and organizer Ella Baker: 'Now, who are your people?'"
Local News
The Seattle Times' Jerald Pierce speaks with Anastacia-Reneé as the celebrated writer prepares to leave Seattle after 15 years for a new adventure in New York City.
The Stranger's Jas Keimig on Jeremy Buben's 200-piece, food-focused art collection being auctioned off at the Museum of Museums.
"Afrofuturism reigns at Seattle museums this June": Crosscut's Margo Vansynghel on new exhibitions at MoPOP and the Museum of Museums.
"Whether you are a seasoned Afro-space traveler or new to "astro-Blackness," the artworks exhibited at MoPOP and MoM offer an intriguing and interstellar voyage into Afrofuturism and beyond."
Inter/National News
"This is like a Jenny Holzer installation or something right": Artnet's Dorian Batycka reports on last week's news from the US Supreme Court, sharing how the art world responded to the Court overturning people's constitutional right to an abortion in the United States.
"What do Andrew Wyeth's funeral drawings, wreathed in lateness, have to offer 'us'?": Zack Hatfield in the summer edition of Artforum with a deep dive into Andrew Wyeth's Funeral Group drawings. He references in passing the scholarship of former SAM curator Patricia Junker, who curated the Andrew Wyeth exhibition at SAM back in 2017.
Patricia Leigh Brown for the New York Times on the proliferation across the US of memorials to victims of mass shootings.
"If design is a window on the culture, perhaps there is nothing more revealing than the Curtain of Courage Memorial unveiled last week in San Bernardino, Calif., a sculptural ribbon of patterned bronze and steel meant to enfold the Mendozas, Meinses and Johnsons, among the families who lost 14 loved ones killed in a mass shooting in 2015, in its sinuous communal embrace."
And Finally
Happy birthday, Lucille Clifton. Here's her "blessing the boats"—it might help.
– Rachel Eggers, SAM Associate Director of Public Relations
Image: Elizabeth Crook / Seattle Refined.