Alberto Giacometti: Reliquary Figure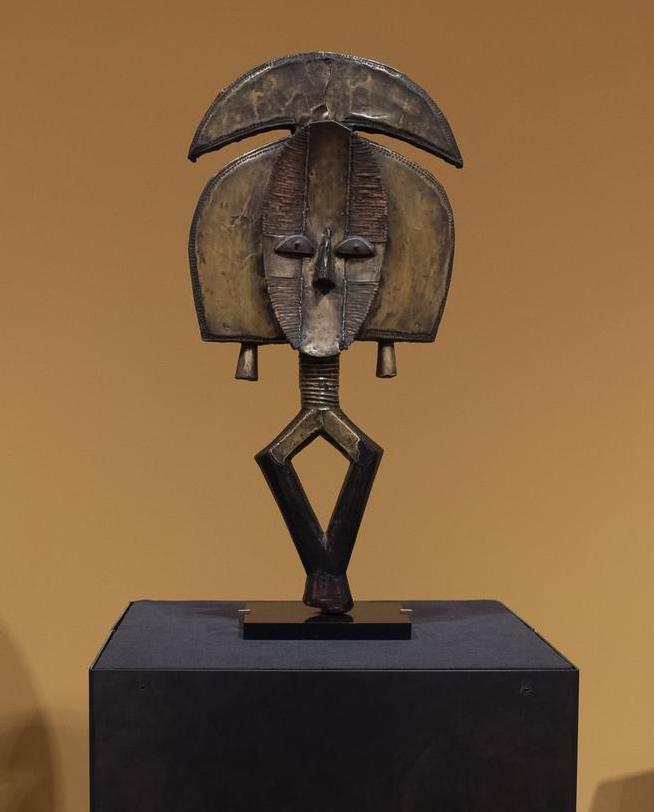 Alberto Giacometti's vision of a new human form was heavily inspired by Cycladic, African, and ancient Egyptian art. In 1927, the artist purchased a sculpture from Gabon—then one of France's colonies in West Africa—and placed it in the center of his studio. Giacometti studied such non-European works in the Parisian museums he visited, where he found himself fascinated by African sculptures that emphasized volumes and geometric voids.
Giacometti and many of his artistic peers greatly admired such artworks for their unique power and approaches to stylized form, which they thought offered visionary and radical alternatives to European academic models of representation. This admiration for non-European art's visual power was at times marked by a lack of knowledge about the origins of works brought from the colonies to the West. Giacometti may not have known, for example, that the figure he owned once guarded sacred remains of the Kota people of Gabon. In Alberto Giacometti: Toward the Ultimate Figure, African sculptures from SAM's private collection—including this early 20th century Reliquary Figure from Kota, Gabon—are placed alongside Giacometti's bronze and plaster sculptures to illustrate the Giacometti's fascination with the structure and composition of ancient African artworks.
Listen to SAM Curator of African and Oceanic Art Pam McClusky discuss the influence of artworks such as Reliquary Figure on Alberto Giacometti's artistic development in this audio recording from SAM's free smartphone tour of Toward the Ultimate Figure. Discover all eight recordings when you visit the exhibition at SAM's downtown location through October 9.
Reliquary Figure, early 20th century
NARRATOR: Like many European artists living and working in Paris in the 20th century, Giacometti found inspiration in works of African sculpture. Here's curator of African and Oceanic Art Pam McClusky on this Reliquary Figure from SAM's collection.

PAM MCCLUSKY: Giacometti sits with a sculpture like this in his studio, as can be seen in a photo nearby. It served as a mysterious muse that transforms a face and body into dynamic forms coated with a flashing metal surface. It offered a bold fresh vision of a very strong archetype. Giacometti bought his sculpture, similar to the one in front of you, from a fellow artist in 1927, and no doubt they talked about how its inventive geometric shapes replaced anatomical correctness. Yet, what they saw was not what the Kota intended. In its original setting, this figure stood guard over a bundle of sacred ancestral remains. The reflective face was meant to draw attention to their presence and repel any harm to them. Giacometti gave this unknown agitator a place of honor, and drew inspiration from it for his own reframing of the human body.
– Lily Hansen, SAM Marketing Content Creator
Image: Reliquary Figure, 20th century, Wood, copper and brass, 23 3/4 × 11 1/2 × 2 1/4 in. (60.3 × 29.2 × 5.7cm), Gift of Dr. Oliver E. and Pamela F. Cobb, 2014.3, photo: L. Fried.