Alberto Giacometti: The Cage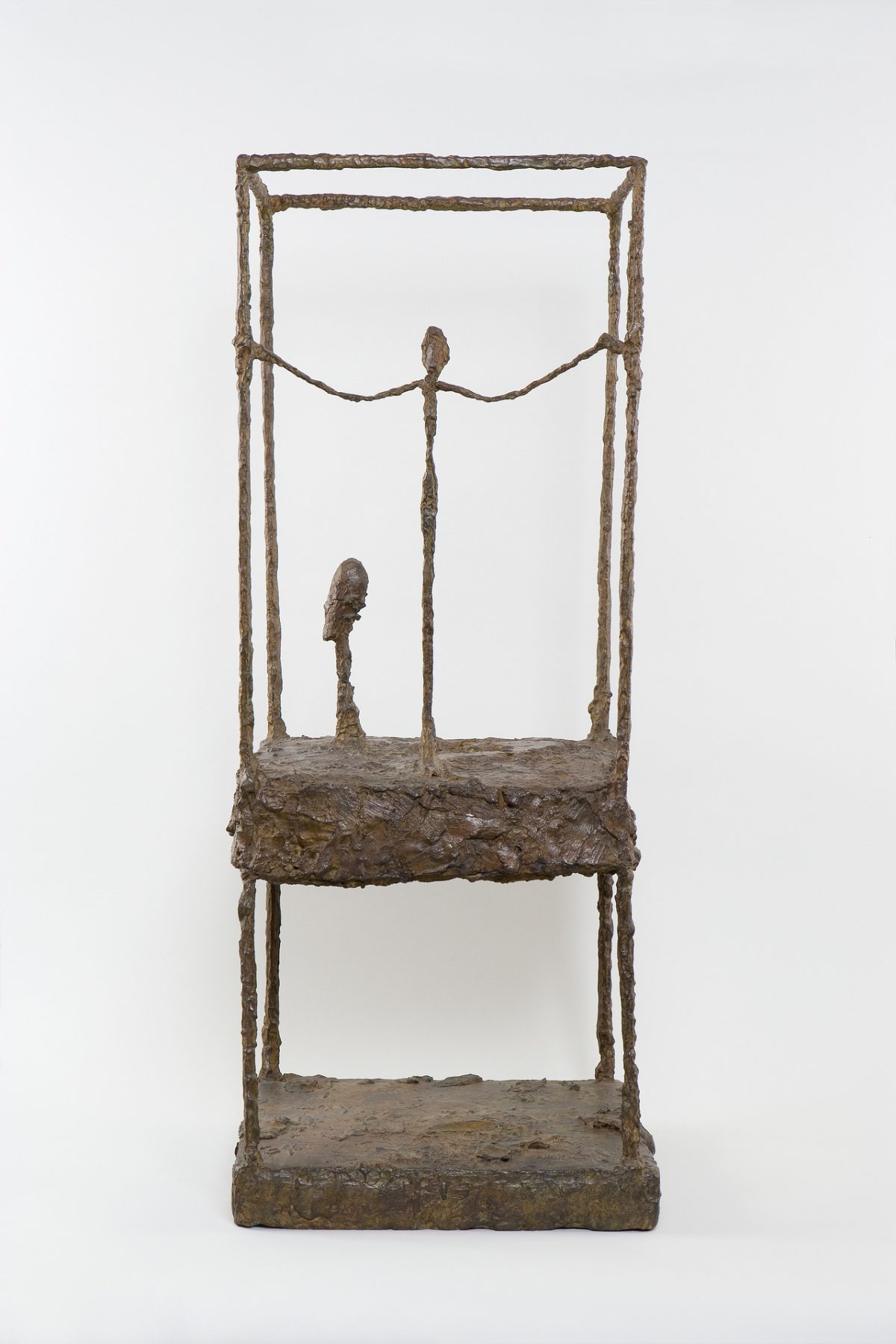 In both his paintings and sculptures, Alberto Giacometti used the architectural device of a cage to surround and outline specific constraints for his artistic vision. While Giacometti used a physical frame to demarcate the borders of his paintings, in his sculptures, the artist built physical cages in which to constrain his artworks. First utilized in Cage (1930–31) and Suspended Ball (1930–31), Giacometti returned to the idea of the enclosure as a framing device nearly twenty years later as he began to think more deeply about the self-referential interior of the sculpture compared to its surroundings.
The Cage, First Version is reminiscent of a display case. The upper portion presents a figure and a bast as if laid out in a vitrine. The standing figure is not proportional to the considerably larger head, thus disrupting a reading of these figures within a conventional perspectival space. Placed at the outer edge, the standing figure holds on to the armature that marks the perimeter, looking out beyond. The cage, just as the figures themselves, are composed of the same nubby bronze texture that Giacometti is often recognized for.
Listen to the audio recording above to hear SAM Associate Director of Interpretation Erika Katayama discuss Giacometti's continuous use of cages, frames, and proportionality throughout his artistic career. All eight audio recordings—produced by the Seattle Art Museum as part of the free smartphone tour of Alberto Giacometti: Toward the Ultimate Figure—can be found by scanning the QR codes accompanying selected artworks on view in the exhibition through October 9.
The Cage, First Version, 1949–50
NARRATOR: Giacometti uses cages and frames as a way to further explore the relationship between the viewer and the object, the sculpture and its surroundings. Associate Director of Interpretation Erika Katayama:

ERIKA KATAYAMA: The cage functions both symbolically and psychologically in this work, forming a space which encloses the subjects within. And as a viewer, we see the standing figure and the oversized head, which are not in correct proportion to each other, yet they both exist within the bounds of the cage—and so we have to consider them in relation to one another.

NARRATOR: How does the cage shape how you view this piece? Try imagining it without the cage, what changes?
– Lily Hansen, SAM Marketing Content Creator
Photo: The Cage, First Version, 1949–50, Alberto Giacometti, Swiss, 1901–1966, bronze, 90.5 × 36.5 × 34 cm, Fondation Giacometti, © Succession Alberto Giacometti / ADAGP, Paris, 2022.