Muse/News: Kusama Memories, Glass in Tacoma, and Giacometti's Secrets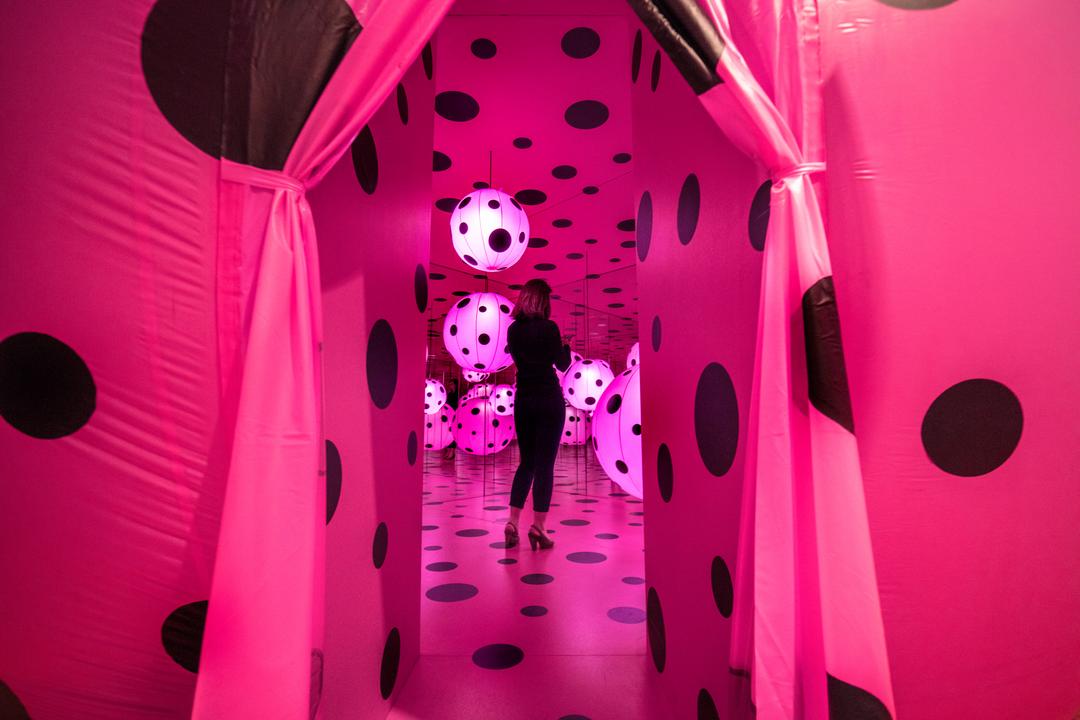 SAM News
Our Blue Planet: Global Visions of Water ripples at SAM! Seattle Met includes the exhibition on their list of things to do in Seattle right now.
Seattle Met's Zoe Sayler rounds up "10 Mother's Day Gifts for Your Mom Friends," including the SAM Shop exclusive "NO" tote by artist Tariqa Waters.
Via Eater Seattle: Shubert Ho's restaurants—including MARKET Seattle at SAM—are donating 10% of sales on select days to World Central Kitchen, an organization "that's helping provide hot meals to Ukrainians suffering from the Russian invasion of their country."
And here's Artnet's Eileen Kinsella on the many complexities of Yayoi Kusama's Infinity Rooms; Catharina Manchanda, SAM's Jon & Mary Shirley Curator of Modern & Contemporary Art, was among the art world voices sharing their experiences showing these works–including before the blockbuster editions.
"Like some great works of art, the Infinity Rooms were not immediately and universally appreciated. Manchanda recalled visiting one at the Whitney Museum (which also owns one) as part of a biennial more than two decades ago, while she was a student in New York. 'The biennials were always crowded, but I was the only person in line wanting to see it. There was no interest whatsoever.'"
Local News
Via Crosscut's Brangien Davis: "Remembering Seattle print artist and muralist Kristen Ramirez."
The Stranger's Charles Mudede on the "world-class" Dimitriou's Jazz Alley.
"Ever seen Cheetos made of glass?" The Seattle Times' Jerald Pierce asking the tough questions–this one about Tacoma Art Museum's show of glass art by the youth of Hilltop Artists.
"Those who have been through the Hilltop program have seen its ability to teach students invaluable teamwork and leadership skills, with one person taking the lead as a gaffer (who will lift the molten glass) and one or two assistants helping to shape that glass into whatever the gaffer is working on. Keith equated it to a sort of dance, where everyone needs to learn their part and anticipate the moves and needs of others."
Inter/National News
Art & Object pours out a slideshow of "10 Wineries that Every Art Lover Should Visit."
Angelica Villa for ARTnews reports: "$30 M. Phillip Guston Painting Could Set Auction Record Amid Long-Awaited Retrospective." Hot tip: You can see two Guston paintings, made more than 20 years apart, in Frisson: The Richard E. Lang and Jane Lang Davis Collection in SAM's galleries.
"America may finally be ready for Alberto Giacometti's uncompromising art": The Washington Post's Sebastian Smee on the Giacometti traveling retrospective that just debuted at the Cleveland Museum of Art–and heads to SAM this summer!
"But it's only when you stand in front of them, or in some way stand with them (from the side or directly behind can be just as effective) and focus in on them that they give up their devastating secret (which is also your secret and mine): that we're alone, that no one else knows what's in our heads and that we will cease to exist."
And Finally
– Rachel Eggers, SAM Associate Director of Public Relations
Image: Natali Wiseman.
alberto giacometti, Alberto Giacometti: Toward the Ultimate Figure, Catharina Manchanda, Dimitrou's Jazz Alley, Frisson: The Richard E. Lang and Jane Lang Davis Collection, Hilltop Artists, Infinity Room, Kristen Ramirez, MARKET Seattle, Mother's Day, muse/news, Our Blue Planet: Global Visions of Water, Phillip Guston, SAM Shop, Shubert Ho, Tacoma Art Museum, Tariqa Waters, Yayoi Kusama