Object of the Week: Kali (I'm a Mess)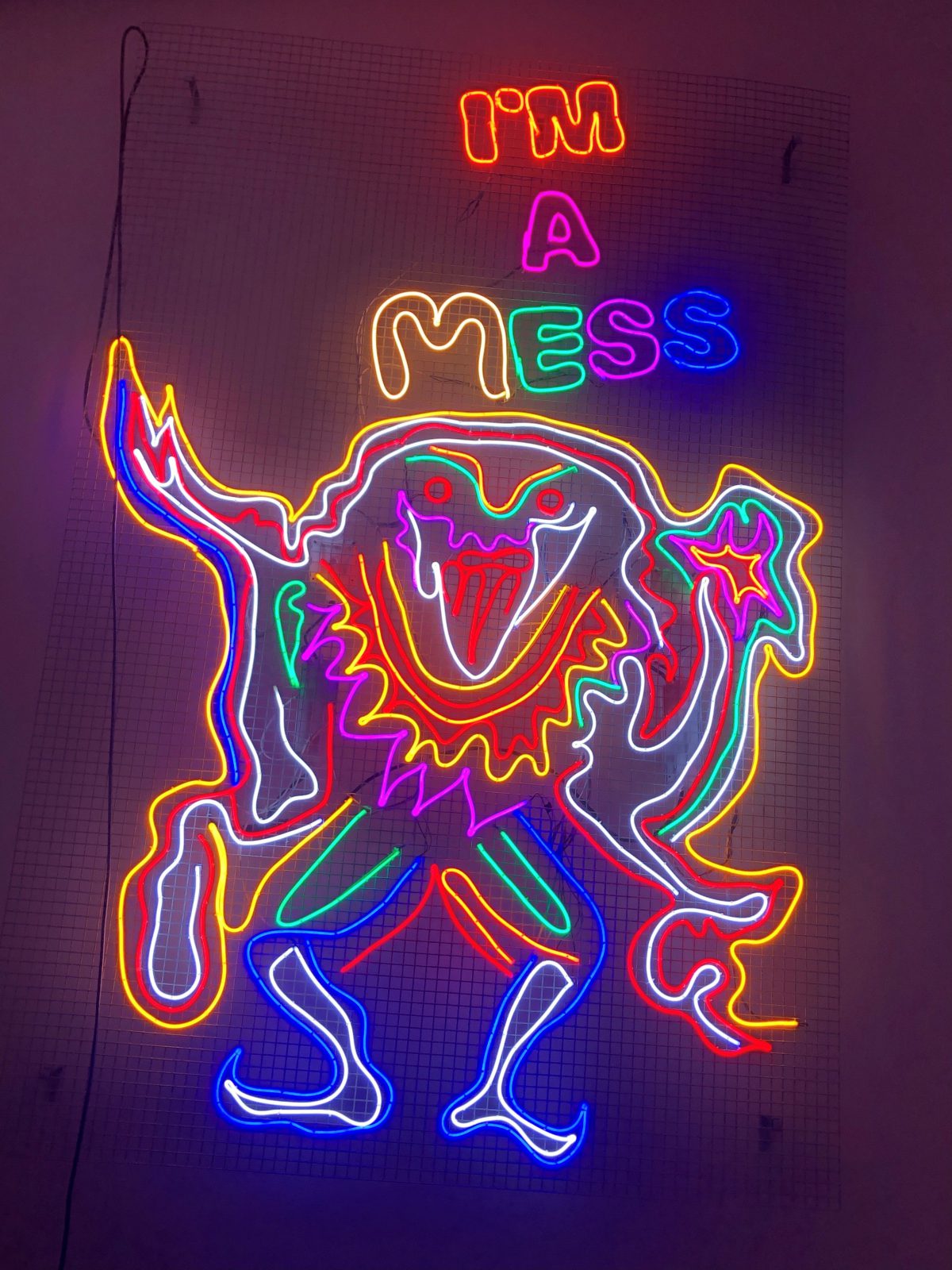 Colorful, riotous, and vibrant are but three words that come to mind when thinking about Dr. Chila Kumari Singh Burman's neon artworks. Burman's neon lights first appeared on the Tate Britain's façade in 2020 for her commission Remembering a Brave New World, which disrupted the neoclassical building's exterior with a roar of color. Her installation was awarded the 2021 Dezeen Award for Design of the Year.1
The artist traces her love for neon to childhood visits to Blackpool, a seaside resort known for its annual lights festival. While traditional glass neon lights were not conducive to achieving the shapes and structures that Burman wanted, new developments in the medium allowed her to bend and shape silicon neon lights to create complex and multi-colored sculptures. Some of her signature works include pouncing tigers, images of Hindu deities, uplifting quotes, and her father's ice cream van. Burman's Tate Britain installation was unveiled in time for Diwali, the South Asian festival of lights, but also in the midst of the global Black Lives Matter movement and raging COVID-19 pandemic.
With all of this in mind, Burman communicated an uplifting message, but, more importantly, highlighted the significant role and contributions of Black and Asian British artists in the United Kingdom. Burman has also noted that the neon works are an extension of her previous practice, stating, "paradoxically, [the installation's] concerns are the same themes I explored back in the 80s along with my colleagues in the Black British Arts Movement [that] are still so prevalent today…"
"It's undeniable that the Tate Britain commission I was awarded was finally a step in the right direction, in acknowledging the significance of my work and practice—as well as the significant contributions of my contemporaries—that have, to be frank, been overlooked for so long," Burman said. "In doing so, Tate have sought to re-address the biases and hypocrisy often prevalent in both our British art establishments and the wider art sector. This shift, inevitably signifies a slow erosion of the inequalities prevalent in the art world."
"That being said," she continued, "I saw my selection for this commission not as a final step in this process of erosion but as a beginning. I was adamant, therefore, that my commission serve as an opportunity to critique the role of the Tate—and by extension all of our British establishments—in much the same way as I have done throughout my practice."
SAM acquired one of Burman's neon works, Kali (I'm a Mess) with funds from the Richard E. Lang and Jane Lang Davis Acquisition Fund for Global and Contemporary Art, and additional support from the E. Rhodes and Leona B. Carpenter Foundation. Previously perched atop the Tate Britain's pediment, obscuring the statue of Britannia, the piece will be on view in the upcoming exhibition, Embodied Change: South Asian Art Across Time, opening January 14 at the Seattle Asian Art Museum.2
Kali (I'm a Mess) brings both a disruptive and inclusive message of liberation and rebellion. Through this artwork, Burman asks: Can Kali fast forward us into a brave new world where we will no longer be in a mess?
– Ananya Sikand, PhD Candidate, University of Washington
The author wishes to thank the artist, Dr. Chila Kumari Singh Burman, as well as the artist's studio team, especially Kemi Sanbe, for kindly providing answers to interview questions. Thanks also to Dr. Natalia Di Pietrantonio, SAM's Assistant Curator of South Asian Art, for providing the opportunity to write this blog post.
---
1 https://www.dezeen.com/awards/2021/winners/remembering-a-brave-new-world/#
2 Britannia is the embodiment of Britain in female form as a symbol of British national pride and unity, but also, more troublingly, a long-lasting symbol of colonialism, extraction, and violence.
Image: Kali (I'm a Mess), 2020, Chila Kumari Burman, 6mm 12v silicone LED neon, galvanized weld mesh, 12v switch mode transformers, IP67 plastic box, 137 13/16 x 70 7/8 × 1 3/16 in., Richard E. Lang and Jane Lang Davis Acquisition Fund for Global and Contemporary Art, 2021.25 © Artist or Artist's Estate.
Black art, Black British Art Movement, Black lives matter, Diwali, Dr. Chila Kumari Singh Burman, Embodied Change: South Asian Art Across Time, Kali (I'm a Mess), neon art, object of the week, Remembering a Brave New World, Richard E. Lang and Jane Lang Davis Acquisition Fund for Global Contemporary Art, Seattle Asian Art Museum, South Asian art, Tate Britain