Imogen Cunningham: Self-Portrait with Grandchildren in Funhouse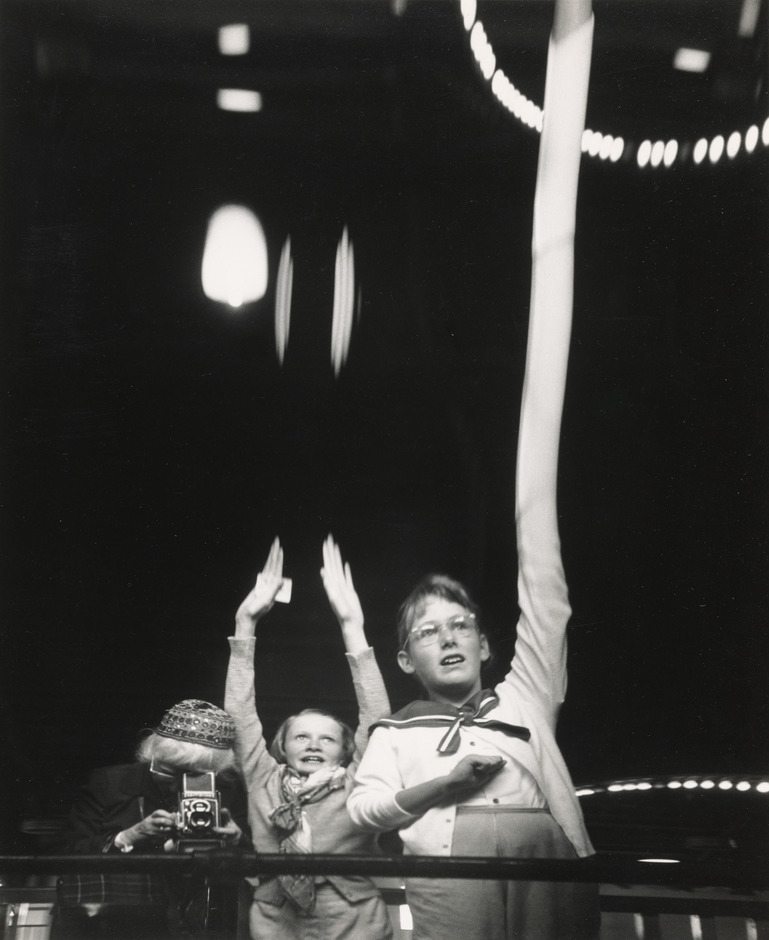 In Self-Portrait with Grandchildren in Funhouse, Imogen Cunningham captures a moment of joy with two of her young grandchildren, Joan and Loren, as they experiment with the effects of a warped mirror. Despite the playful nature of the image, Cunningham remains stoic in photographing herself. Her face points down as she looks into the viewfinder of her black and silver-lined rectangular camera which she steadies with both hands. She is small in comparison to her grandchildren, whose elongated arms stretch the entirety of the image, but identifiable by her white hair, gemmed cap, and metallic glasses.
Tune in to this audio recording to hear Imogen Cunningham's granddaughter, Meg Partridge, discuss Cunningham's relationship with her grandchildren. Produced by the J. Paul Getty Museum, Partridge describes how this image came together and emphasizes Cunningham's signature artistic style. Listen to this and other audio recordings as part of the free smartphone tour of Imogen Cunningham: A Retrospective when you visit the exhibition at the Seattle Art Museum through February 6, 2022.
Self-Portrait with Grandchildren in Funhouse, 1955
Narrator: An outing with two of her granddaughters and a fun house mirror provided Imogen Cunningham with an irresistible subject. Meg Partridge, granddaughter of Imogen Cunningham.

Meg Partridge: Imogen was really being very playful as she always was with photography.

Narrator: Partridge was only two when this photograph was taken, and too young to tag along. Instead, we see her older sister Joan, in the middle with both hands raised, and her cousin Loren, on the right with a hyper-elongated arm.

Meg Partridge: Imogen did not spend a lot of time taking grandchildren places and doing grandmotherly-like things. She enjoyed children once they became, as I would say, of interest to her. They could be articulate. They could have opinions. They could share thoughts.

Narrator: Cunningham worked while raising her three sons, and continued to do so once their children came along.

Meg Partridge: Looking at her work, you can see some of the same subjects coming in again and again. So we see many photographs of Imogen looking into her camera and photographing herself in a reflection or often in a shadow as well. But another is a very sort of surrealistic view that she took with her camera.

Narrator: Unlike the distorted versions of her granddaughters, her reflection in the self-portrait remains relatively true. We get just a glimpse of her grey hair beneath an embroidered cap and one-half of her eyeglasses, as her hands adjust the dials on her ever-present rolleiflex camera.

Meg Partridge: She was able to capture great shots that were unexpected because she had a camera around her neck and she just always wore it.
– Lily Hansen, SAM Marketing Content Creator
Image: Self-Portrait with Grandchildren in Funhouse, 1955, Imogen Cunningham, American, 1883–1976, gelatin silver print, 8 3/4 × 7 5/16 in., The J. Paul Getty Museum, Los Angeles, 2006.25.2, © 2021 The Imogen Cunningham Trust.