Muse/News: Art of Folding, Artists in Storefronts, and Rembrandt's Close-Up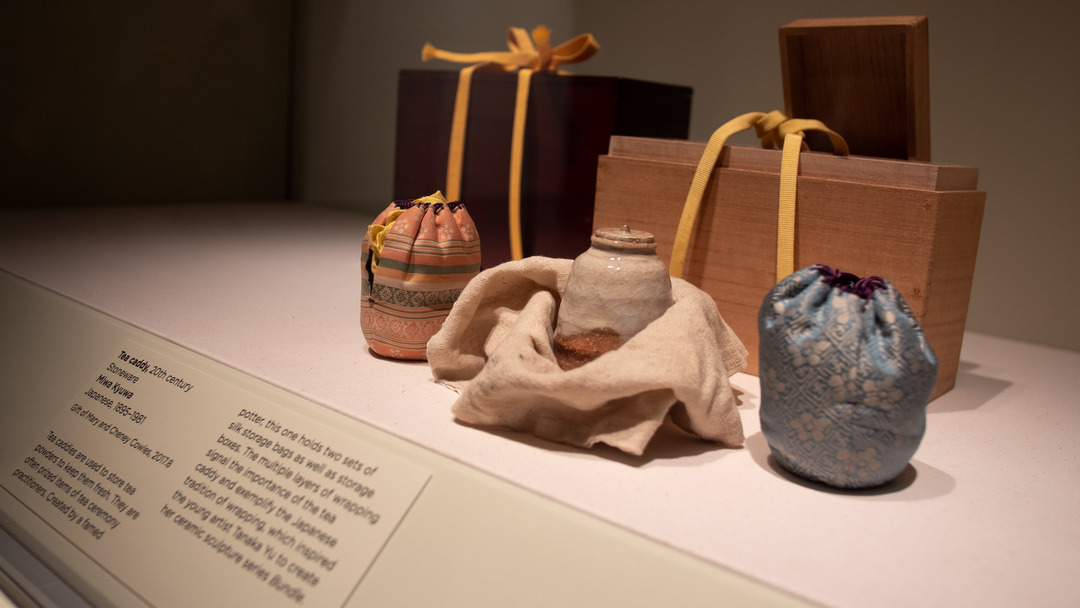 SAM News
You've got just under a month to see Imogen Cunningham: A Retrospective, closing February 6 at SAM! Catch up on why this exhibition is a can't-miss with KING5; curator Carrie Dedon recently appeared on both New Day NW and Evening Magazine to share her love for the photographer.
While you're there, check out the collection galleries, including Folding Into Shape: Japanese Design and Crafts. The Seattle Times' Jade Yamazaki Stewart recently visited the show, connecting the works on view with childhood memories of intricately wrapped onigiri.
"Folding, wrapping, layering, and weaving are part of some of life's most important events in Japan: birth, marriage and death. At such significant times in one's life, the care taken to fold, wrap and layer shows respect and consideration. This carefulness, and astounding craftsmanship, is on full display at the exhibition."
And finally, here's the Seattle Times' list of "13 Seattle-area arts-and-culture events to look forward to in 2022." Brendan Kiley recommends Our Blue Planet: Global Visions of Water, SAM's next special exhibition that opens March 18.
Local News
Here's Rain Embuscado for the Seattle Times on "Why 'people have been craving' Seattle's First Thursday Art Walks."
Margo Vansynghel of Crosscut floats to the Belltown studio housing Moth & Myth, a paper butterfly business creating beautiful swarms for customers and galleries.
Amanda Omg for South Seattle Emerald reports on the recent launch of Seattle Restored, a program from the City of Seattle "focused on activating vacant commercial storefronts in Downtown Seattle neighborhoods" that will "prioritize featuring BIPOC artists and entrepreneurs." Applications are open and on a rolling basis, so get your idea in!
"This is so, so, so important for giving voice to people who might not have a voice in our society," [Shunpike Executive Director Line] Sandsmark said. "I've been in many situations where I've been able to see how impactful the arts are in really supporting a healthy society. It's a wonderful way to make the space available and accessible to people, to artists, who have lost so much space, who have been displaced because of gentrification, to focus on and create more opportunity for those who have had less opportunity in the past."
Inter/National News
The lede from Artnet's Sarah Cascone: "A year ago, before the smoke had fully cleared after a group of insurrectionists stormed the Capitol building, curators and historians were already grappling with the complicated question of how best to preserve the historical record." Read the rest about the rapid-response collecting for January 6 artifacts.
Watch this space: ARTnews reports that a new biopic about the young Jean-Michel Basquiat is in the works, directed by Julius Onah and starring Kelvin Harrison, Jr.
Here's the Associated Press on how a "new hi-tech photo brings Rembrandt's 'Night Watch' up close."
"The 717-gigapixel photo allows viewers to zoom in on Captain Frans Banninck Cocq and see how the 17th-century master put the tiniest of white dots in his eyes to give life to the painting's main character. It also shows the minute cracks in his pupils, brought on by the passage of time."
And Finally
A must-read: The New York Times' Wesley Morris on Sidney Poitier.
– Rachel Eggers, SAM Associate Director of Public Relations
Photo: L. Fried.