Muse/News: Eagle's makeover, open gazes, and dancing wire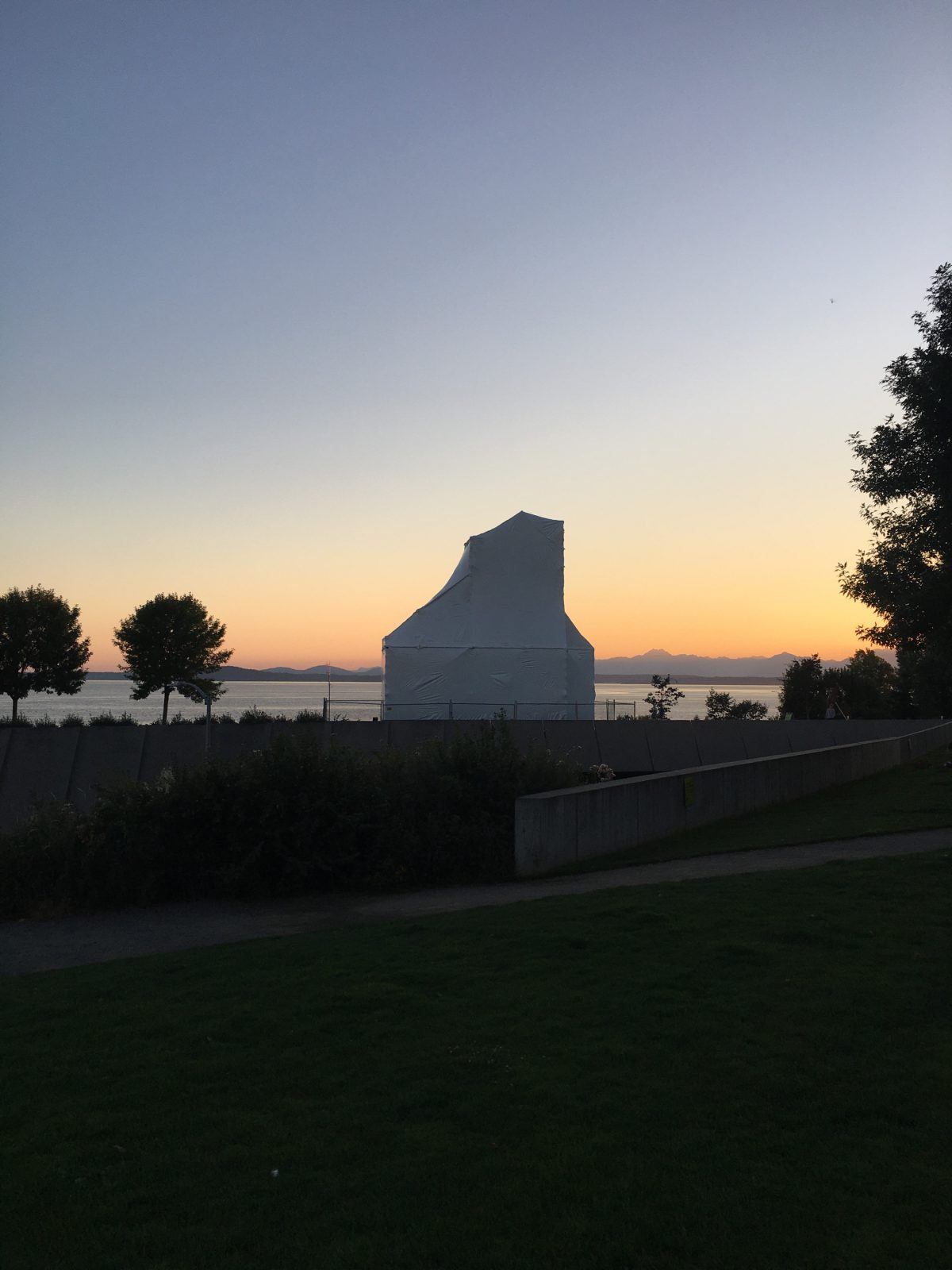 SAM News
Brangien Davis of Crosscut notices that Alexander Calder's The Eagle, the monumental sculpture that perches in the Olympic Sculpture Park, has its own protective covering these days. She spoke with SAM Chief Conservator Nick Dorman about the conservation and repainting of the steel sculpture, thanks to a grant from Bank of America. Look for "the big reveal" sometime around Labor Day.
The sculpture park is where it's at these days: John Prentice of KOMO's Seattle Refined interviewed SAM curator Carrie Dedon about how important accessible public art is—now more than ever.
"'Anything that can broaden your horizons or challenge your worldview, or spark your emotions, these are the things that make us human and connect us to our humanity,' Dedon said."
Local News
Longtime cultural critic Misha Berson writes an opinion piece for Crosscut, outlining her thoughts on how "the arts need a New Deal to survive the pandemic."
Tom Keogh for the Seattle Times has recommendations for some streamable films (a TV series) about presidential campaigns that "give us a peek into the peculiar business of running for the White House."
The Stranger's Jasmyne Keimig takes her "Currently Hanging" series outside of Seattle; here, she visits Jordan Casteel's Within Reach, viewable via the New Museum.
"Her subject, Devan, stares openly at the viewer, seemingly aware of our gaze on his body, our intrusion on his space, our sussing out of his mental state…Devan projects an openness, a sort of straightforward vulnerability that makes this painting compelling."
Inter/National News
Artnet's Sarah Cascone on several upcoming art projects in Tusla, Oklahoma to memorialize the 1921 Tulsa Race Massacre, during which white mobs destroyed homes and "Black Wall Street," killing at least 300 Black residents.
The American Alliance of Museums is out with another survey on the impacts of COVID-19; Valentina Di Liscia of Hyperallergic outlines the major findings, including that 12,000 institutions may close permanently.
Thessaly La Force for the New York Times' T Magazine on artist Ruth Asawa, who spent her teenage years in two concentration camps for Japanese Americans during World War II and whose important sculptural work has long been overlooked.
"I have stood in a gallery hung with Asawa's wire sculptures, where the movement of my own body has caused them to sway, the shadows of the woven wire dancing against the floor. For a moment, I was quietly transported elsewhere — to the deep sea, to a forest or maybe to someplace altogether unearthly."
And Finally
Photo: Sarah Michael