Object of the Week: GrandMa'sPussy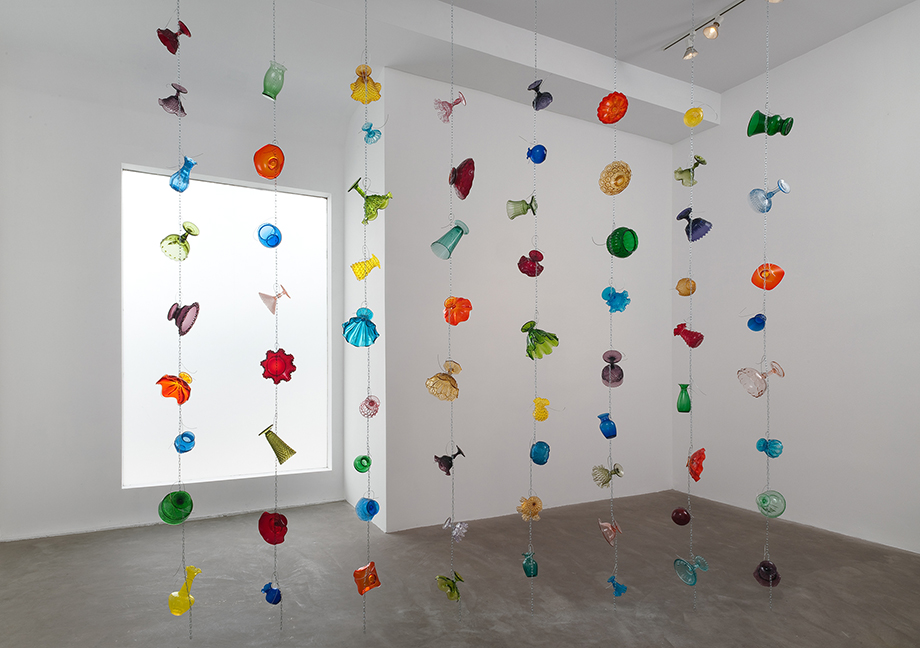 GrandMa'sPussy (2013), by American sculptor Tony Feher (1956–2016), is one of SAM's most recent acquisitions––it entered the collection just months ago––and hasn't even been seen fully installed by museum staff. It currently lives in one of the museum's storage areas, its glass chalices––with fluted, elaborate bowls, long and short stems, and frilled lips of the cups, each a singular jewel-tone color––carefully compartmentalized on two carts, divided by pieces of Ethafoam. In its fully realized form, 69 of these goblets, chalices, grails, cups, candy bowls (or any other name for special occasion glassware), are suspended at equal intervals, lengths of fine steel chain attached to their stems by metal wire, so as to dangle like a great, chunky bead curtain from the ceiling. None of the cups touch the ground, or each other, and the work's dimensions are variable.
Feher is known primarily for his installations that employ everyday items such as these glass cups, as well as plastic bottles, water tinted with food coloring, rocks, plywood, marbles, cardboard, pennies, generic plush rugs, and disposable packaging. In Feher's spare, deliberate compositions, these quotidian objects become more like artifacts, placed with restraint and attention to their colors and forms. Feher, who was HIV positive, died of cancer-related causes in 2016 at age 60; throughout his career, observers drew meaning from the transience of the objects he chose and the fragility of life. His ephemeral materials, often sourced from inside his own home––a theater of objects––are ubiquitous and ready-made. Installed, they recall their origins enough to be familiar to us in a domestic setting, but are reconstituted and choreographed in a way that our attention is drawn to their aesthetic qualities and poeticism. GrandMa'sPussy isn't made of the most ephemeral objects, but the life of the glasses becomes just as conditional in their suspended form, particularly in our earthquake-anxious region, as Senior Objects Conservator, Liz Brown, pointed out to me in a phone call in April.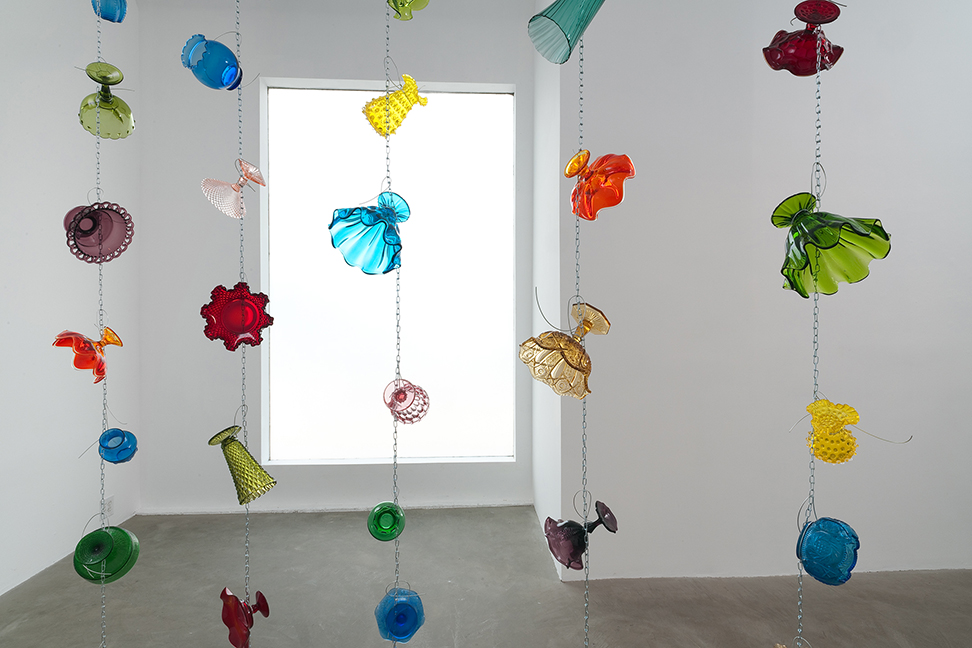 Throughout his oeuvre of assembled and sculptural works, Feher would often choose titles based on their form, such as Perpetually Disintegrating Sculpture(1993), a cardboard box painted silver and filled tightly, but neatly, with rectangular sponges; or, more descriptively, like Untitled (Ruby Begonia)(2000), composed of a circle of pennies and dimes with carefully interspersed marbles.
With the first part of this work's title, I think of a sweet grandmother who aligns with the archetypal and perhaps nostalgic image of a gracious and generous giver we might be lucky enough to have or have had in our lives. There is comfort in the ritual of visiting grandma, who implores you to eat more and not leave so soon; her home becomes a site of care, with multiple bowls and plates and jars of things from which she encourages you to help yourself. The glass cup and candy bowl––icons of domesticity and hospitality––are somehow always stocked and ready for you. Her cabinet of glasses is almost kitsch, though it doesn't mean to be (and in being unintentional, rather really becomes kitsch).
As for the full title of GrandMa'sPussy: it could refer to how the glasses are chalice-like, symbols of containing and giving, emphasized by the possessive "GrandMa." The choice in capitalization and spacing (or lack thereof) gives the full title of GrandMa'sPussy a sense of specificity and personal relation. While the work was made in 2013, and the word "pussy" has taken on different meaning since 2016, the title has a descriptive function above anything meant to disrespect. Its tongue-in-cheek nature is at once transgressive and playful, drawing attention even more to the elaborate glassware, and simultaneously pushes against our tendency to regard such objects in quite the saccharine way I admittedly did above.
In our current moment, imagining grandma and a visit to her home is especially distant and nostalgic for a time not long ago. Now we wave to our elderly loved ones, friends, and neighbors from outside the window, or from our homes, and have to save our embraces for the future. For me, there is comfort in knowing that these glass bowls lived with Feher for quite a while before they took on another kind of poetry outside of his home. The glass chalices in GrandMa'sPussy will eventually live their public lives again, frozen mid-tumble and visible from every candied angle, when installed at SAM in the future. For now, Feher's work is patiently waiting to emerge from its inner life at the museum––quietly in storage, cushioned by foam––and will take on entirely new meanings, recalling rituals we're unsure we might easily return to, once it can be realized in its intended form and seen by museum visitors.
– Hannah Hirano, SAM Coordinator for Museum Services and Conservation
Think about Tony Feher's work while you take a moment to look at the objects you surround yourself with in a new light. What small or numerous items are in your household that are uniquely shaped by your habits or whose meaning transcends the mundane because of your relationship to it? SAM's Jon & Mary Shirley Curator of Modern & Contemporary Art, Catharina Manchanda is sharing what she calls accidental artworks made by her husband's busy hands while on phone calls!
We are humbled by the generosity of our donors during this unique time. Your financial support powers SAM Blog and also sustains us until we can come together as a community and enjoy art in the galleries again. Thanks to a generous group of SAM trustees, all membership and gifts to SAM Fund will be matched up to $500,000 through June 30!
Images: GrandMa'sPussy, 2013, Tony Feher, glass, galvanized steel wire, and chrome-plated steel chain, dimensions variable, Gift of the Estate of Tony Feher, 2020.8 © Artist or Artist's Estate. Photos courtesy of Anthony Meier Fine Arts