Mapping the Pacific Northwest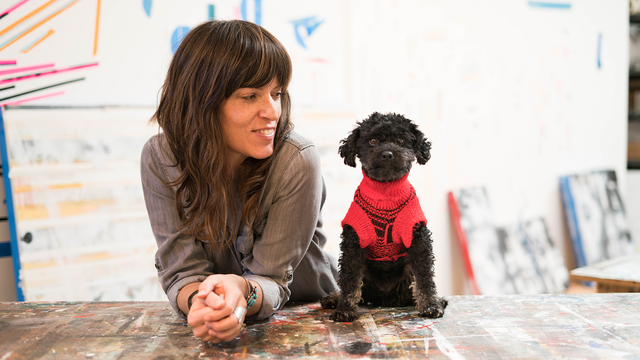 Check out the October SAM Gallery show, Mapping the Grid before it closes October 31! Nina Tichava is one of four artists featured, all of whose work responds to maps, grids, and geometry. Tichava uses painting and printmaking techniques, to interweave drawing and collage with a variety of media, including paint, charcoal, ink, tape, ballpoint pen, canvas, and metal. She is a process painter, who creates paintings without a set plan or narrative.
In the works from her Mapping Series at SAM Gallery, Nina says "I was able to source nautical maps of the Pacific Northwest sound, and I had two large, vintage maps of Washington State in my studio. I'm a constant and compulsive collector of vintage maps, papers, postcards, wallpaper, photographs, posters . . . it goes on and on. I'm always searching thrift stores, garage sales and vintage shops, especially when traveling. I also hunt for materials on eBay, mainly when I'm looking for something specific." Many of the maps in her work at SAM Gallery feature Pacific Northwest locations, such as downtown Seattle, Gray's Harbor, and the Hood River. As an environmentalist and conservationist, Tichava is also working to help protect the locations shown in her maps. Tichava sells works on her website to support environmental charities, such as the Sierra Club and the Natural Resources Defense Council. She was raised by hippy parents in rural New Mexico and Northern California and spent most of her adult life on the West Coast, where awareness of things like water conservation, clean air, and environmental impact are part of the culture and prioritized. She believes that "as climate change intensifies, and everyone is thinking about how to handle the complexities, I feel like it's a small but tangible way I can participate and contribute to a solution."
On top of the maps, Tichava applies numerous overlapping layers of stripes, painstakingly painted with a brush and individually applied strips of tape. "Reproduction and repetition being central themes, my paintings are responses to things mass-produced and processed to an ideal. My paintings are, by nature, imprecise and hand-made objects. Perfection is unattainable therefore each piece is unique—it is this inherent quality that continues to engage me in painting." The Mapping Series was developed in collaboration with SAM Gallery and for many years was exclusive to the gallery. The idea came from a design project Tichava began in South Lake Union, and grew from there, encouraged by Jody Bento and the many collectors who have supported this series for years. See it for yourself!
– Pamela Jaynes, SAM Gallery Coordinator
Image credit: Edward Tichava