Muse/News: A sound wagon, a light tunnel, and a change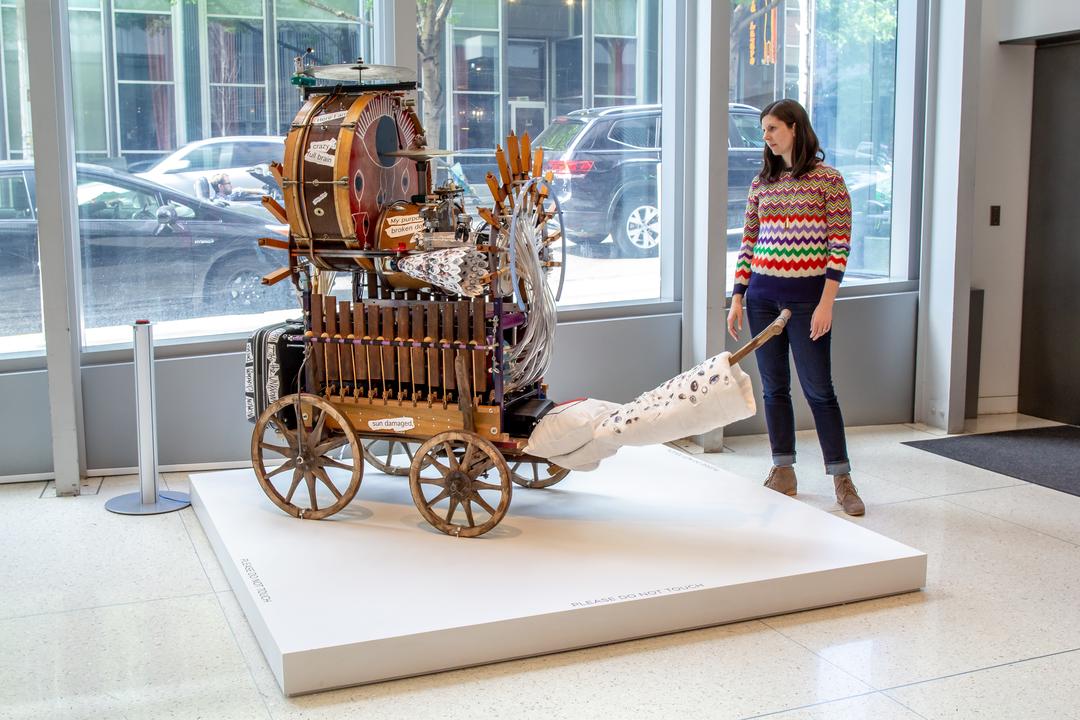 SAM News
Seattle PI's Zosha Millman interviews Path with Art executive director Holly Jacobson and a student artist about Hear & Now, the kinetic sound sculpture now on view at SAM that was created by Trimpin and Path with Art student artists who have lived experience of homelessness. Don't miss June's First Thursday performance and talkback about the work.
"It is going to require human centered solutions that will require putting the person that is having that experience at the center of the solution . . . And art is just a tremendous vehicle for that."
Following her preview of Regina Silveira: Octopus Wrap, Crosscut's Brangien Davis features the installation in her weekly newsletter, including quotes from her interview with the artist.
SAM's upcoming major exhibition, Victorian Radicals: From the Pre-Raphaelites to the Arts & Crafts Movement, is included in the Seattle Times' annual guide to all the happenings around town this summer.
Local News
"Gore-tex meets Gucci": Crosscut's Brangien Davis re-examines at the oft-mocked Seattle style through two fashion exhibitions, now on view at MOHAI and MoPOP.
Seattle Met's Stefan Milne explores the future of music festivals in the region, now that Sasquatch and Upstream are done.
It's been a minute since Charles Mudede brought his inimitable voice to the visual arts; here he is with an appreciation of James Turrell's Light Reign at the Henry Art Gallery.
"But there is nothing supernatural or sacred here. We have the deepest feelings for light because it powers the processes that result in the wine we drink, the books we read, the park-bench kisses we enjoy all through the summer."
Inter/National News
Jori Finkel of the New York Times reports that the Museum of Contemporary Art will soon offer free general admission; the change is made possible by a $10 million donation by the board president, Carolyn Clark Powers.
ARTnews' Claire Selvin shares the news that the PBS NewsHour will expand its broadcast and digital arts reporting initiative, Canvas, thanks to a gift from the Knight Foundation (Arts publicists around the country react).
Lori Lightfoot, Chicago's first African American woman, and first openly LGBTQ mayor got an artwork for her office just in time for her swearing-in; Amanda Williams's Cadastral Shaking (Chicago v1) is about the legacies of redlining.
"Chicago is a city full of hope about shifting histories and moving toward equity, and the fact that the new mayor wanted a work of art about that says a lot," Gass added. "We believe in the power of art to help shift perspectives, and hopefully the map in the office will help do that."
And Finally
Get stuck on the Unicorn Tapestries.
– Rachel Eggers, SAM Manager of Public Relations
Image: Installation view of Hear & Now, Seattle Art Museum, 2019, photo: Natali Wiseman.