Muse/News: Porcelain secrets, lost speech, and an art-world skewering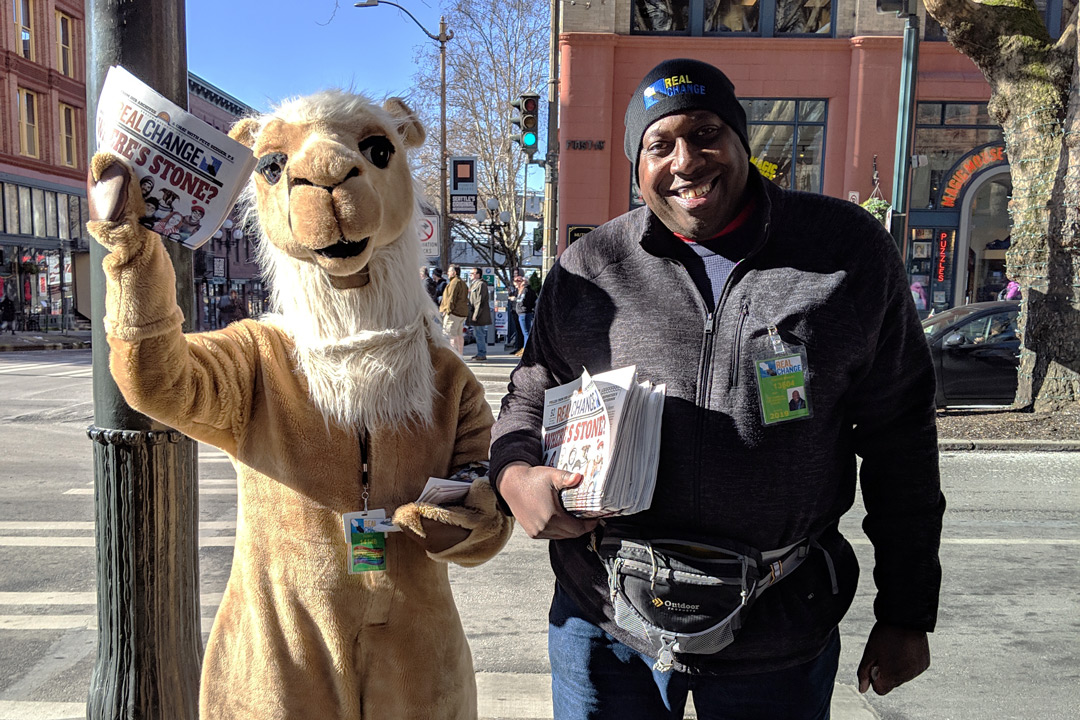 SAM News
Sammy the Camel headed out on a sunny Tuesday to sell copies of Real Change as part of the paper's #VendorWeek celebrations.
Sammy got tips from vendor Darrell Wrenn, an autograph from Stone Gossard, hugs from a friend, and some civic conversation with Governor Jay Inslee (that was totally random! We just ran into him!).
The Stranger's Jasmyne Keimig takes on Taking Tea and "porcelain's deadly secrets" in the current edition's feature story.
"Porcelain 'is way more robust than you initially think it is,' the artist said the other day at the museum. 'You can drop it and it bounces.' That elicited nervous laughter from the staff. But Partington's genuine appreciation for the material is clear. Taking Tea activates the space in a way never done before."
Our upcoming exhibition, Jeffrey Gibson: Like a Hammer, is highlighted in arts previews from Seattle Met, The Stranger, and ParentMap.
Local News
Newsletters are the new podcasts: Crosscut launches their arts & culture newsletter, highlighting Cherdonna Shinatra at the Frye, Aaron Dixon at NAAM, and more.
But videos are still going strong: Crosscut also shares their complete 4-part series featuring Susie Lee and four elements of art: clay, water, glass, and light.
And sometimes videos play on a thing called "broadcast TV." Here's the latest episode of Seattle Channel's ArtZone, featuring Quenton Baker, Tres Leches, and a remembrance of Robert C. Jones.
"The aim of this project was to locate a kind of lost speech."
Inter/National News
First The Square, now Velvet Buzzsaw: The art world is once again skewered on film. (Mostly this is an excuse to share this video of the film's director hilariously skewering a word.)
A painting by Elisabeth-Louise Vigée Le Brun sold at Sotheby's for $7.18 million, making it "the most expensive painting by a pre-modern era female artist ever sold at auction."
One of my favorite recent pieces of cultural writing: The New York Times' Wesley Morris on "racial reconciliation fantasies" such as Driving Miss Daisy and Green Book.
"Not knowing what these movies were 'about' didn't mean it wasn't clear what they were about. They symbolize a style of American storytelling in which the wheels of interracial friendship are greased by employment, in which prolonged exposure to the black half of the duo enhances the humanity of his white, frequently racist counterpart."
 And Finally
The polar vortex comes for Anish Kapoor's Cloud Gate
– Rachel Eggers, SAM Manager of Public Relations
Photo: Rachel Eggers.