Muse/News: Arts News from SAM, Seattle, and Beyond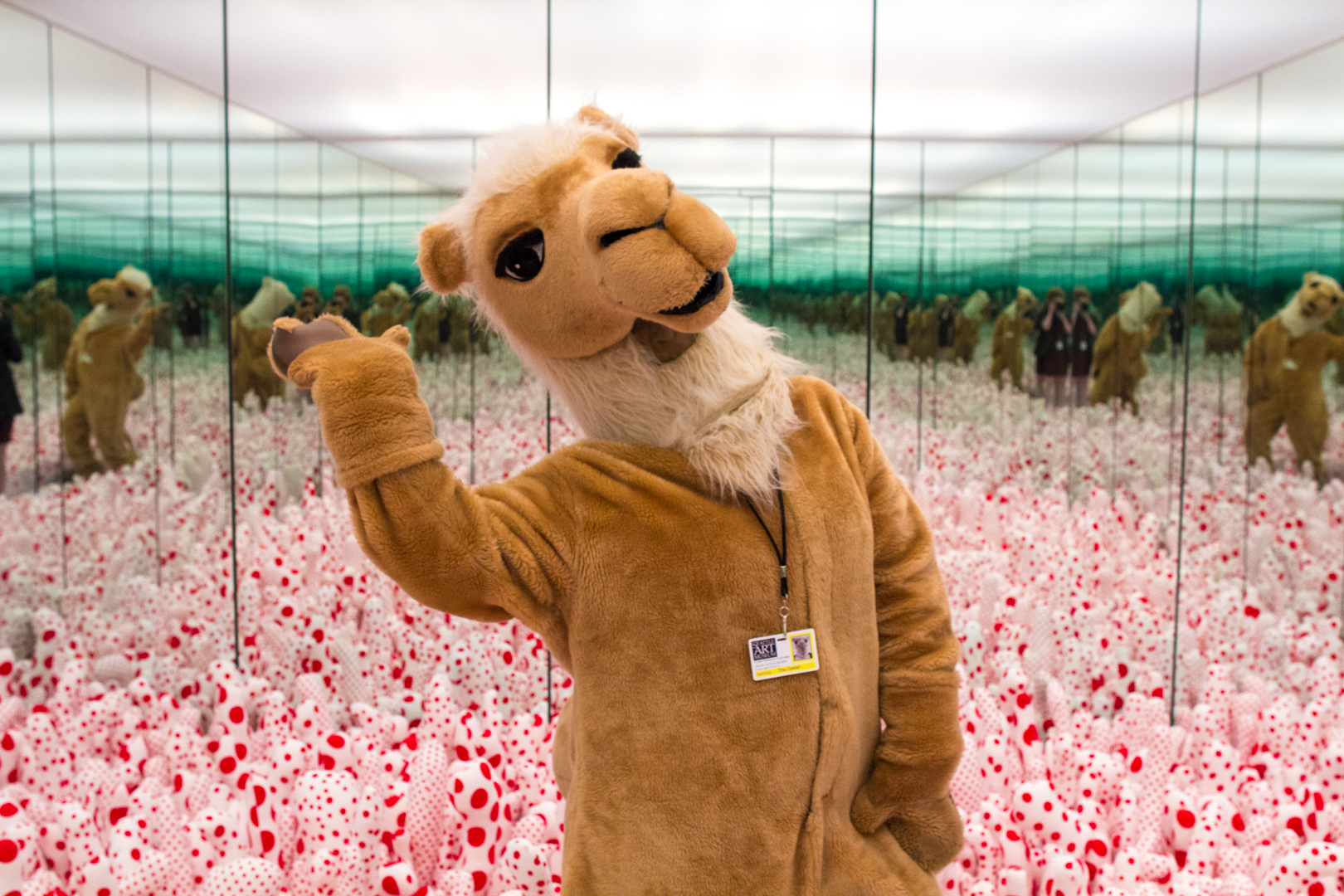 As of today, Yayoi Kusama: Infinity Mirrors is closed! What a wild ride the last few months have been during this blockbuster exhibition. Now we're looking ahead to Andrew Wyeth: In Retrospect and so is the press. Take a gander at this past week's press clippings, hand selected by SAM's PR Manager.
*Clutches Yayoi Kusama exhibition catalogue and cries while Boyz II Men's "End of the Road" plays*
SAM News
Seattle Times photographer Alan Berner visited during the final days of Yayoi Kusama: Infinity Mirrors and filed this dot-filled send-off. Don't miss the cameo from our mascot, Sammy the Camel. (Why a camel? Here's the scoop.)
SAM lands on the celebrity news beat: When Seahawks quarterback Russell Wilson and singer Ciara had a date night at SAM after we'd closed, the news hit Page Six, W Magazine, Artnet, Ebony, Yahoo, Daily Mail, Entertainment Tonight, Jet, and HuffPo.
Love this Seattle Times RAVE for SAM staff: A visitor lauds our "daily, herculean efforts" during the Kusama run. We couldn't have done it without our awesome visitors!
Seattle Magazine's September print edition features our Andrew Wyeth retrospective among their picks for "Fall's Most Buzzworthy Arts and Culture Events."
"'The goal was to show that this unrelenting realist evolved and changed, sometimes quite dramatically, over time,' Junker says. 'If you think you know Wyeth's art from the examples we see reproduced and hanging in the well-known museums, I feel certain you will come away from this exhibition totally surprised.'"
Local News
The Seattle Times reports on The Grocery, a new "cutting-edge" arts center in a former—you guessed it—grocery store in Beacon Hill.
Also in the neighborhood: Artist Ari Glass unveiled a new installation at Beacon Hill's Art Deco building Pacific Tower, featuring his signature gold leaf and mica elements.
This should be an amazing show: The Stranger's A&P features the sculpture of Humaira Abid, coming soon to a solo show at Bellevue Arts Museum.
Inter/National News
The journey continues for the home of Rosa Parks, recently shipped to Berlin and restored by an American artist. The house now has a ticket back home to the US—with an uncertain future ahead.
Poet John Ashbery died on Sunday at the age of 90; did you know he was also a collage artist, who made his solo debut as a professional at the age of 81?
Pierre Bergé, longtime business partner of Yves Saint Laurent, died Friday at the age of 86. We were honored to share his legacy during Yves Saint Laurent: The Perfection of Style.
 And Finally
The art of eating: Artsy with seven recipes from artists, including—wait for it—avocado toast (by Salvador Dalí, of course).
– Rachel Eggers, SAM's Manager of Public Relations