Object of the Week: Amulet with mummified monkey
Each of us carries with us a lens, or lenses, through which we view the world, and that lens colors and shapes our perception of, and response to, all the sights, sounds, and smells we encounter. It's no different when we're viewing art. Each of us brings to the experience of viewing art our own sets of questions. Art historians produce scholarship that discusses a certain object, maker, or concept—but the questions they ask in the process reveal as much about the perspective of the scholar as they do about the object or artist under discussion. Likewise, it's fascinating to tour through the galleries and eavesdrop on the unfiltered musings of museumgoers to the variety of art we have on display at SAM. Those comments say something about the art and the speaker.
One object that's commented on less frequently than I'd wish is this diminutive wood Amulet with mummified monkey—a piece that acts, for me, as an ever-present reminder of Dr. Fuller and his collecting principles, so neatly reflected in this ancient, tiny figurative sculpture. Dr. Fuller, who held a Ph.D. in geology and maintained scholarly pursuits in that field throughout his tenure leading SAM (1933–1973), collected many small, old, and odd things. Disinterested in value, he instead sought out rarity. His guiding question was: Does it have a unique character—an "essential factor"? That question drove him to acquire items like this mystifying Amulet, about which little was known when Dr. Fuller purchased it from J. Khawam & Cie, Cairo, for $240 in 1955.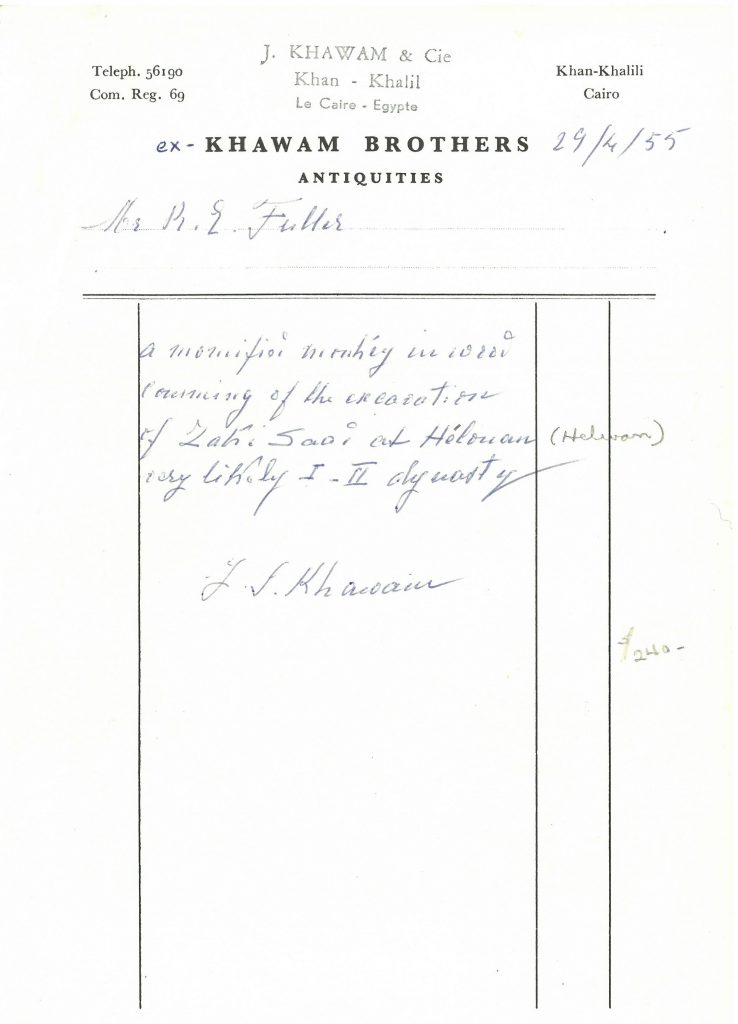 It had few facts to recommend it, but it was a curious piece that provoked questions for Dr. Fuller and would do the same for others. Shortly after acquiring the Amulet, Dr. Fuller received this letter from William K. Simpson, a research associate at the American Research Center in Cairo: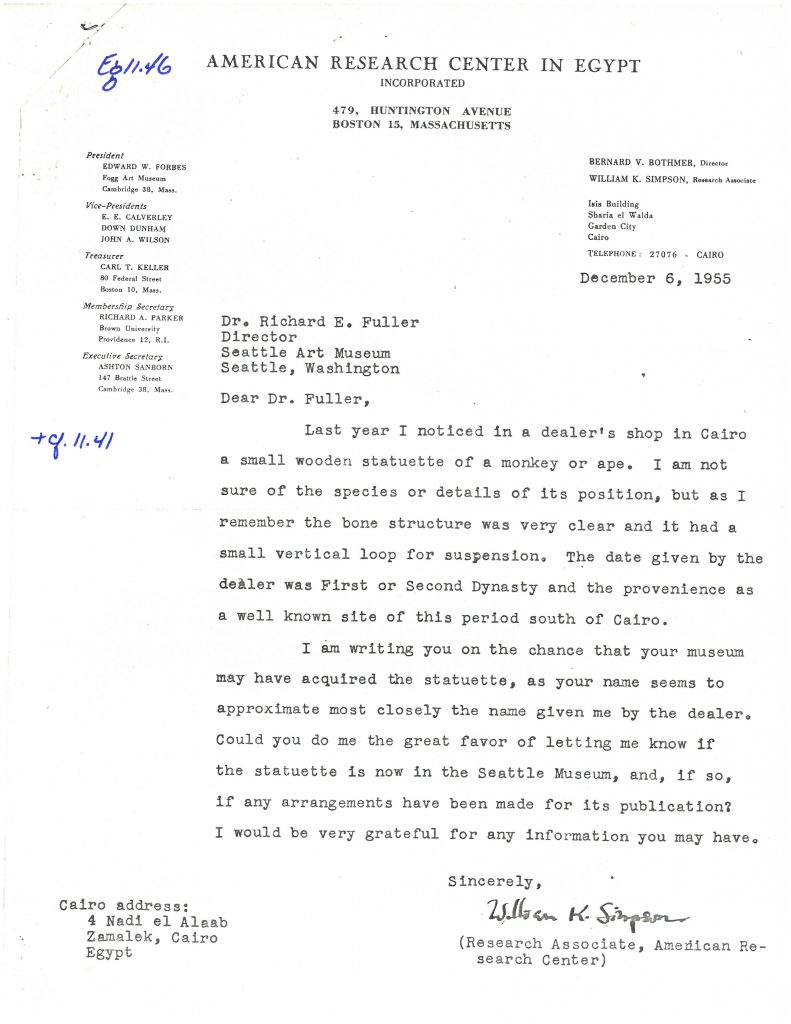 Simpson's desire to research and publish the Amulet with mummified monkey encouraged Dr. Fuller to seek out expert opinions from fields that were tangentially related to the piece, aiming to solve some of the quandaries it presented. Outside experts brought to the Amulet their own questions. Professor Bror L. Grondal of the College of Forestry at the University of Washington examined the piece in 1956 to determine what kind of wood composes it: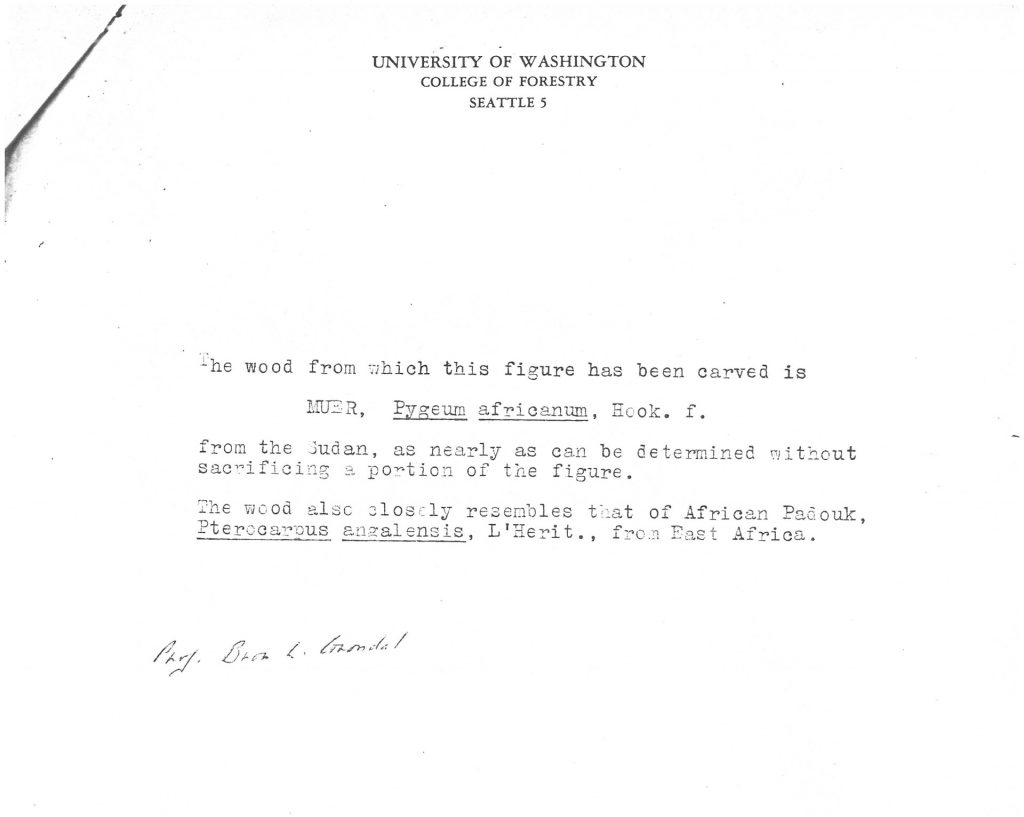 Meanwhile, Robert T. Hatt, a mammalogist at the Cranbrook Institute of Science in Michigan, had been researching ancient and contemporary animals of the Near East. In his letter of June 25, 1956, Hatt shared with Dr. Fuller his thoughts and questions regarding what species of monkey (or ape) might be represented in the Amulet:
Each of us brings to the experience of viewing art our own sets of questions—but to make our contribution, we have to actually ask them. Your curiosity could spark mine or someone else's, and whether or not we ever arrived at fixed answers, the summation of our questions reveals infinitely more than one viewpoint ever could.
—Jeffrey Carlson, SAM Collections Coordinator
Images: Amulet with mummified monkey, ca. 2920-2649 B.C., Egyptian, Early Dynastic period, wood, 3 3/16 x 11/16 x 7/8 in. Seattle Art Museum, Eugene Fuller Memorial Collection, 55.136, Photo: Natali Wiseman.