Object of the Week: Crystal Math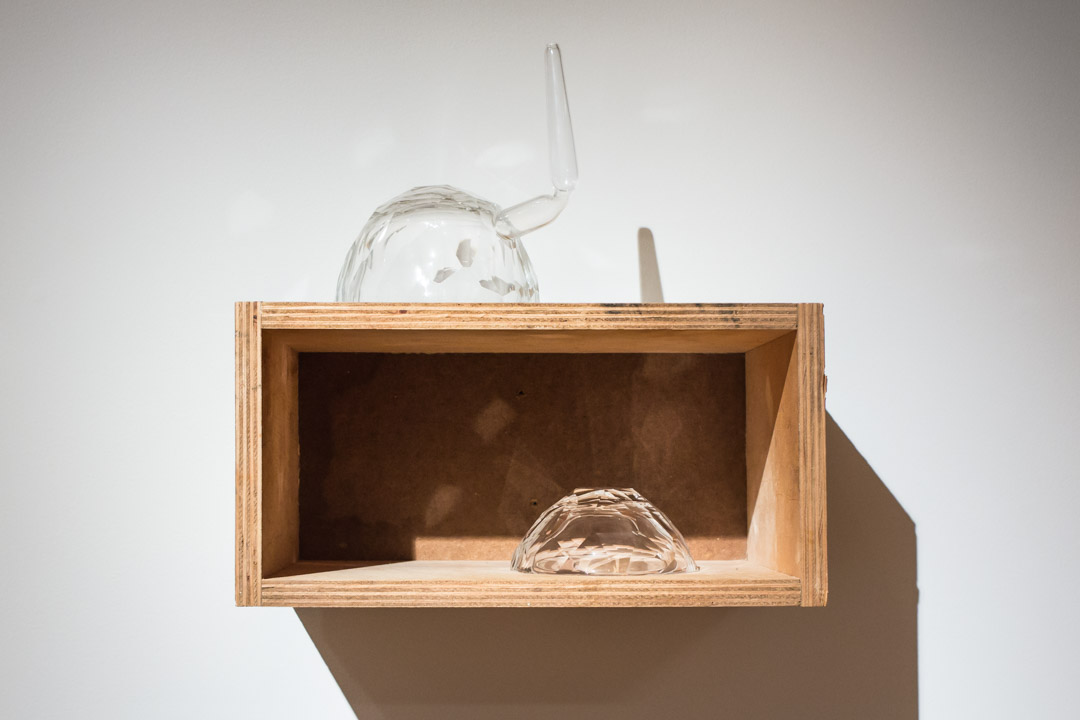 Don't do this, but. . . If you were to bring a stack of Marvel comics to the Seattle Art Museum, ride the escalator to the third floor, take a left turn, pass the video installation, and look up at the wall to your left, you'd find installed on that wall a custom-built box that fits your comics perfectly. However, it's sideways, and it's a museum artwork.
The piece you'd be looking at is sardonically called Crystal Math. It visualizes a collaborative effort between brothers Oscar Tuazon and Eli Hansen. As brothers do, they've worked together on projects since their childhoods and this piece represents the particular interests of Tuazon in architecture and Hansen in glass art. Their collaborative art takes on traditional views that separate "high" and "low" art forms into different contexts. Crystal Math thoughtfully, playfully mingles them all.
The humble material of plywood, simply arranged into a box, contrasts the precious blown glass, artfully made. The cerebral architectural theory that informs the glass geodesic domes, which are references to the visionary Buckminster Fuller, contrasts the world referenced by the pipe-like spout on the upper dome, recalling drug paraphernalia. Then there's the fact that Tuazon and Hansen have incorporated a box fashioned by their father for holding their comic books into an art installation on the wall of a major museum. Thinking about this piece in terms of high or low art forms, fine art or craft, really leads us nowhere; thinking about it as a creative act brings us to all kinds of fun readings.
Tuazon, who won the Betty Bowen Award in 2007, is a local artist with international appeal. He and his brother were born on the Port Madison reservation on the Kitsap Peninsula, just East of Poulsbo and North of Bainbridge Island, and they attended high school in Port Townsend. Tuazon studied at Cooper Union in New York and also completed the Independent Study Program through the Whitney Museum of American Art before moving back to the Northwest and working in Tacoma. He moved to Paris, a biographical detail that reflects his many connections abroad, and has now settled in Los Angeles. Tuazon has exhibited work in Zurich, Brussels, Berlin, Geneva, Rome, Oslo, Paris, and Tokyo, as well as in New York and LA.
Both Tuazon and Hansen participated in the residency program at Pilchuck Glass School, and right now Crystal Math joins works by other Pilchuck students, most notably Dale Chihuly, in SAM's galleries. It also offers a point of connection to Graphic Masters: Dürer, Rembrandt, Hogarth, Goya, Picasso, R. Crumb. Not only does Graphic Masters feature the art of a legend in comics, R. Crumb, who I'm sure would be pleased to hear of Tuazon's and Hansen's comic book box, but it also juxtaposes work that many would consider traditional with Crumb's notably anti-traditional illustrations. Plywood and print works, Picasso and pipes—they're all coming together at SAM!
—Jeffrey Carlson, SAM Collections Coordinator
IMAGE: Crystal Math, 2007, Oscar Tuazon (American, b. 1975) and Eli Hansen (American, b. 1979), blown, cut, assembled glass and plywood, 36 x 30 in. Seattle Art Museum, Gift of Merrill Wright, in honor of the 75th Anniversary of the Seattle Art Museum, 2007.69, © Oscar Tuazon and Eli Hansen, Photo: Natali Wiseman.