Object of the Week: Banquet Still Life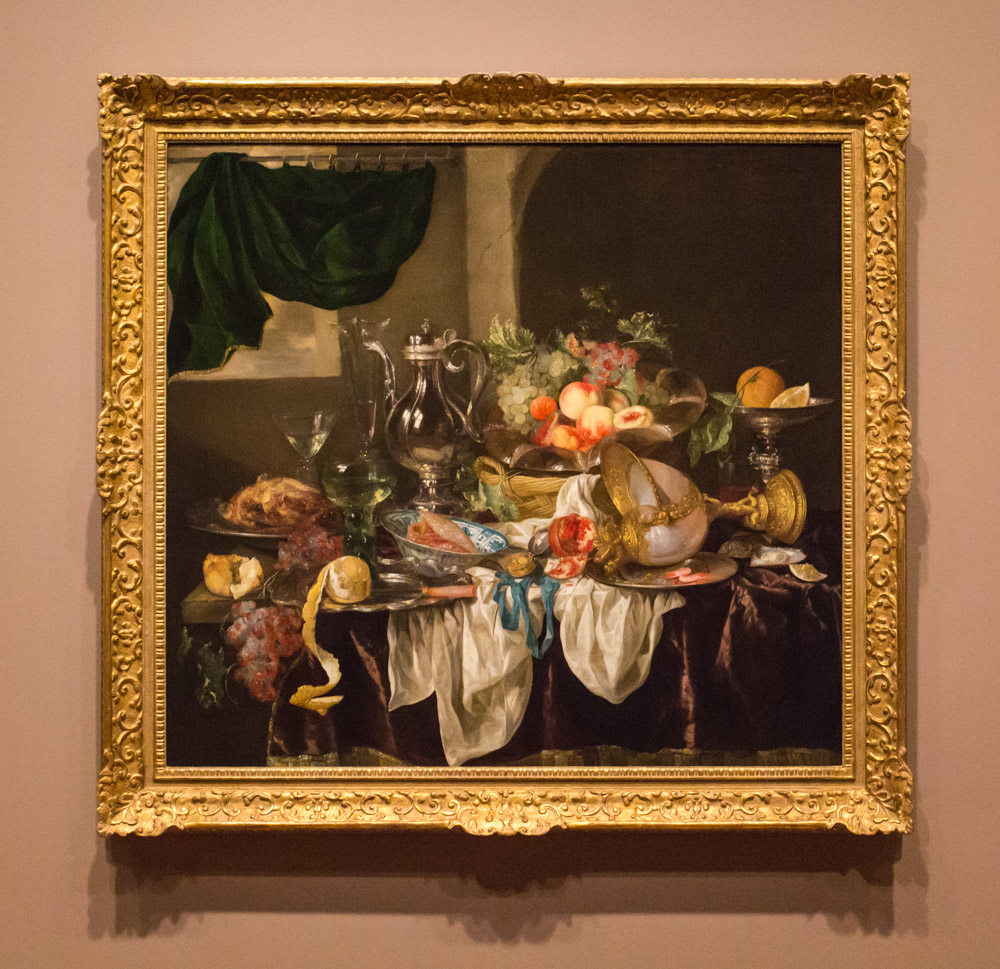 Broadly interesting human passions inspire remarkable works of art. That is why love, justice, spirituality, and food feature in so many great art collections.
Among foodie picture genres, the Dutch still life ranks at the very top, and at SAM, we have a fine example in Abraham van Beyeren's 1653-1655 painting, titled Banquet Still Life. The picture overwhelms us with indulgence, offering up a visual feast. Working our way through the painting clockwise, starting at 12, we find: peaches, whole and sliced, red and green grapes, and a sliced fig overflowing a plooi, or pleated, silver platter; an orange and orange slice in a silver tazza, a kind of wide bowl on a stem; a small oyster and lemon wedge; a silver platter holding two pink shrimp and supporting a highly valuable, exquisitely decorated nautilus cup, tipped onto its side; a red pomegranate with a quarter section cut out, revealing its delightfully juicy seeds; a pocket watch and blue ribbon; candied orange peels in a blue and white Chinese porcelain bowl; a silver charger holding a knife, a half-peeled lemon, and a roemer, which is a German pouring vessel made of green glass, decorated with glass knobs called prunts; more bunches of red grapes; a small bread roll, with a hefty piece torn off; a roast chicken; two Venetian wine glasses half-full of white and pink adult beverages; and a silver wine ewer. Hungry much?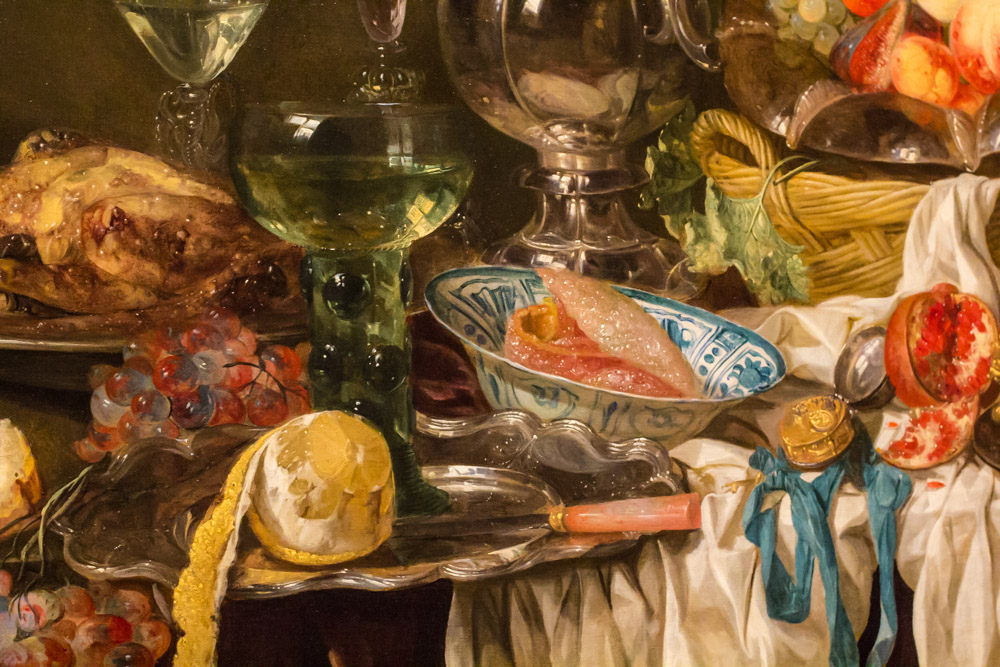 Nearly lost in all the delicious foods and fine glassware and silver is a moralizing message. This is a luxurious meal that has been left abruptly, as we deduce from the half-peeled lemon, the broken bread roll, and the cornucopia of delicacies left unconsumed. At the center of the picture, the pocket watch ticks away time, reminding us that physical pleasures like this are fleeting, and that we should give our immediate attention to more substantial, lasting things. Was the artist fully convinced of that, I wonder?
The banquet still life as a genre was a product of its time, arising from a culture of display. In 17th century Holland, where marine trade brought goods and wealth into port cities like Amsterdam, newly rich Dutch citizens felt the need to show off their wealth. The term pronk—literally translated as flamboyance or ostentatiousness—describes that desire to display, to impress others. Banquet Still Life is a pronk picture if there ever was one.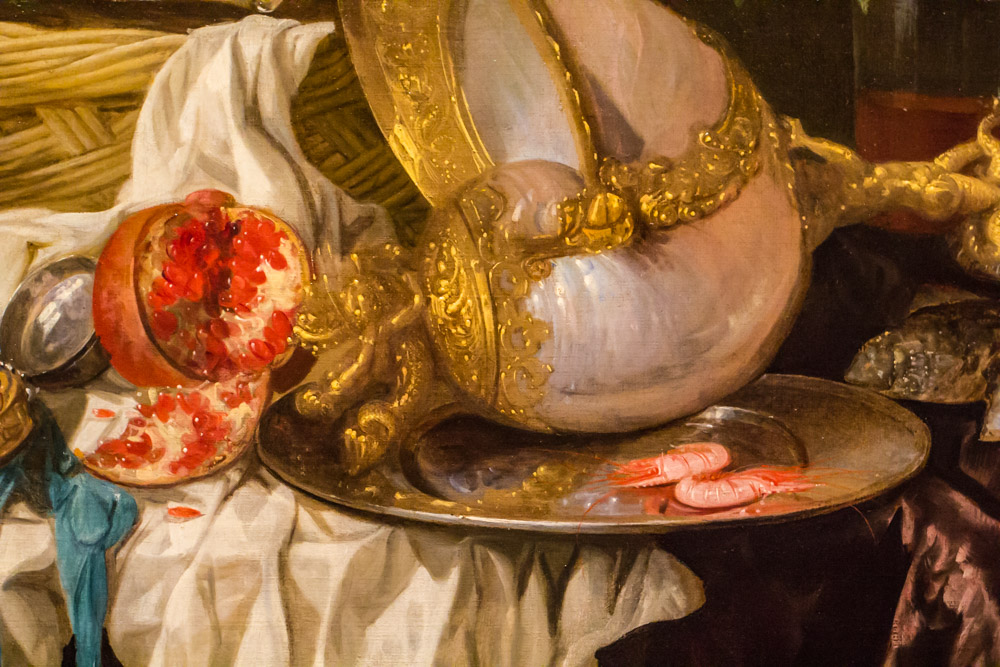 Van Beyeren and his peer painters of the foodie still life found an unlikely revival with artists of French Impressionism in the 19th century. In general, the landscape genre better suited the Impressionist goal of capturing candid moments of daily life with a sense of energy in the handling of paint. Still life had also been pushed to the margins of European art history and carried a less impressive legacy for the Impressionists to pick up on. So there are relatively few examples, but some of the Impressionists did work in still life—notably Cézanne and Manet—and they worked with the Dutch masters in mind.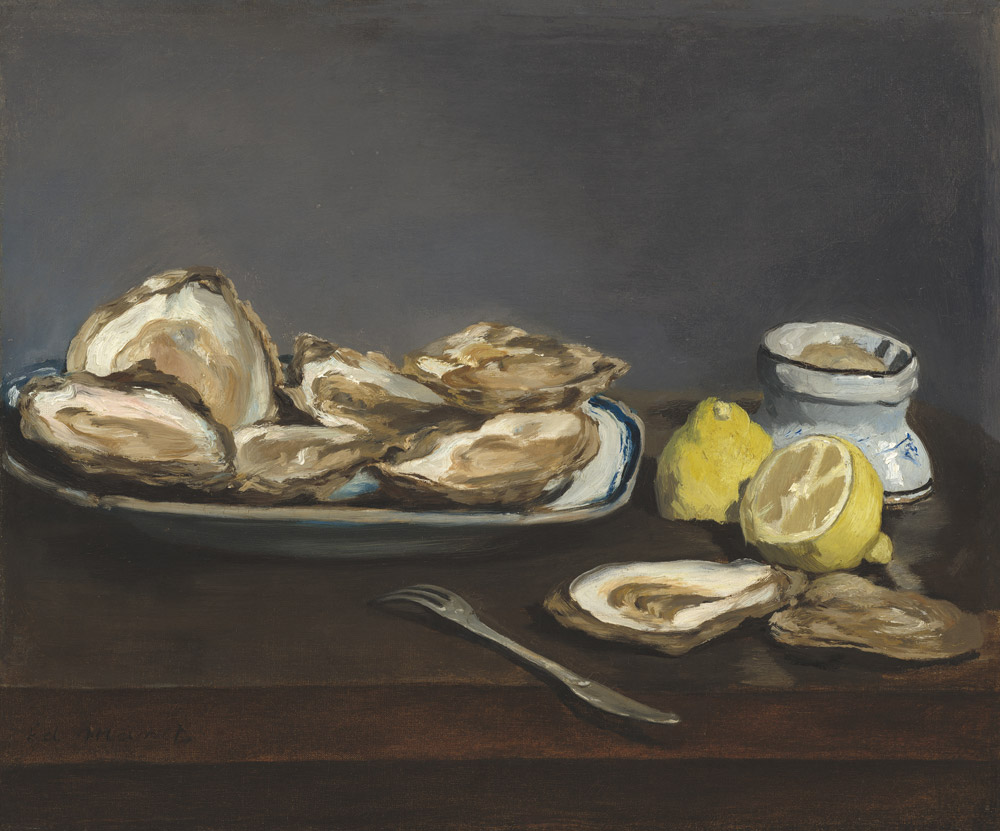 Manet's Oysters, on view at SAM in Intimate Impressionism from the National Gallery of Art, offers an illuminating comparison. Like van Beyeren long before him, Manet paints the shellfish and halved lemon with an eye to making them appetizing. Looser brushwork and a moody color palette show that Manet was less concerned with realistic representation and more interested in making artistic interventions.
These two schools of painting approached food from radically different perspectives: as a showy display of wealth and as a scene of private life; as a memento mori and as a celebration of the moment; as an opportunity to showcase precise skill in representation and as a chance to play with forms and paint. We can all come together around food.
—Jeffrey Carlson, SAM Collections Coordinator
IMAGES: Banquet Still Life, ca. 1653-55, Abraham van Beyeren, Dutch. ca. 1620/1621-1690, oil on canvas, 42 1/8 x 45 1/2 in. Seattle Art Museum, Samuel H. Kress Collection 64.146. Banquet Still Life (detail). Banquet Still Life (detail). Oysters, 1862, Edouard Manet, French, 1832-1883, oil on canvas, 15 7/16 x 18 7/16 in. National Gallery of Art, Gift of the Adele R. Levy Fund, Inc.