Object of the Week: Atifofoe Susuavor Adanudo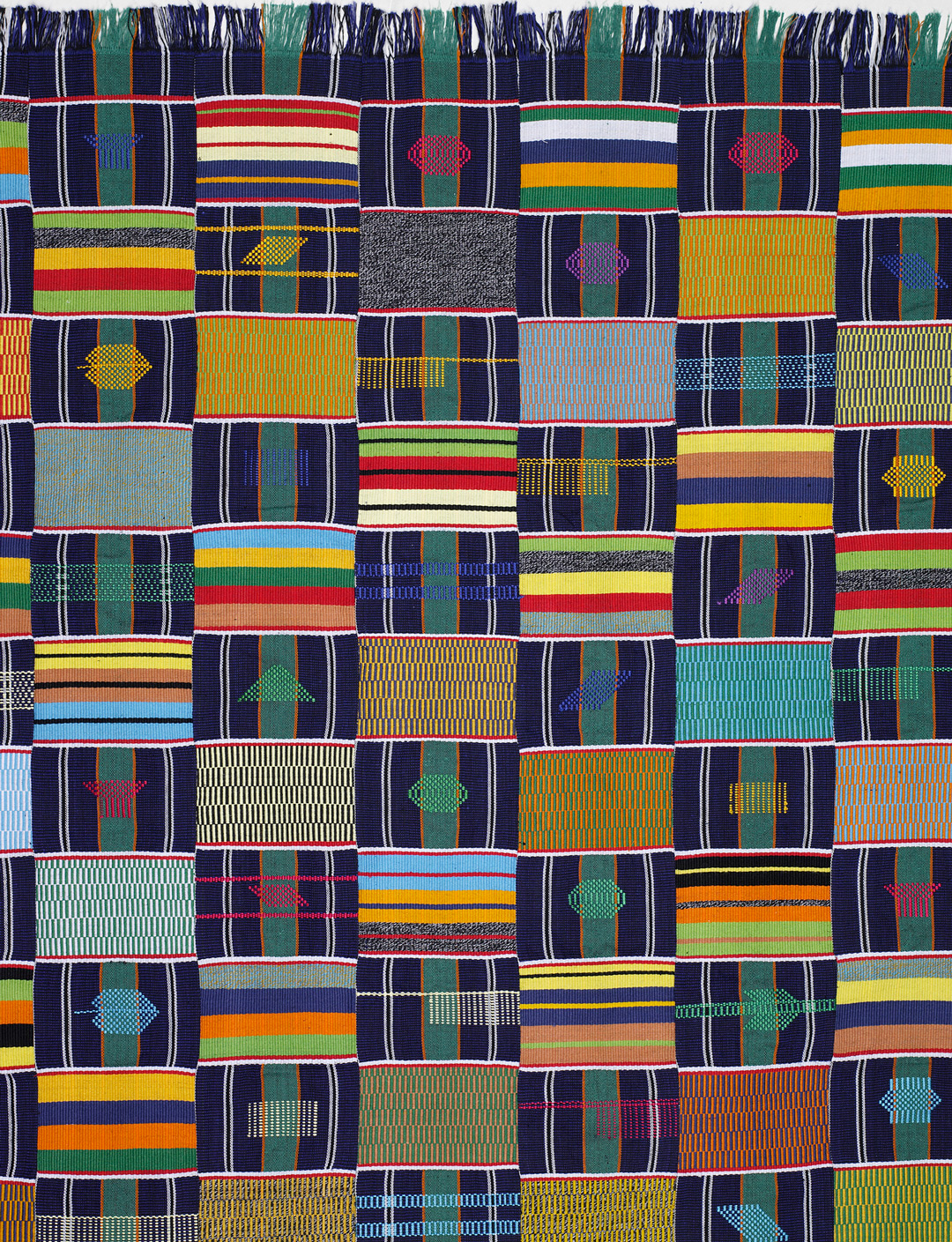 The beauty of this Ghanaian textile lies not only in its striking colors and bold patterning, but in its deeper message of unity. Made with strips of woven cloth crafted by over twenty Ewe weavers, this vibrant adanudo (which translates roughly as "skilled or wise cloth") highlights the beauty that can be found in bringing together unique artistic voices and, ultimately, difference.
Kente cloth, which originated in the Asante region of Ghana, is today an iconic and widely-produced textile, but it is important to remember that it initially functioned in a royal and ceremonial context within the Asante kingdom. The Ewe, like their Asante neighbors, have a rich textile tradition, and one that relies on a style of horizontal loom-weaving similar to that of Kente cloth. However, unlike the Asante, the Ewe never united to form an autocratic government; this, among other things, resulted in a distinct brand of creative autonomy. Free from the strict designs that would otherwise be determined by a royal court, Ewe weavers—regardless of their region—have been able to explore their own personal style and visual language.
With its high-keyed color palate and dazzling contrasts between warp and weft (a hallmark of such Kente textiles), this adanudo—titled Atifofoe Susuavor Adanudo (A Cloth of Multiple Designs and Much Skill—Even Difference Can Be Unified)—is replete with intricate geometric patterning and inlaid motifs. The creativity and idiosyncrasies inherent in this piece are again a testament to the liberties Ewe artists can take, not to mention their skill. This piece in particular also has an especially interesting backstory: It was created in 2004 by a community of Ewe artists working together with Gilbert "Bobbo" Ahiagble, who was born into a family of master weavers of Ewe Kente cloth. Led by Ahiagble, twenty four artists created and contributed to this adanudo, chosen by Ahiagble for the Seattle Art Museum as an exemplar work from his community and workshop. Indeed, the piece is a feast for the eyes and an amazing display of craftsmanship on a community-wide level.
The syncopated patterning and visual rhythm of Atifofoe Susuavor Adanudo might be composed of seemingly disparate and irreconcilable elements, but, literally woven together, the piece illustrates the power of diversity and the strength to be gained by working together. The whole really is greater than the sum of its parts.
– Elisabeth Smith, Collections Coordinator
Image: Atifofoe Susuavor Adanudo "A cloth of multiple designs and much skill – even difference can be unified", 2004, Ghanaian, cotton, 106 x 85 1/4 in., African Art Purchase Fund, in honor of the 75th Anniversary of the Seattle Art Museum, 2005.29 © Gilbert Bobbo Ahiagble