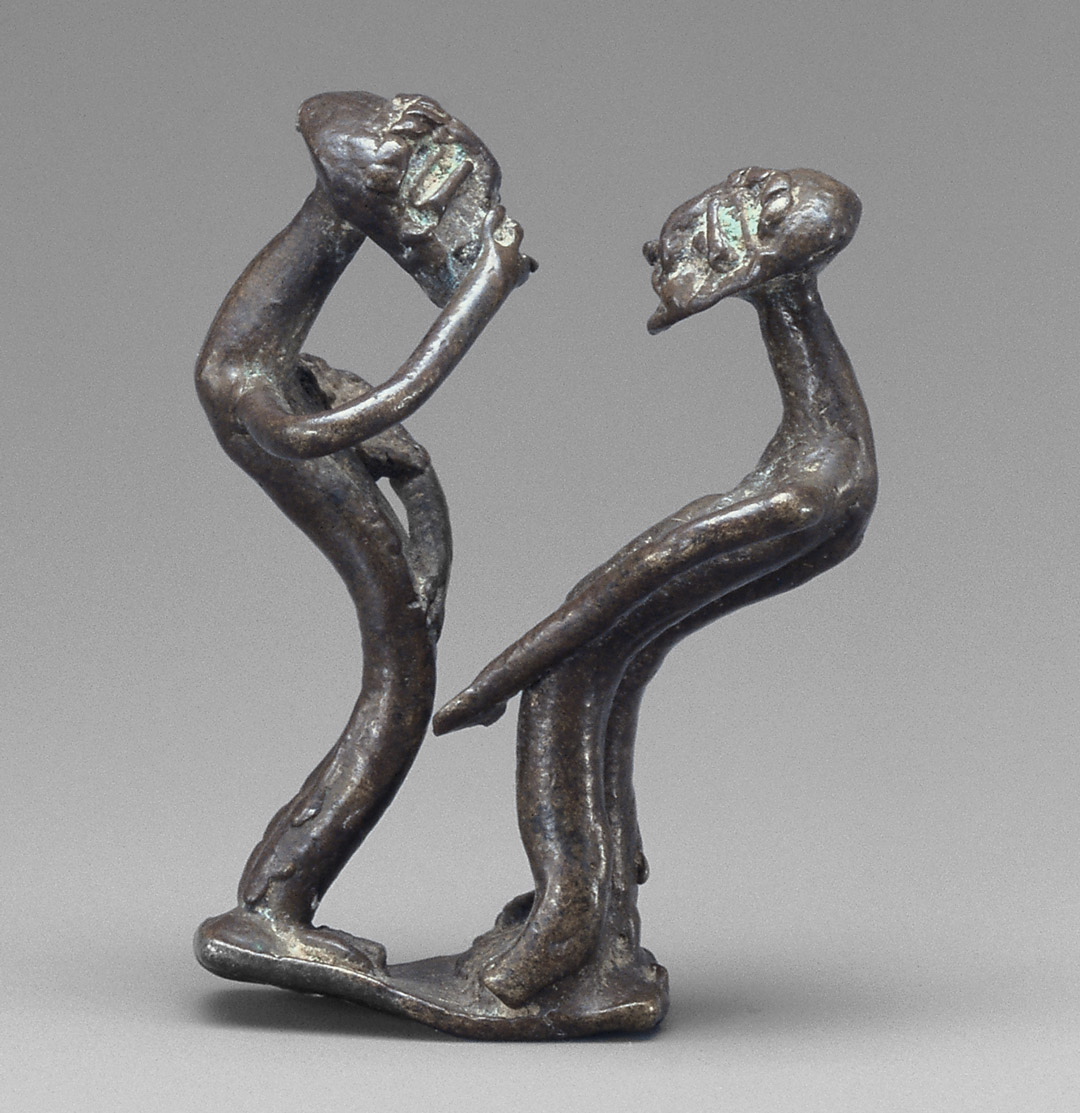 Expanded vaccine eligibility—and this amazing spring weather—is making the prospect of gathering with friends and family a palpable reality. As I imagine and anticipate what these reunions will look and feel like, an Asante work currently on view in the galleries comes to mind: a figurative weight (abrammuo) in the form of two men meeting.
Vast quantities of gold were traded in the Asante empire from 1400 to 1900, and these copper alloy figures were used to balance scales when measuring gold dust. Each miniature sculpture has an attendant proverb, immediately transforming such "business dealings into daily exhibitions of eloquence" and "small-scale momentary exhibitions."[1] In this case, the proverbial wisdom on offer is: "They have ended up like Amoako and Adu." 
Who are these men? Amoako and Adu are two old friends who meet after years of being apart, having encountered their own share of misfortune along the way. Now poor, or as poor as they were when they last saw one another, the proverb is about wasted opportunity and, ultimately, the lasting endurance of friendship. Their dynamic, swaying posture offers a reflection of this life—full of ups and downs—but now their heads crane forward as they reconnect and share stories.
This has been a trying year, to say the absolute least, full of collective misfortune, trauma, and challenges—locally, nationally, and globally. But in these difficult times, the wit and wisdom of proverbs like that of the Asante might offer a long view, connecting our current moment to both the past and future. And when we reunite with our loved ones this spring and summer, hopefully we can revel in the important strength of our relationships—the ultimate currency.
– Elisabeth Smith, SAM Collections and Provenance Associate
---
[1] Pamela McClusky, Art from Africa: Long Steps Never Broke a Back (Seattle: Seattle Art Museum with Princeton University Press, 2002), 79.
Image: Figurative Weight (abrammuo): Men Meeting, Ghanaian, copper alloy, 1 3/8 x 1 1/16 x 13/16 in., Gift of Katherine White and the Boeing Company, 81.17.361