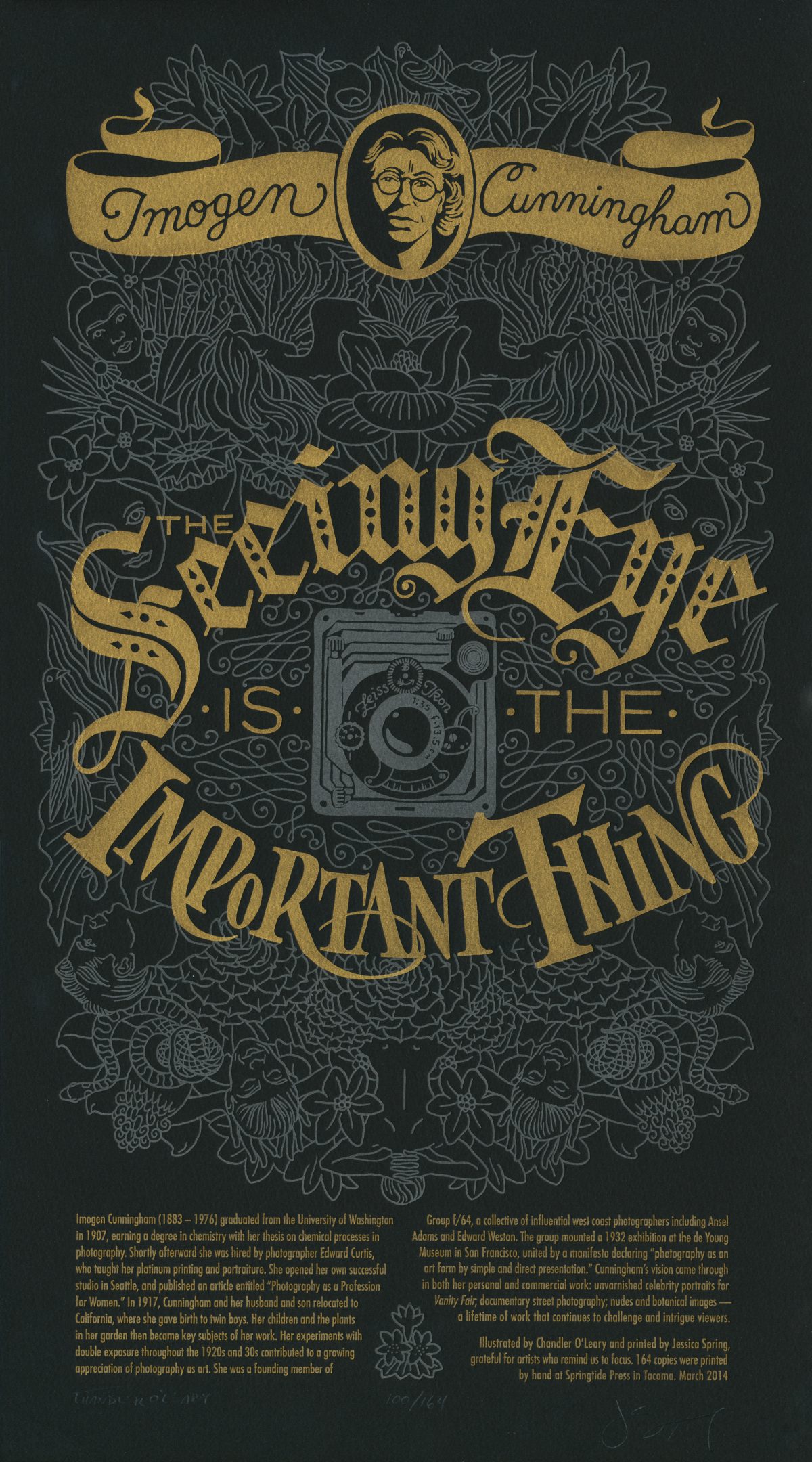 This week's object is from the SAM Libraries' collections. The Dorothy Stimson Bullitt Library and McCaw Foundation Library collect book arts such as photobooks, artists' books, zines, and broadsides. A broadside is a large sheet of paper printed on only one side. Historically, they were ephemeral works plastered onto walls or folded into pamphlets and distributed. Typical broadsides include public decrees and proclamations, event posters, commentaries, or advertisements. Today, broadsides are an important artistic form created via various printmaking and hand-drawn processes which are held by libraries and museums worldwide.
Focal Point [Imogen Cunningham] is a broadside from the Bullitt Library's collection created by Tacoma artists, Chandler O'Leary and Jessica Spring. The work is part of their limited-edition broadside series entitled Dead Feminists. Originating in 2008, they have released 31 broadsides focused on historical feminists: political figures, activists, environmentalists, scientists, artists, and more. Each broadside is letterpress-printed on a Vandercook Universal One press from hand-drawn lettering and illustrations and includes a quote as well as biographical information about the subject(s).
If you're familiar with the series, you might notice that unlike the other works printed on white paper, Focal Point [Imogen Cunningham] is one of only two printed on black paper. This decision helped the artists "pull the focus" onto Cunningham's quote: "The seeing eye is the important thing." O'Leary and Spring thought it "provided a beautiful backdrop for a tribute to someone who spent her life creating black-and-white images."1 Lettering was done with a metallic ink (a recipe that Spring developed) that includes real gold powder. This broadside was printed in an edition of 164 as a nod towards Cunningham being a founding member of Group f/64, a group of photographers devoted to exhibiting and promoting a new direction in photography. F/64 refers to the small aperture setting on the large format camera used by the group's members.
When asked what drew the artists to Cunningham, Spring said, "The print was made in 2014, and we were definitely feeling the pull of social media, a world full of distractions, and a desire to focus back on our work as artists. As makers ourselves, we recognize the power of observation and the artist's eye."2 And observe, they did. Every aspect of this work was carefully considered, from the choice of metallic silver filigree that mimics the traditional silver-gelatin photographic process to the pastiche of images drawn from Cunningham's photographic subjects. If you look closely, you might recognize several images from Cunningham's work in SAM's collection—Magnolia Blossom (Magnolia Blossom, Tower of Jewels) (1925, 89.67) and Frida Kahlo, Painter 3 (1931, 89.28).3 Look for these and other images when you visit Imogen Cunningham: A Retrospective, on view at SAM from November 18 through February 6, 2022.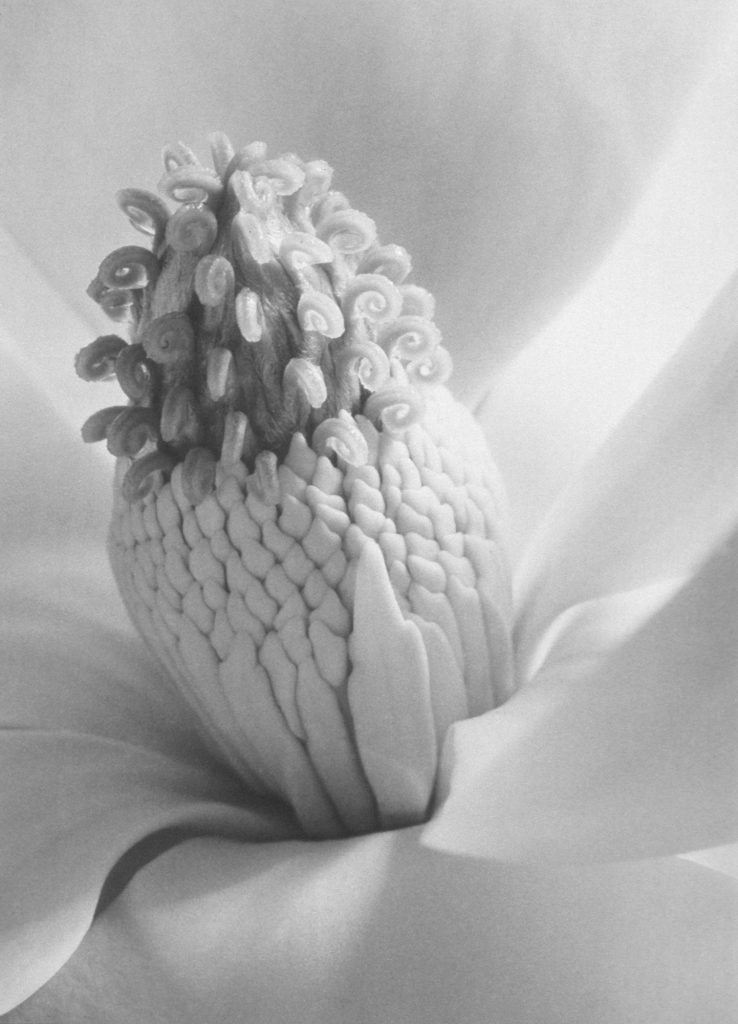 In addition to this single broadside, the Bullitt Library also holds O'Leary and Spring's book, Dead Feminists: Historic Heroines in Living Color (Sasquatch Books, 2016), which details the entire series in brilliant color and a set of reproduction postcards. Currently, the SAM Libraries are still closed to visitors, but we encourage you to see these items in person when we reopen. In the meantime, the book and the reproduction postcards are available in the SAM Shop during the run of Imogen Cunningham: A Retrospective. The entire Dead Feminists series is also currently on view at the University of Washington Libraries, Special Collections in an exhibition titled, And Then She Said: Voices of Feminists Past and Present.
– Traci Timmons, SAM Senior Librarian
Image: Focal Point [Imogen Cunningham], 2014, Chandler O'Leary and Jessica Spring, Broadside print, 46 x 26 cm, Image courtesy of the artists. Magnolia Blossom (Magnolia Blossom, Tower of Jewels), 1925, Imogen Cunningham, Gelatin silver print, Img/sht: 11 1/4 x 8 1/4 in., Gift of John H. Hauberg, 89.67 © Imogen Cunningham Trust.
1 O'Leary, Chandler and Jessica Spring. "Focal Point." Dead Feminists blog, March 18, 2014. http://www.deadfeminists.com/focal-point/.
2 Email interview with Jessica Spring and Chandler O'Leary, November 2, 2021.
3 Frida Kahlo became the subject of O'Leary and Spring's 26th Dead Feminist broadside, Estados Divididos, in 2017.