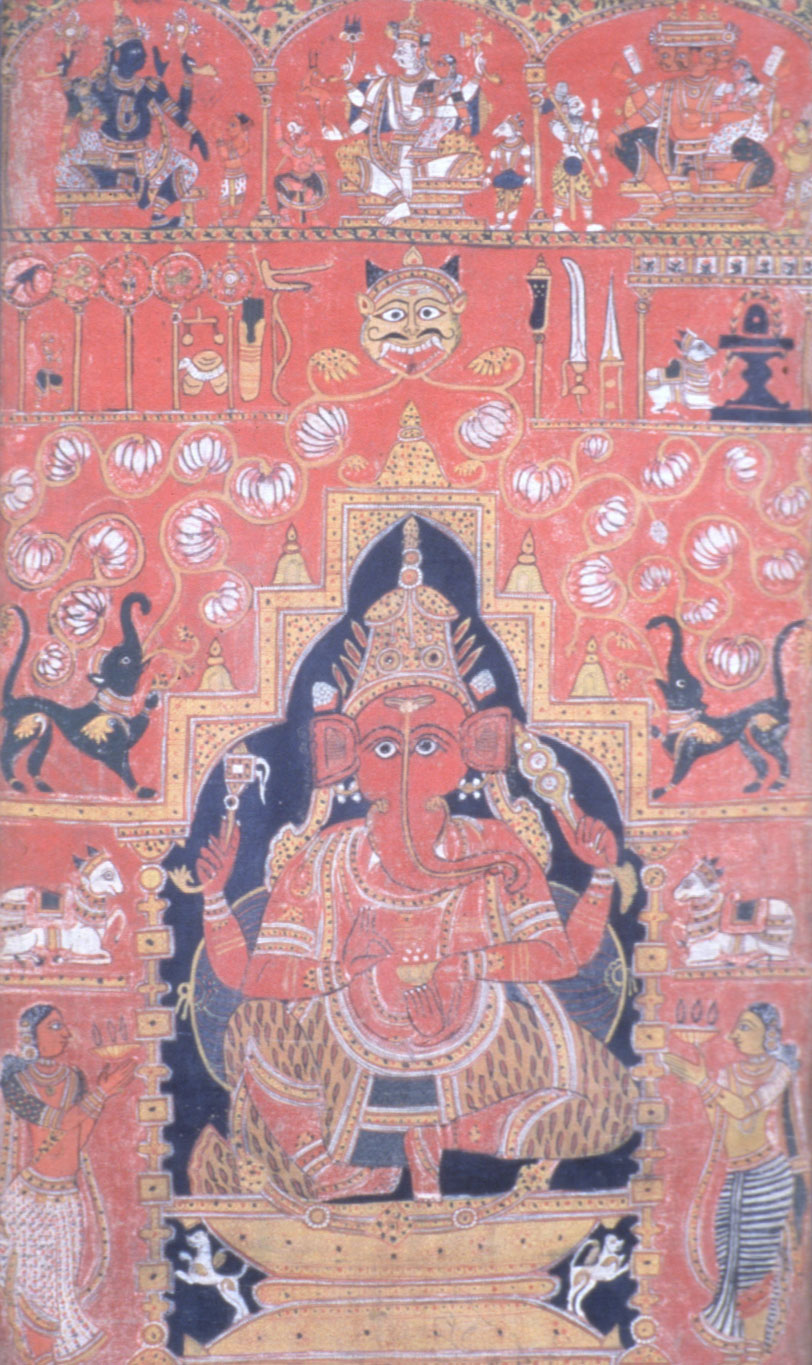 When the Asian Art Museum had to close due to health and safety concerns around COVID-19, Suzanne Ragen, a SAM docent since 1965, began writing what she calls Nana's Art History 101 for her grandchildren. When Suzanne first started volunteering, Dr. Fuller was SAM's Director and the Volunteer Park location was our only museum. She describes the reopening of the Asian Art Museum earlier this year after it's renovation and expansion, as feeling like coming home. We are all thankful that Nana is sharing these virtual tours of SAM's original home with us!
Story scroll of sage Bhavana
Imagine that the year is around 1850 and you live in a small Indian village where most of the people are weavers. It's been a long hot day of work but a treat is in store for all of you this evening. A storyteller is coming with his very long cloth scroll and he is going to tell and sing to you the story of Bhavana, the celestial weaver who wove cloth for the gods. He lights a lamp and starts to unfurl the long cloth that is wound on his bamboo poles. That's how this object was displayed before it came to the Seattle Art Museum.
At SAM you can only see the beginning and end of the 30 yards of the story. Look at the first section and you will see the Hindu god Ganesh with his human body and elephant head. Even though most people in the original audience could not read, they would recognize Ganesh by his unique characteristics. Ganesh is the god of beginnings, so this is a good place to start our story. We'll read the scroll from the top to the bottom.
Above Ganesh are the three main Hindu Gods—Vishnu, Shiva, and Brahma. The story goes that the sage, or wise man, Bhavana was victorious in a great war thanks to his army of tigers. As the victor, he can marry the daughter of the sun. Many gods attend their wedding, some arriving in flying chariots. Where do you see the chariots? Keep looking down past the chariots, towards the bottom of the scroll. Bhavana is making colored dyes from his enemies' bodies.
You're part of the audience and if the storyteller did a good job, you would pay him some hard-earned rupees! You might also appreciate the donor who commissioned the scrolls for your village. Look at the patch at the end of the story and you can see the name of the person who paid for the scroll.
What are some stories that you know? Who first told you these stories and how do you show them that you appreciate their storytelling?
Some/One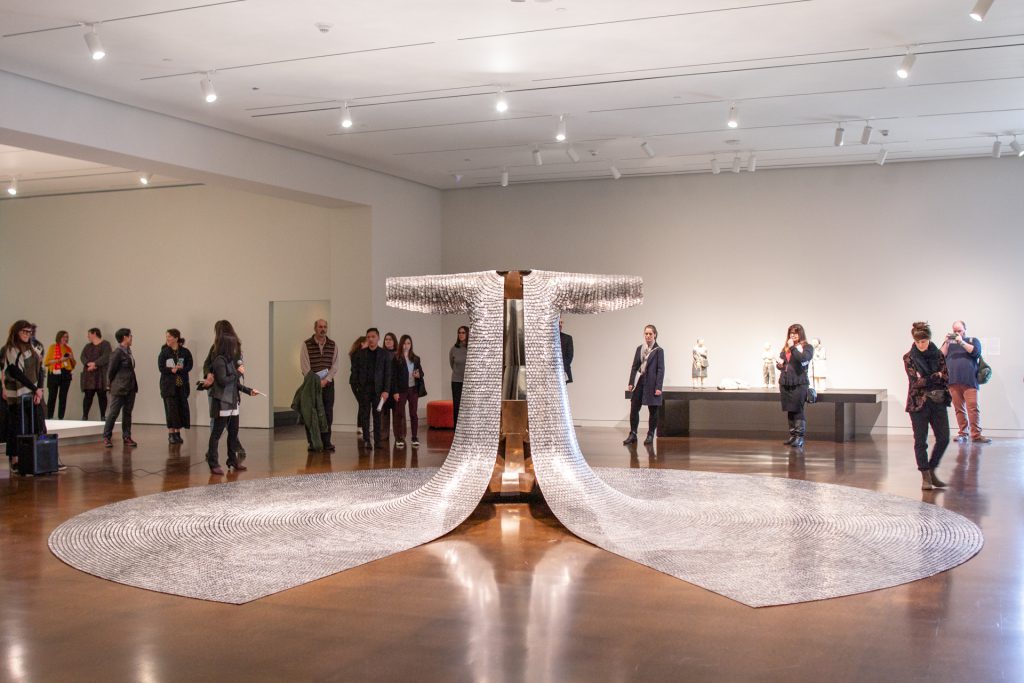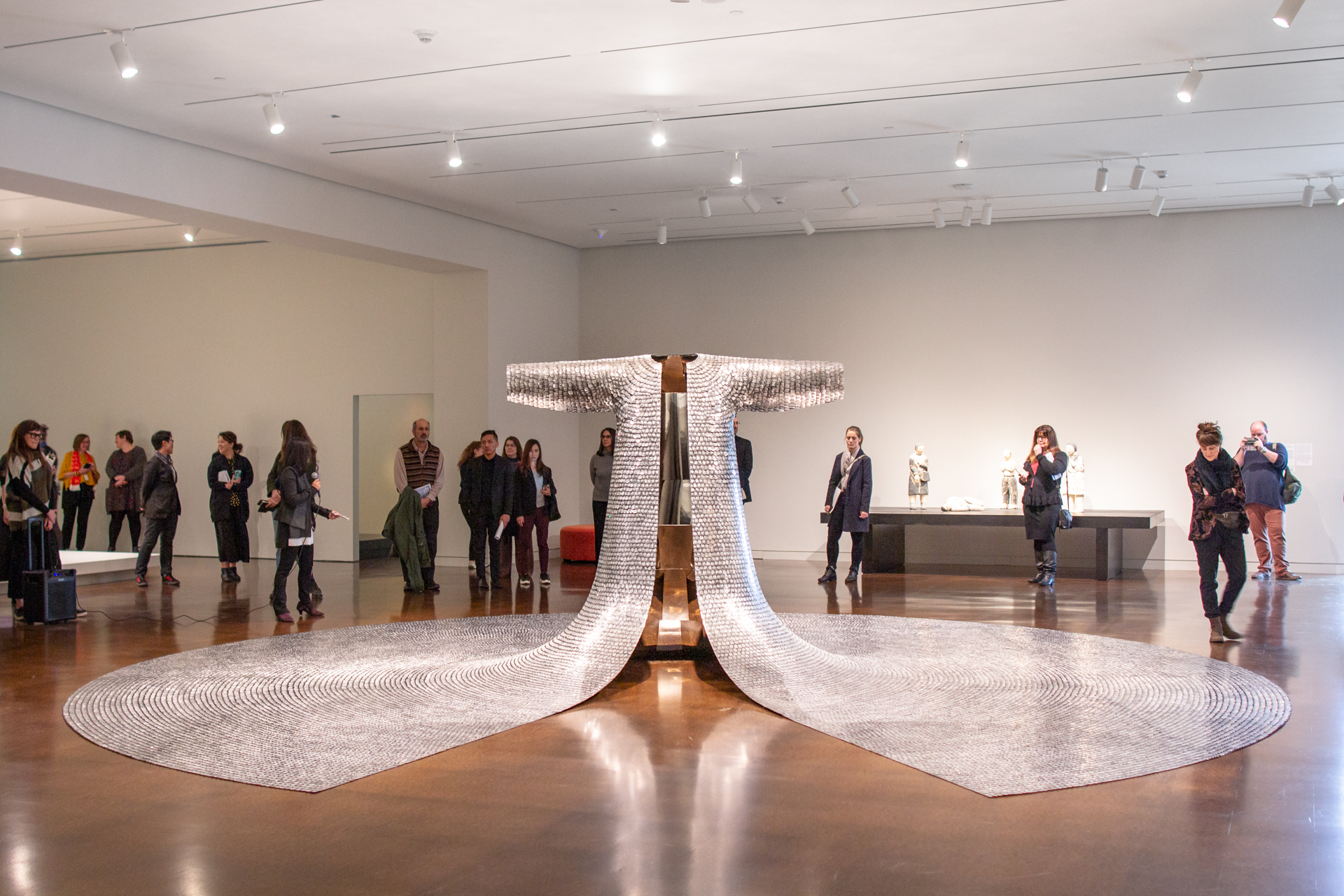 We are now jumping from 19th-century India to 2001 for a look at Some/One, a sculpture by contemporary Korean artist Do Ho Suh. You might not be able to tell from the image, but this is a large sculpture, taking up almost the entire gallery. It's located in the new expansion of the Asian Art Museum, along with art from all over Asia mostly done by currently living artists.
By looking at this picture, can you tell what the sculpture is made of? There are a ton of small, silver rectangles. These are stainless steel military dog tags that soldiers wear around their necks to identify themselves. The artist commissioned a veteran, or someone who served in the military, to manufacture hundreds of these dog tags, but with made-up names. Do Ho Suh sculpted the dog tags into a kimono-like garment that would have to be worn by someone over eight-feet tall! A steel structure holds it together, covered with a glass fiber reinforced resin and rubber and copper sheets.
Do Ho Suh made this as a student when he was given an assignment to create a piece of clothing that could serve as his identity. Suh had moved to the US for school from South Korea, where every male citizen must serve at least two years in the military.
Why do you think Suh titled this work Some/One? One reason might be that each dog tag represents an individual soldier, but as a whole they make one—the military. When you see this work in person, you'll notice that the tags are so shiny that you can see yourself reflected in the kimono. How do you think it might feel to see yourself in this art?
If you were asked to make a piece of clothing that reflected your identity, what would you create?
Later in our virtual tours we will look at a Japanese terra cotta soldier called a Haniwa from around 500 AD who is also wearing armor.
Fireman's Coat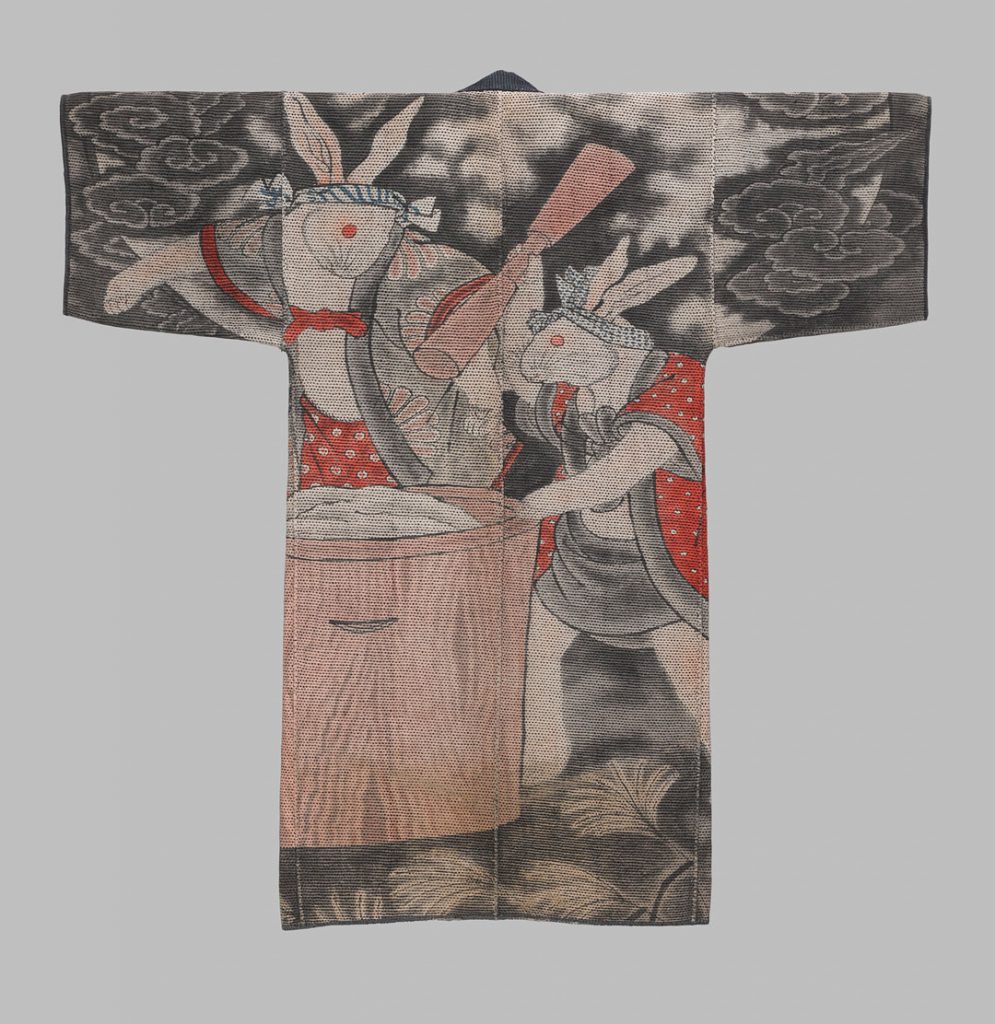 Imagine that you live in the city of Edo (now Tokyo, Japan) around 1800. Unlike today's Tokyo that's filled with tall, steel skyscrapers, 200 years ago, the houses were made of wood, bamboo and paper; the floors are covered with tatami mats made of straw. These materials would be very flammable! Now, pretend you are a fireman, a highly esteemed profession. The only way to control a fire in your city is to destroy the buildings around the one that is on fire to stop the spread. When the alarm comes, you reach for a coat like this one.
The fireman's coat is made of very thick cotton, dyed with indigo. You would soak the coat in water before going to the fire, which might make it weigh 75 pounds, but would help protect you. The outside is solid navy blue and bears your fire brigade ID. The design of the rabbits is on the inside of the coat, closest to your body—that means when you see this at the museum, the coat is displayed inside out.
Why would rabbits be on a fireman's coat? There is a traditional Japanese story that the Man in the Moon came to earth disguised as an old starving traveler. He met three animal friends on the road. Monkey was agile and could climb trees to bring the old man fruit. Fox was clever and could swim and bring him fish. Rabbit could only gather grass, so he asked the old beggar to light a fire. He jumped into that fire to offer his body as a meal. The old man was so touched by Rabbit's sacrifice that he pulled him from the fire and invited Rabbit to live with him on the moon. He is still there. Do you agree that Rabbit is an appropriate emblem of protection from fire for firemen?
Can you tell what the rabbits are doing on the coat? They are pounding rice to make mochi in the enormous pot, with steam clouds floating above them and a few plant fronds at their feet. Have you ever eaten mochi? Mochi is rice pounded into a paste, often with added water, sugar, cornstarch, and coloring, then molded into shapes. It is traditionally made in a ceremony called mochitsuki. Mochi is especially popular around the New Year as a symbol of good fortune.
Now when you see the Man in the Moon, you might think of this story and enjoy a delicious treat.
– Suzanne Regan, SAM Docent
Images: Section of a story scroll of sage Bhavana (Bhavana Rishi Mahatmyan Patam), mid 18th century, Indian, opaque watercolor on cloth, 58 x 34 1/4 in., Gift of Leo S. Figiel, M.D., Detroit, Michigan, 76.41. Some/One, 2001, Do Ho Suh, stainless steel military dog-tags, nickel-plated copper sheets, steel structure, glass fiber reinforced resin, rubber sheets, diam. at base: 24 ft. 4 in.; height: 81 in., Gift of Barney A. Ebsworth, 2002.43 © Do Ho Suh. Fireman's coat, 19th century, Japanese, cotton, 49 1/4 x 49 1/4 in., Gift of the Christensen Fund, 2001.417.