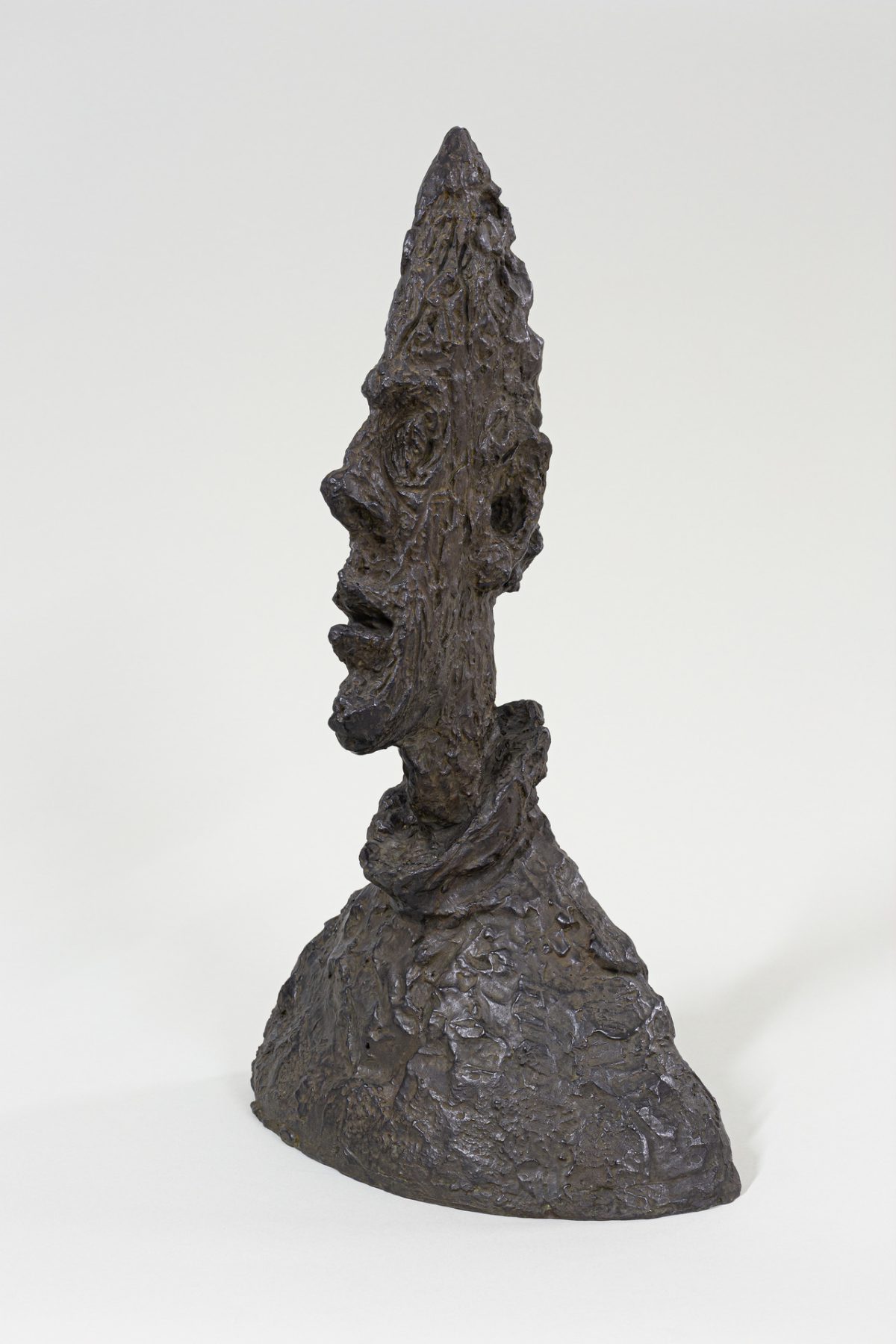 "When viewed from different vantage points, Tall Thin Head seems to be two distinct heads. From the front the head is narrow; the effect is like looking straight on at a knife edge. From the side, the profile is full-bodied and dramatically silhouetted, completely contradicting the frontal view."

– Valerie Fletcher
Alberto Giacometti used a variety of artistic devices to disrupt the viewers' interpretation of space. His 1954 portrait bust Tall Thin Head—or Grand tête mince—was just one of a series of busts made by the artist in the 1950s which played with scale, perspective, and texture. From the front, the sculpture looks flat and vague, but when viewed from the side, however, a detailed portrait emerges revealing the angular features of a male figure.
The sculpture, modeled after his brother, Diego Giacometti, falls into a familiar trend seen across Giacometti's artistic career. Since the beginning of his artistic life, Giacometti preferred to work with those closes to him as models, especially Diego and his wife Annette. Sitting for him required long hours of concentration, and both his brother and wife also assisted with various aspects of managing his studio and career. For the artist, working with consistent models allowed him to better pursue his vision, unveiling the stranger beneath the familiar.
This audio recording marks the third stop in SAM's free smartphone tour which accompanies Alberto Giacometti: Toward the Ultimate Figure. Listen now to experience a close-looking art activity led by SAM educator and teaching artist Lauren Kent and tune in to all eight stops in the tour when you visit the exhibition at SAM's downtown location through October 9.
Tall Thin Head, 1954
NARRATOR: Perspective can change everything in a sculpture, and that rings true especially for Giacometti's later work. Here's SAM educator Lauren Kent to guide you in a close looking activity for Tall Thin Head.

LAUREN KENT: As you approach Tall Thin Head, position yourself so that you are in front of the sculpture, looking at the face straight on. What do you see? What do you think about what you see? What do you wonder? Does this sculpture express an emotion or remind you of anything?

Slowly move about a foot in one direction around the sculpture, then stop. What do you notice now? What do you see that you didn't before? What has changed?

Move another foot in a circle around the sculpture and stop once more. What do you notice here? What do you see now that you didn't before? What has changed?

Continue moving in a full circle around the head. Observe how it expands and contracts. Observe all of the different ways that it looks and feels at each angle. You can keep an eye on Tall Thin Head as you walk through the rest of this gallery.
– Lily Hansen, Marketing Content Creator
---
1 Alberto Giacometti: 1901-1966, Valerie Fletcher, p.180.
Image: Tall Thin Head, 1954, Alberto Giacometti, Swiss, 1901–1966, bronze, 64.5 × 38.1 × 24.4 cm, Fondation Giacometti, © Succession Alberto Giacometti / ADAGP, Paris, 2022 ALL IMAGES: © Succession Alberto Giacometti / ADAGP, Paris, 2022.