SAM Creates: Rubbings Revealed from Wu Liang Shrine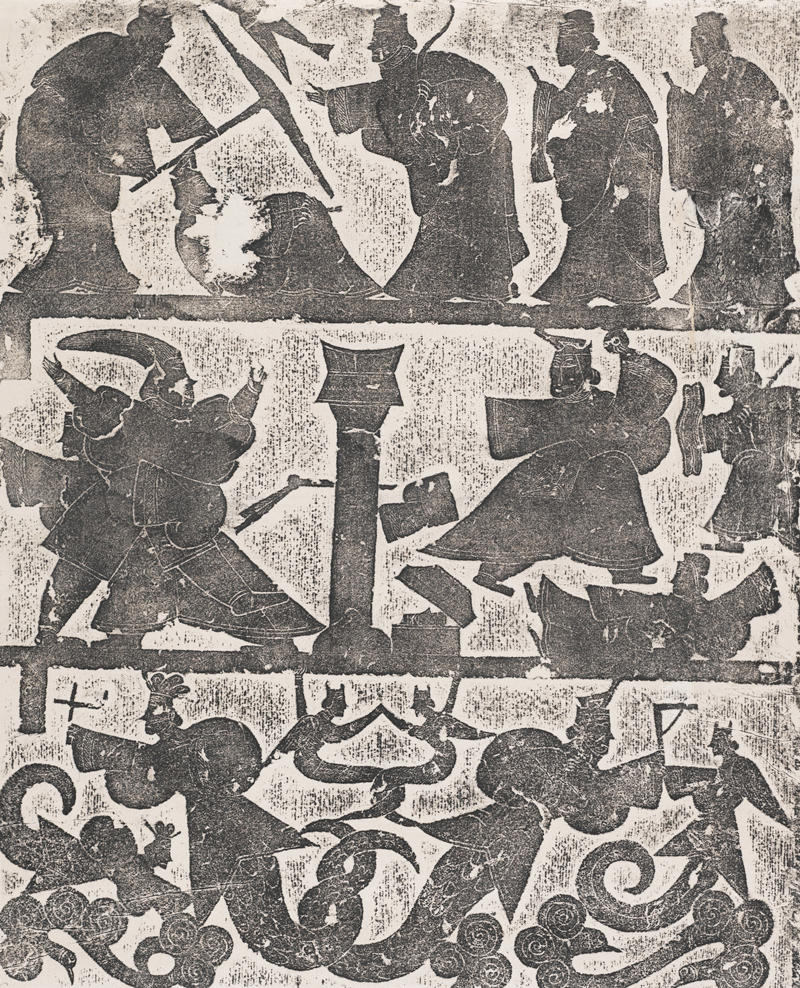 Located in present-day Jiaxiang in Shandong province, the Wu Family Ancestral Shrine built during the 2nd century in the Eastern Han dynasty (25–220) is among the best-known works in Chinese art history. Take a virtual tour of the shrine.
The simple graphic images you see from the Wu Liang Shrine were made from laying paper against the stone carvings that are inside the shrine and rubbing with ink to transfer the images onto paper. Learn more about this rubbing in our Object of the Week series.
The center line in this image depicts the story of a failed assassination attempt on Emperor Qin Shi Huang by Jing Ke. The figures, mostly in silhouette, move across the page presenting many parts of the story in one frame. This is an example of simultaneous illustration. Listen to a lecture on Telling a Story with Pictures to learn more about the differences between Eastern and Western visual narratives.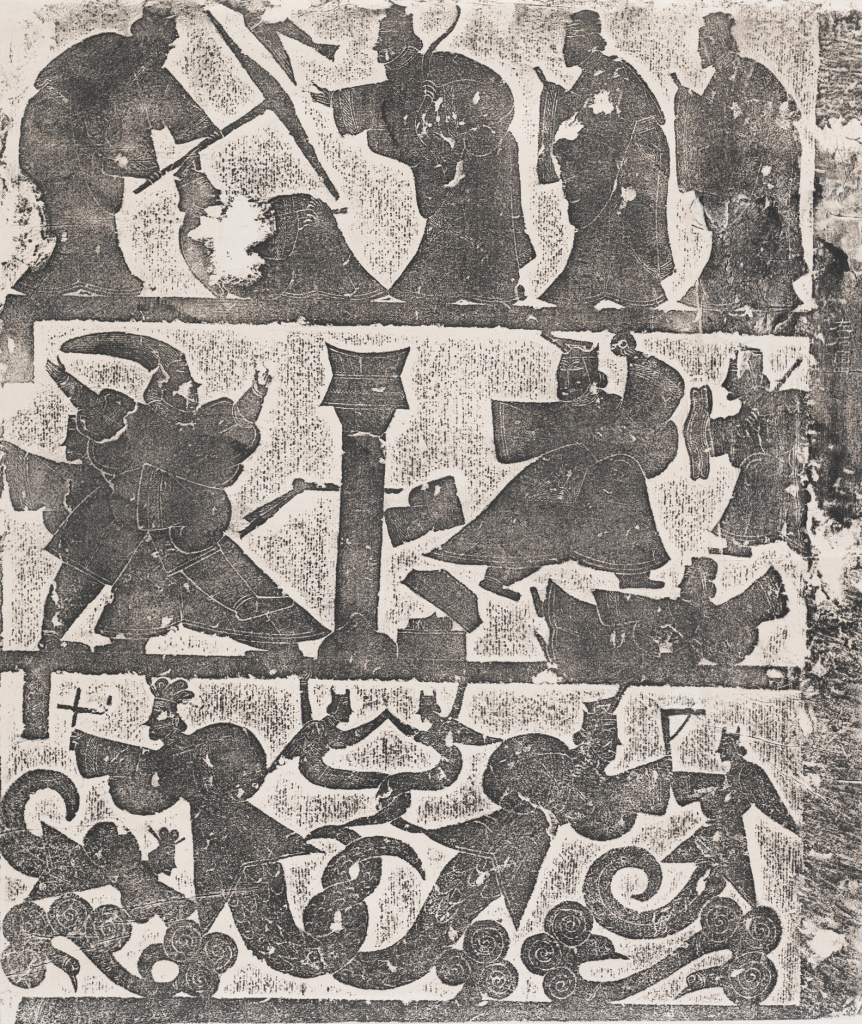 Create your own rubbing!
What you will need
Paper: A few sheets of lighter weight paper, along with some heavier paper or light cardboard (think drawing paper or cereal box).
Scissors or exacto knife
Pencil, crayon, chalk, or pastel
Warm up: Layer a small piece of the heavier paper under your lightweight paper. Take your pencil or crayon and rub over it, where the edges of the heavy paper sit, the crayon will be darker revealing the shape. Keep this in mind as you make a larger work.
Next, start with something easy as you consider what story you want to tell with your rubbing. What are you currently watching or reading? Who is the main character? Follow the lead of the artists who carved the stone of the Wu family shrines and use simple shapes to depict your protagonist on the heavier paper. Draw each limb or clothing article as a separate shape, and draw their head in profile. You don't need any detail, just flat non-dimensional shapes, like a paper doll.
Once you have these basic shapes, cut them out of your paper, and layer them together to make your character. Lay the thinner paper over them and rub with your pencil. You can add interesting textures by adding cuts to your figure's shapes or by layering materials around the house like bubble wrap, or sandpaper.
Reuse the cutouts to animate your character across the page. What is your character doing? Think about an action that helps tell a story. For each move your character makes rearrange the paper cut outs and lay the lighter weight paper on top. Rub your crayon or pencil over the paper to make an impression, then move the cut outs for the next action and rub again.
We'd love to see your artwork—share it with us while #StayHomeWithSAM.
– Lynda Harwood-Swenson, SAM Assistant Manager for Studio Programs
We are humbled by the generosity of our donors during this unique time. Your financial support powers SAM Blog and also sustains us until we can come together as a community and enjoy art in the galleries again. Thanks to a generous group of SAM trustees, all membership and gifts to SAM Fund will be matched up to $500,000 through June 30!
Wu Liang Shrine: Chinese History and Mythology, ca. 1920s, Han Dynasty (206 BCE–220 CE), Eugene Fuller Memorial Collection, ink rubbing on paper, 35.587.2